Daggertooth
Location:

Lost Highway

Join Date:

1/3/2005

Posts:

2,938

Member Details
Meh, needs cheek bone surgery to pull that off. Probably auta pick a gender and remove the ***** too. I guess if she's all defensive and people are protective its best not to interact with this person. Isn't there a way to block seeing posts?
lol, JJ just got.....well....post raped?
I think seds, laika, and HKKid just need to come in and step down if they no longer want to be in the clan. They have history here and would be welcome to visit anytime. Maybe we should make a alumni policy stating that if you were in good standing with the clan for an extended time and just drifted away due to life or whatever then you can come and visit anytime. If those visitations start becoming often and regular then they can rejoin otherwise and occasional hi is nice. Seems to have happened with bellowing fool and seems to be an unspoken policy anyway.
As for cubbers, well I don't know him. I talked to him once or so and I guess I'll vote to remove him.
BLOD is a guy who was a posting fiend. I mean we're talking that he might still have the top posting number in News and if he doesn't I'd bet he is still a top 20 poster there.
Quote from

No He's not retarded....that's what he chose to dress in all on his own!
OMG, how could you use the r-word. Thats so mean and hatefull and blah blah blah. ... Bah, yeah I was watching all the news and controversy behind that tropic thunder movie. What the heck is the deal with all these minority groups taking a word, one historically considered not nice, then empowering the word by making a big deal about it. Just so they can empower themselves by enforcing a ban on this word to others.
The n-word has already gone through all that, only blacks can say it and if your not black and you say it your career is ruined. But there is history in that word and I'll avoid saying it like the plague.
Thing is, not every minority gets some word that they can hold over other people and call hate speech. Homosexuals recently got their own word. I never knew "***" was considered hate speech. Sure, rude, like queer, but not hate speech. Now that too can ruin someones career. And now the mentally disabled want their own one. I understand retarded can be a mean word and is politically incorrect, but its never been hate speech and just means slow. I've used the term myself to describe reagents in chemical experiments that slow the process down. What next, the term loser, geek, and dweeb are used in regards to the socially challenged, lets make that hate speech now. Take Geek and empower that, geek squad...similar to queer eye for the strait guy as far as word use, but loser, thats mean. That can be the next hate speech.
Grrraaahhh. Stupid world with its super conservative censorship or ultra liberal political correctness. /rant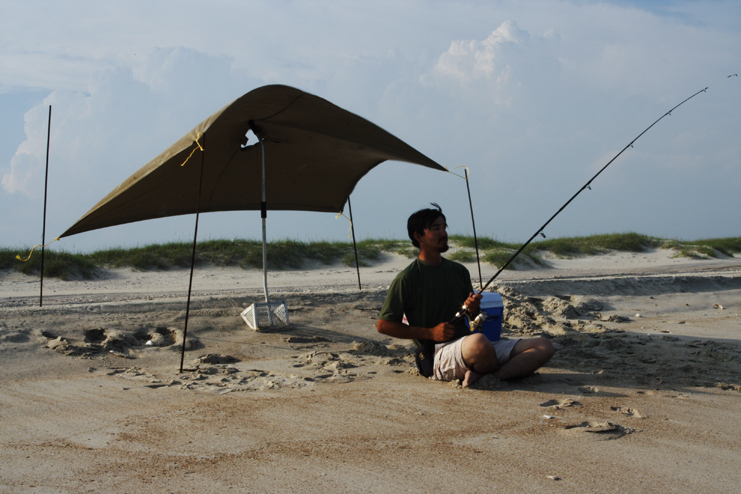 Heres a pic of me fishing. I really like the poncho setup I've got. I use four pices of rebar now and use a sandflea rake to prop the middle. It really shades me better than the pick. I tried to move into the sun a little for the picture.
JJ, On second thought a public beach would be better than my island. Sure you get your own beach here any given day, but a public beach has lifeguards and thats always nice when with kids. Plus there is a bit of comfort knowing that if sharks attack they have a school of human swimmers to choose from on the buisy beach as opposed to the lone human out here. Course shark bites are few and far between. People don't seem to realize that there are loads of sharks in the water and some of them are 8ft long and stuff. Theres a reason most fishermen stay out of the water, they know whats in there. course if I get an 8ft shark I'm eating it.
Cheers,
Daggertooth
***Official Rune Master and Rational Extremest of The Called***


************************From Sound to Sea**********************


And I guess that I'm a lucky one for the truth of what I know.
For my heart had not denied me and I have somewhere to go.
I shall never be a prisoner of steel and glass and stone.
If I leave, I will return again to my Rocky Mountain home.
Moderator Helpdesk