Alacar Leoricar
Location:

Trying to survive

Join Date:

9/4/2005

Posts:

20,315

Member Details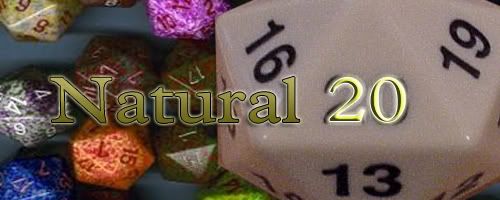 Natural 20 is a clan devoted exclusively to one topic--Role-Playing Games. Be they classic pen & paper games like Dungeons & Dragons, d20, White Wolf, Vampire: The Masquerade, or even Big Eyes, Small Mouth; or digital games for consoles and PC like Dragon Quest, Final Fantasy, Shin Megami Tensei, Elder Scrolls, or Valkyrie Profile; or even MMORPGs like World of Warcraft, Star Wars Galaxies, Guild Wars, or Final Fantasy XI.
At Natural 20, we are very enthusiastic about the gaming industry and gaming subculture of geekdom in general. Members may feel free to post reviews of new systems, supplemental books, or console RPGs. You can also use the clan as a place to discuss things from your own campaigns, or just bounce new ideas off of the rest of us.
After a hiatus, Natural 20 has returned, with a new party of rerolled characters. Besides, the old ones were OP anyways.
Party Members
Alacar Leoricar
Level 35/30 Chaotic Good Half-Elf AD&D Fighter/Magic-User
Photon Eater
Level 20 Lawful Evil Elan Lurk
Ethersphere
Level ?? Elite Dragon Warrior
Mamelon
26nd Level Ardent with 40 Outsider hit-dice (
Domains: Gender, Magical Potions, Chicken Nuggets, Owning in Debate
)
Krashbot
Level 28 Green Blur
LittleDragon
CR 4 Dragon Wyrmling with levels in Cavalier (that's right, a dragon riding on a horse)
arimnaes
Level 14 True Neutral Human Wizard/Beguiler/Ultimate Magus
Ain Soph Aur
Level 23 Half-CelestialAbjurer 7/Cleric 5/Weavemaster 10/Church Inquisitor 1
Caex Kothar
Level 24 Half-DragonSorcerer 5/ Dragonheart Mage 10/ Fiend-Blooded 4/ Pact-Bound Adept 5
(Clan-Rep)
Niv
Level 16 Half-Dragon Dragon Disciple of Dragons (can you see where I'm going with this)
Psychoburner
Shaharazad
Level 20 2nd Edition CG Spellfire Wielder/Chosen of Mystra
Wuffles II
Level 9/9 Barbarian/Frenzied Berserker
(Custom Feat: Poking Dying threads)
Guest Members
(Friends)
Casual Chaos Rules!!
Tutorial Moogle
Faerie Lord
Princess of the Kingdom in Eternal Danger
Sepiriel
Meandering Holy Knight
Tanthalas
Pompous Recurring Comedic-Value Boss
Goatchunx
Annoying faerie that you need in order to play ("Hey! Listen!")
Blane_Firehand
Mystic Swordmaster that trains new
buttonmashing
techniques
wamyc
Lurking Secret Character
Set Abominae
Cultist of Hello Kitthulu
KoolKoal
Stereotypical Dwarven Blacksmith with a Scottish accent.
Sakura
Blatant but demanded fanservice.
Omna15
Level 15 Neutral Good Human Librarian, retired to occasional NPC.
Avatar of Kokusho
Level 30 Chaotic Neutral Human Transmuter 4/Warmage 1/Ultimate Magus 10/Incantatrix 10/Archmage 5 (storyline-centric NPC)
Avatar of Jugan
Level 1 converted Magic Player
ep.
Level 14 Human Lawful Evil Ranger 9/Cleric of Hextor 5 with proficiency in dual-wielding (left the party)
Joyd
Random tutorial Moogle.
Bitsy
Level 2/2 Half-Elven Fighter/Ranger
WHY YOU SHOULD JOIN [NATURAL 20]
One day, at Photon Eater's Glorious Haunted Castle, he and his henchmen friends sat down to a fun-filled game of D&D.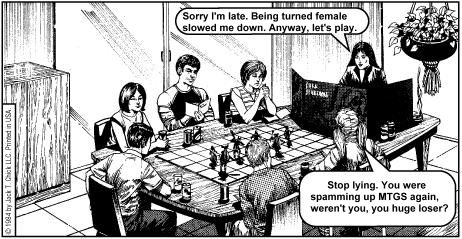 However, that night... Debbie went to check up on Marcie, and found out that tragedy had paid a visit prior to her arrival!!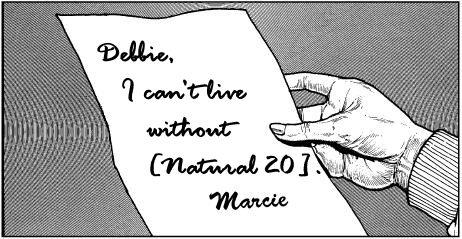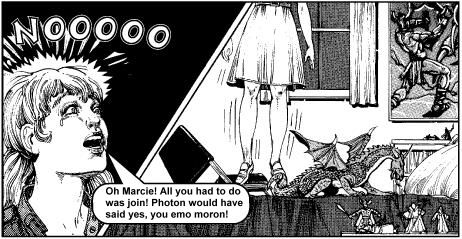 Let that be a lesson to you. Don't be like Marcie. Join Natural 20... and save a life! Perhaps your own!
Clan Policies:
1. This should go without saying, but no flaming/trolling, or otherwise being a butthead to members of this clan, or any other (We absolutely will not tolerate badmouthing other clans in Natural 20!)
2. Be open to different gaming ideas. Gamers are notorious for being set in their ways when it comes to how they think a game should run, so please understand that not everyone wants the same thing out of their experience.
3. Just as a general statement, please do not post material from any game system unless you are absolutely sure that information is available through an Open Gaming License.
4. Please keep an active membership. If you become inactive, we cannot assure that your status as an active member will remain untouched.
5. When requesting membership, you may either PM me, or just post a response in the thread proper. It may take me some time to add you, depending on how available I can be. Before you are added as a member, you may be asked to spend some time posting as a friend first.
6. When requesting friendship, all you need to do is ask. We're open to anyone being a friend, so long as you are willing to talk about gaming and want to contribute to the discussions.
7. Do not post links to
Dark Dungeon
. We've all already seen it, and it's just not that funny anymore, thanks.


Banners credit to Mr. Stuff
Banner credit to Alacar Leoricar
Seeing as how we've been gone, we're going to need to
1) Choose new races and classes and levels--suited to your taste.
2) Gather new guest members (friends)
Topics of discussion:

4th Edition D&D
The success of the Pen & Paper Inn
Your best moment in an RPG (console and/or p&p)
Your WORST time playing an RPG (console and/or p&p)
The future of console RPGs, and the success of RPGs on portable consoles (DS, PSP, GBA)
People should be QUITE grateful that I don't actually have the power to toss fire around.:mad: