Omna15
Sister of the Cruciform Sword
Join Date:

4/16/2006

Posts:

4,070

Member Details

Welcome to Magic Coffeehouse!
Come in, sit down, relax, get to know somebody!
The Magic Coffeehouse is an Overclan that acknowledges that we all are social creatures, and actually like to talk about various things with other people. Here, you can come in, get yourself some coffee, a cookie, or some cake, and just chat a bit with the people around us. And, unlike one of those coffeehouses down the street, this one doesn't cost you anything! We promote a friendly atmosphere, and never turn down civil customers!
The Magic Coffeehouse was founded on April 19, 2006, by Arguas2617 and Omna15. It is an overclan that promotes friendly, spam-free discussion on a multitude of topics, while providing a comfortable circle of friends.
To join up with the Coffeehouse, merely post something about yourself that you'd like everyone to share, and perhaps talk about. We don't like to make anyone feel isolated, as we are just looking for good friends tied together by the common thread of Magic. You can also post requests for drafts forming or start various other groupings of your choosing. Anyone can be a casual customer, but to be a Regular you must come around often, chat clearly and avoid spamming.
We don't consider spam conversation, so join us for the real thing!
Open Since 04/19/2006, We're over a Year and Three-Quarters old, with over 43,375 posts, Spam Free.
Previous Threads:
Grand Opening!
Come in, sit down, get to know somebody!
Over 1 month and 2500!
Omna&Arguas are BACK!
Our First Trimester is near its End!
We like our coffee white blue black red green!
Where Everybody Knows Your Name
Hey, Has Anyone Tried the Coffeecake?
No Knockin' da Helix!
A Year Still Serving Good Conversation and Baked Goods!
We've Got Your Coffeebreasts Right Here.
Broom of Doom & Wet Noodles, Oh My!
Home of the Coffeelings!
Proud Co-Founders:
Omna15
Our gracious hostess and owner!
Arguas2617
Our former amazing clerk and manager!
Our Regulars
:
Alacar Leoricar
Much appreciated Assistant and King Alacaaaaaaaaaaaaaaaaaaaar!
Photon Eater
Folk-singer and Tea Conoisseur, seated upon his Throne of Bone
Ethersphere
Resident RPG Expert and Boyfriend to Photon Eater
Mamelon
Everyone loves Mamelon!
Itinerant Soldier (Formerly Crimson Avatar)
Monsieur King All-Around Helpful Fella
Yukora
The Welcome King and Mod!
Faerie Lord
Not ***_Hater and King of ze Faeries! (Fish Lake?!)
Mr. Stuff
The Anime King (and Red Lobster fan)
Shadowfox
Much-revered Prince of Randomness
BuzzDX -
Mr. Workin' Man
SnoopDoggAtog --
CoffeeHouse Counselor
Joyd
Strategist and Patient in Magic Soap Opera
Kraj
- Bring him Cookies, cuz he's a mod dammit!
Cecelia -
The one w/ the alter-ego known as Princess of Adlehyde Castle, former Yoda of Legacy, training others in the formidable art of Legacy!
SapphireTri --
The loveable (male) Secretary with breasts.
Tanthalas --
Official Calm-downer of the 'House
FoolyCooly7777 --
Lucky Star and Anime Nut
Sepiriel
Avatar of Kokusho --
Wet Noodler and Dementor Creator!
Nai
-- The Robotic Flirt

Charm_Master3125 --
The one who isn't afraid to play girls in RP!

DInfiltrator
PsiBlast --
New Legacy Deckist and Resident Chef!

Krashbot
Casual Customers
:
RickCorgan
Nemcon
Whiterabbit_171
strongbad56
- The Fan of da Man 'Bad, from California

Samurai Soldier
ep. (Formerly NinjaPirate) --
Incredibly friendly Evan

Sakura
-- Ms. Gender Discussion

KoolKoal
The Koolest Koal in the House
Sephiroth Owa --
Resident Beheading Angel

Hunter44 --
Our original Filipino and loyal Mamelon fan

Little Dragon --
The Scary Guy who always gets checked at airports
Zaphod
Satriani744
BigTime
Shaharazad
-- Our Cute Cookin' Kitty


Those Who Have Moved On to Greater Things - We Shall Miss You
HugaTron
The Robotic Hugging Machine -- RIP 11/12/06

Arguas2617 --
Co-founder with Omna, former co-owner, we will always remember his extraordinarily long, multi-quote catchup posting and his gracious serving beverages and food, and all are hoping for the time in the future in which he may return.
Shinobi
Resident Counter-Hopping Caffeine Junkie -- We haven't seen this cute kid in a while
Sterling Angel
The one who <3 QuietArtist -- She's been gone from the House far too long, but our memories and her cookies remain
Patron of the Nerds --
Not sure where he went, but he was a good addition, sorry to see him gone so long
Mortal Wombat
-- Gone from MTGS - an avidly passionate sports fan and person, he was a frequent contributor to the 'House, his absence shall be noticed.
BloodyDoves/Duke Arioch --
Gone for a while now, we miss him and would welcome him back with open arms!
Priest
Our young friend, a true romantic
Psychoburner --
A busy man, his internet hasn't been cooperating with him, so as such we have a lack of this PsychoBurner

Dreia
-- Chef Dreia, always a wonderful girl who loved to cook for us!

PurpleD --
He's PURPLE and he's BACK! ...or not
We miss him!

Umgenni Kemo --
Our pink grapefruit drinker! Gone for too long, we miss him tremendously...

Janus
The Foreign Writer, we will always remember his head bent over his laptop...
All these people, we bow our heads in remembrance, whether they remember us or not, whether they still roam about MTGS, but in their lives and daily business, we wish them well with every fiber of our beings. Once you have become a Regular, you always will be, for we WILL remember you.
Some Ground Rules
1.
No flame wars or excessive negativity. We want a clean, friendly atmosphere at the Coffeehouse. Those who cannot comply with this simple request will be asked to leave.
2.
Have a friendly demeanor and open mind to other people and different lifestyles.
3.
No flaming, snide, rude, racist, or sexist remarks. Innuendo and other harmless jokes are permitted, if all involved are aware.
4.
Enjoy the 'roleplay' atmosphere of the Coffeehouse, and ask for a bite!
5.
Feel free to go off topic, but PLEASE try to keep the flow of conversation going. No one likes being ignored.
6. Spamming is prohibited in the Coffeehouse. Please keep our House clean and provide conversation that everyone can appreciate.
OUR DAILY MENU
:
Drinks:
Hot Tea (Types available on request!)
BubblePearl Tea
Fruit Teas & Herbal Teas (Flavors below):
Apple
Lemon and Lime
Melissa and Orange
Mint
Pink Grapefruit
Raspberry and Echinacea
Strawberry and Vanilla
Wild Rose
Iced Tea
Strawberry Banana Smoothie (Other flavors on request!)
Poland Spring Bottled Water (Ice water on request)
Coca-Cola Blak & other Coke products
Pepsi Products
Italian Sodas (Flavors on request)
Chocolate Milk
Coffee
Iced Coffee
Milkshakes/CoffeeShakes (Strawberry, Vanilla, Chocolate - others on request!)
Hot Chocolate
Cappuccino
Espresso
Americano
Latte (Caramel available - others on request!)
Mocha
Chai
Green Tea
Orange Juice
Apple Juice
Traditional Sweets
:
Kristina's homemade chocolate chip cookies
Miss Mamelon's Cookies
Crimson Avatar's Brownies
Crimson Avatar's Peanut Butter Chip Cookies
Tiramisu
Cheesecake
Chocolate Cake
Strawberry Cake
Apple Pie
Shortcake
Angelfood Cake
Scones
Danishes (cheese, apple, other flavors on request!)
Croissants
Chocolate-inside Croissants
Forest Pie
Chocolate Lasagna
ShadowFox's Truffles
Breakfast:
Stroopwaffels
Pancakes
Photon Eater's Waffles
Arguas' Eggs and Omelettes
Luncheon
:
Club Sandwich
BLT
Ham Sandwich
Turkey Sandwich
Peanut Butter & Jelly Sandwich (variations include PB&Banana, PB&Pickle, PB&Honey, others on request!)
Chicken Club Wrap
Waldorf Salad
Garden Salad
Omna's Special BBQ sauce'd Chicken Wings (Spicy Buffalo Wings on request)
Pizza! (Cheese, Pepperoni, Hawaiian, mushroom, other types on request!)
PsychoBurner's Homemade Chicken Noodle Soup
Popcorn
Turkey Drumsticks
Omna's spinach & cheese ravioli
Omna's Broccoli Cheese Soup
Dragon Star's Dragon Stew
Omna's Tuna Melt
Starr's Canadian Teriyaki Tofu
Dreia's Chicken Spaghetti
Dreia's Shrimp or Chicken Alfredo
Dreia's Wonton Appetizers
Dreia's Crab Rangoons
Photon Eater's Almond-Crusted Parmesan Chicken
Shadowfox's Homemade Truffles!
Arguas' Omelettes
You should have:
Eggs
Frying Pan
Butter/something non-sticky for the pan
Heat Source (We'll use a range in this example)
Mixing Bowl (doesn't need to be huge)
Fork/Egg Beater
Spatula
Toppings (Suggestions include sausage, ham, bacon bits, cheese, spinach, broccoli flores)
Instructions
Set your cooking range to the lower end of the Medium setting.
Crack open 2 eggs into the mixing bowl, allowing the yolk and as much of the plasma as possible to flow into the bowl.
Rotate the fork or the beater to spread out the yolks of the egg until you have a fine yellow liquid.
Once the frying pan is warm, pour out the contents of the egg from the mixing bowl onto the frying pan. Try as hard as possible not to let it spread out too far unless you have a circular frying pan. Should that be the case, let it spread out in a circular fashion to the ends.
While the underside of the omelette cooks, apply your toppings to the side of the omelette which is not finished cooking. While you spread out the toppings, most often the Omelette will have successfully cooked at this point.
Use your spatula to fold the two sides of the omelette together upon itself, or if it is circular flip over one side of it onto the other, effectively folding it in half. Let it cook and then flip it over to the other side.
Press the omelette down a bit, letting some of the excess juices flow, and then cook.
Use the spatula to remove the omelette and serve.
SnoopDoggAtog (Starr)'s:
CANADIAN TERIYAKI TOFU
4 cups snow peas
4 cups cubed white button mushrooms or whole tiny button shrooms
4 cups chopped yellow onion
3-4 cloves garlic, finely chopped
2 8-oz extra firm tofu steaks, cubed and cubes rolled in flour spice mix
Toasted sesame seeds
Flour spice mix
1 cup wheat or corn flour
1 tbsp garlic powder
1 tbsp dried basil
Pinch salt
1/4 cup vegetable oil
CANADIAN TERIYAKI SAUCE
1 tbsp (LOL 10 ml) maple syrup
1 tbsp (LOL 10 ml) rice vinegar or red wine vinegar
3 tbsp (LOL 30 ml) soy sauce
Pinch ground ginger
Pinch red chile powder
COOKING:
Heat vegetable oil in 16" wide or larger wok or deep skillet until a bit of onion dropped in starts sizzling briskly right away.
Add tofu, onion, garlic; stir fry for 1-2 minutes on high heat.
Add mushroom; stir fry for 5-10 minutes or until onions are translucent and mushrooms are starting to soften and brown.
Add snow peas and stir fry for 5-10 more minutes. Pods should be glistening and softly springy, but still green.
Pour in Canadian teriyaki sauce, stir, lower heat to medium, simmer for 5-10 more minutes or until mixture starts to become dry and cooked, whichever is first.
Salt to taste.
Remove from heat, garnish with toasted sesame seeds, and serve over steamed rice or with soba. 6-8 servings.
Photon's Almond-Crusted Parmesan Chicken
First of all, you'll need enough chicken breast to provide each person with a good 3 or 4 strips. I usually go with about 1 large chicken breast per person. You'll want to cut each breast (once thawed) up into equally sized strips of about an inch of thickness. Also, another alternative is to use chicken tenderloins. If you go with this option, I would suggest about 3-4 strips per person, depending on the relative size of your pieces.
Then, combine 1 part finely crushed almonds with 1 part grated parmesan cheese. I usually use between a cup and a cup and a half, if forced to measure. Season this mixture with a dash of sea salt (you only really need a tiny bit here, since the cheese has a lot of salt in it), and some freshly ground pepper.
Gently beat together two eggs and a fourth of a cup (give or take a little) of water together to form an eggwash. Dip your chicken in the egg, and then coat both sides evenly in the cheese-almond mixture. Place on a non-stick baking sheet, and then bake for about 15 minutes in a 425 degree oven. You'll want to keep an eye on it so that your almonds don't burn- burnt almonds have an awful taste and it will ruin the dish entirely. When finished, the coating should be crispy and slightly golden.
Garnish with slivered almonds and some fresh cilantro.
Dreia's Recipes:
Crab Meat and Cheese (Ragoons)
Ingredients:
8 ounces, softened
4 green onions, chopped or diced
1 can crab meat
2 teaspoons minced garlic
25 wonton wrappers
(small bowl of water)
You'll need a medium mixing bowl and a frying pan or deep fryer.
Directions:
Combine cream cheese, green onions, crab meat, and garlic. Spoon some of the mixture onto a wonton wrapper. Dab water around the edges of the wrapper. Place another wrapper on top, and seal against the water. Fry until golden brown. Remove from frying and let set on paper towels for a minute or two to cool.
Note: My friend fries hers in a pan, but when I made them we put them in a deep fryer basket. I cooked them for a little bit, then flipped them over and cooked until golden brown.
Wonton Appetizer
Ingredients:
8 ounces cheddar or Colby jack cheese, shredded
8 ounces pepper jack cheese, shredded
1 cup ranch dressing
1 pound breakfast sausage
35 Wonton wrappers
You'll need a medium bowl, frying pan, muffin pan, and a cookie sheet.
Directions:
Preheat oven to 350°F. Cook and drain sausage. While cooking the sausage, take wonton wrappers and push them into the muffin shape of the muffin pan. Bake in the oven just long enough the shape will set (about 5 minutes). Remove from muffin pan and place on the cookie sheet. Combine the cheeses, dressing, and sausage in a medium bowl. Place the mixture into the formed wonton wrappers on the cookie sheet. Once the cookie sheet is full, or you have enough for what you need, bake them until the cheese is all melted.
Chicken Spaghetti
Ingredients:
4-5 Chicken breasts, cut into pieces
12-16 ounces spaghetti noodles, cooked and cut into small pieces
16 ounces sour cream
1 (10¾ ounce) can cream of mushroom soup
1 (10¾ ounce) can cream of chicken soup
8 ounces Velveeta cheese, cubed
12-24 ounces cheese shredded (Colby jack or medium cheddar is yummy)
Mushrooms, optional
Season to taste (oregano, salt, pepper)
You'll need a kettle to cook the chicken in, a kettle for noodles, a large bowl, and a 9"x13" pan.
Directions:
Preheat oven to 350°F. Boil chicken until fully cooked and drain. Season the chicken after bowling for stronger taste. Mix all ingredients together in a large bowl. Spread into pan and bake.
Note: I used elbow macaroni and it worked quite well.
Shrimp or Chicken Alfredo
Ingredients:
8 large shrimp, peeled and cleaned, or 2 chicken breasts
1½ teaspoons olive oil
¼ teaspoon oregano
1 clove garlic, chopped
¾ cup heavy cream
¾ cup parmesan cheese
7 ounces linguine noodles, cooked and drained
1 egg yolk, beaten
Salt and pepper
1 teaspoon parsley chopped
Lemon wedge and chopped parsley, optional garnish
You'll need a dish for marinating, a kettle for noodles, and a skillet.
Directions:
Marinate meat in oil, oregano, and garlic for 30 minutes. Remove meat and sauté in skilled over medium heat (for shrimp, just until tails curl and flash turns pink). Season it lightly with salt and pepper. Add heavy cream, cheese, and linguine. Simmer about 3 minutes, whisking constantly. When meat is fully cooked, whisk in egg yolk and parsley. Remove from heat and serve immediately. Garnish if you choose.
Notes: Noodles in one pan and sauce in another works best. Then pour sauce over pasta and toss together.
Monster Cookies
Mix until smooth:
12 eggs
4 cups white sugar
1 tablespoon corn syrup
3 pounds peanut butter
2 pounds brown sugar
8 teaspoons baking soda
1 tablespoon vanilla
1 pound butter (cannot use oleo/margarine)
Stir in until mixed well:
18 cups oatmeal
1 pound chocolate chips (mixture of other varieties works well too-my preference is butterscotch, chocolate, and white chocolate)
1 pound M&M's (plain/politically correct milk chocolate works best, because peanut are too big)
Use ice cream scoop to scoop cookies onto cookie sheet. Flatten before baking. Bake at 350F to desired consistency (chewy or crunchy). Approximately 12-15 minutes. Do not overbake.
Note: A half batch is enough to fill two large Tupperware containers. A full batch makes about 60 (5" diameter)cookies.
Mamelon's Sweet & Spicy Rice
I started with my basic recipe for
caramelized rice
, which is as follows:
1-2 tbsp butter
1-2 tbsp sugar
1 pinch salt
1 cup rice
1-2 cups water
I add the butter to a large metal cooking pot. Then (very important) you let the butter cook until it turns brown. Add the sugar and salt, then add the rice and coat with butter. Then add enough water to cover the rice.
To this, I added:
1 tsp dill seeds
1 tsp sweet paprika
1 tsp cinammon powder
1 tsp dried oregano
several grinds of fresh black pepper
Add these together with the butter. When the rice and water is combined and comes to a boil, add:
1/4 cup good red wine
Bring to a boil, then simmer on low flame/low heat for 10-12 minutes. When the water is absorbed properly, add:
1/2 cup milk
1 tbsp horseradish sauce or 1 tsp ground horseradish
1/4 cup frozen or fresh peas
Let the milk simmer and condense, then add:
1/4 cup your choice of rice vinegar, balsamic vinegar, red wine or sherry vinegar, italian dressing, dijon dressing, or other acid-based dressing
Additional vegetables, like onions, would also be welcome, as would ground ginger and curry powder.
Mamelon's Honey & Nut Glazed Chicken
I started with
4 small chicken tenderloins
But one or two chicken breasts, or other type of chicken meat, would also be fine. Some other type of meat would probably also be good with this dish.
I made a brine out of 1 part salt, 1 part vinegar, and 2 parts water, and let the chicken soak in it for a half hour (or more). Afterwards, dice or chop chicken and add to a hot pan with butter or your choice of oil. After the chicken has some color on the outer side, add:
2-3 tbsps of your choice of good wine or vinegar
1-2 pinches of salt
several grinds black pepper
2-3 tbsps honey
1/3 cup shelled peanuts (or other similar nut/legume of your choice)
Bring the liquid to a boil, then reduce heat and let the chicken cook. Before it's done, you may add, at your option, any combination of:
1 tbsp barbecue sauce
several dashes of worcestershire sauce
1 tbsp mustard
1 tbsp peanut butter
You want the liquid to reduce quite a bit, but it's best to allow some of it to remain to form a sauce.
Mamelon's Breadcrumb Stuffed Mushrooms
I started with seven smallish, toad-stool lookin' mushrooms, but other kinds of mushrooms would be very good choices. Remove the mushrooms stems.
Then I prepared breadcrumbs by toasting wheat bread and curmbling it (should make about a cup) but any other type of bread, premade breadcrumbs, or panko would work, too.
I combined breadcrumbs with 2 tbsps melted butter, 1/2 tsp rosemary, a dash of salt, and a few grinds of black pepper. Combine with hands until flavors permeate.
Fill the cavity in each mushroom with breadcrumb mixture until they are overfull. Sprinkle remaining crumbs over the mushrooms.
Mine only took about 10 minutes on 350 to roast and make the crumbs golden, but you may need to adjust cooking time for larger mushrooms and if you make more at a time.
And... Our cat!!
SpaceCat!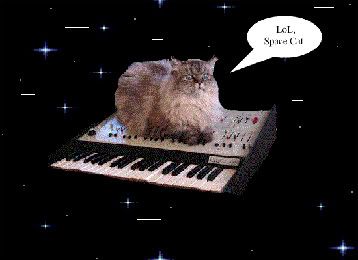 Wu-tang Kitty!
http://img.photobucket.com/albums/v77/Tatianasaphira/ScottsFolder/CatCoffeecopy.jpg
O Coffeehouse, O Coffeehouse!
Its golden doors always open!
O Coffeehouse, O Coffeehouse,
Its golden doors always open!

Where Photon scares the N00bs away,
Yet we all love him both straight and gay.

O Coffeehouse, O Coffeehouse,
Its golden doors always open!
O Coffeehouse, O Coffeehouse,
Where 24/7 Hunter just woke up!

O Coffeehouse, O Coffeehouse,
Much replying is done by Omna!
O Coffeehouse, O Coffeehouse,
And now Alacar makes everyones day.

O Coffeehouse, O Coffeehouse,
Now Mamelons talking so all shut up!

O Coffeehouse, O Coffeehouse,
Sakura said something that makes us wince!

O Coffeehouse, O Coffeehouse,
The coffee is always warm!
So much chatter always informs,
Everything from RPG's and sometimes pr0ns.

O Coffeehouse, O Coffeehouse,
The coffee is always warm!
Sit and stay and watch awhile
As people come and go;
I bet you'll find a reason to smile
As friendships bloom and grow.
There's much for you to give and share
We will hear you true
There's a chair for you at the Coffeehouse
We're glad to welcome you!
AoK's Mew New Year!
Some Discussion Topics:
Magic in your life :symw::symu::symb::symr::symg:
Gender Bias
Omna's Awesomeness (for being a girl!)
Alacar's Awesomeness (for being the Coffeehouse's Assistant)
Anyone's Awesomeness (for being in the Coffeehouse)
The majesty of the Coffeehouse
Jobs
School
Relationships
Photon/Ethersphere's Cuteness
Cuteness in General!
Anything
at all.. Randomness is embraced!
Welcome to the [Magic Coffeehouse]!
With Warm Regards and Open Arms,
Omna
Magic CoffeeHouse Co-Founder/Owner
Last edited by
Omna15
: Apr 16, 2008
Proud Co-Founder and Owner of:
Magic Coffeehouse!
Come in, sit down, relax, get to know somebody!

Open Three and a Half Years as of October 19, 2009!
Banner by PurpleD and avatar/custom by Tanthalas