Mr. Stuff
Location:

Kobe, Japan

Join Date:

5/11/2005

Posts:

5,205

Member Details
Alright, this one is gonna be quick, because I'm right in the middle of a Gurren-Lagann marathon with my brother...
It's time for...
ANIME OF THE WEEK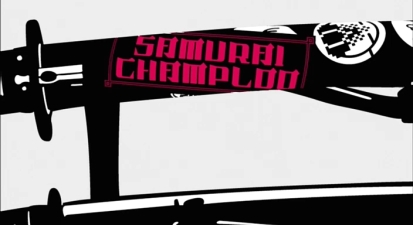 Series: Samurai Champloo
Episodes: 26
Genre(s): Action - Historical - Parody - Comedy
The plot: Two wandering samurai, Mugen and Jin, get finagled into going on some sort of a mission by a girl named Fuu. Apparently she wants them to look for some kind of "Sunflower Samurai". Well, since the law is after Mugen and Jin, getting out of town seems expedient, and going her direction is as good as any. So begins their grand... uh... adventure.
By now I'm sure you've all seen or heard of this one, since it's been on Cartoon Network. Perhaps you've only seen a few episodes it; perhaps you've seen the whole thing. So, is it as awesome as it gets made out to be? In a word, yes. This was made by Watanabe, the same guy that had a hand in a little show called Cowboy Bebop, and it shows. Comedy? Holding-your-sides, falling-out-of-your-chair good. Action? Off-the-wall stylized combination breakdancing/swordfighting like you've never seen. Anachronisms? Plenty and then some. Music? Well... Ok, it's not entirely perfect. This is one series you don't want to miss. This kind of stuff is the reason people get into watching anime. It's amazingly good.