Photon Eater
Hunter of the Philosophical Zombie
Join Date:

3/6/2006

Posts:

6,299

Member Details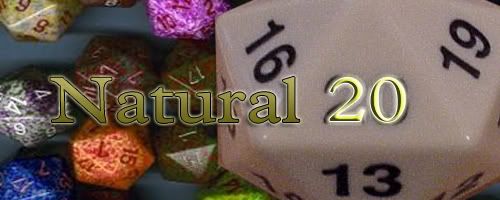 Banner Credit to: Alacar Leoricar
Natural 20 is a clan dedicated to one thing, and one thing only- Roleplaying Games. Be they classics such as D&D, White Wolf, Vampire the Masquerade, or anime-inspired games such as Big Eyes, Small Mouth- this is the place to talk about them and enjoy them with your clan members. But that's not all! We're also into other types of RPGs as well- great console RPGs such as Dragon Quest, Shin Megami Tensei, or Final Fantasy, and even MMORPGs like Guildwars, World of Warcraft, or Dungeon and Dragons Online.
At Natural 20, we are very enthusiastic about the gaming industry and gaming subculture of geekdom in general. Members may feel free to post reviews of new systems, supplemental books, or console RPGs. You can also use the clan as a place to discuss things from your own campaigns, or just bounce new ideas off of the rest of us.
WHY YOU SHOULD JOIN [NATURAL 20]
One day, at Photon Eater's Glorious Haunted Castle, he and his
henchmen
friends sat down to a fun-filled game of D&D.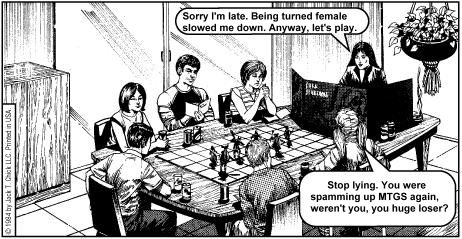 However, that night... Debbie went to check up on Marcie, and found out that tragedy had paid a visit prior to her arrival!!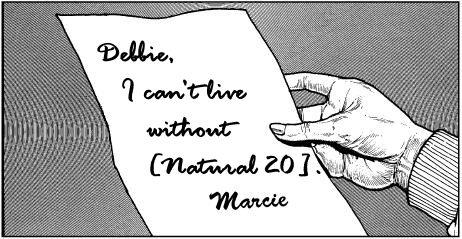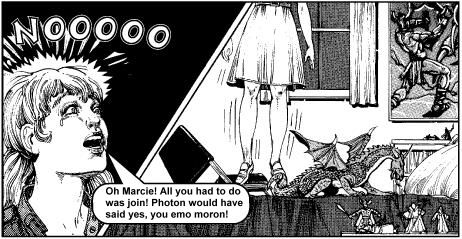 Let that be a lesson to you. Don't be like Marcie. Join Natural 20... and save a life! Perhaps your own!
Party Members
1.
Photon Eater
, Level 12 Human(?) Bard, and Leader/Clan Rep of Natural 20. (
Alignment: Double Secret Chaotic Evil
)
2.
Mamelon
, 22nd Level Ardent with 40 Outsider hit-dice (
Domains: Gender, Magical Potions, Chicken Nuggets, Owning in Debate
)
3.
Ethersphere
, Level 12 Human Rogue, and Resident Console RPG expert (
+20 inherent bonus to Knowledge: Gaming checks
)
4.
Dragonstar
, Level 12 Human Druid, Tried 12 times on counts of dracocide, acquitted each time (
Entirely possible he is not a fan of Draconomicon
)
5.
Mr. Stuff
, Level 12 Human Cleric of Astroboy (
Skill Focus: Omake
)
6.
Omna15
, Level 3 Human Druid (
Animal Companion: 4HD Dire Boyfriend, "Arguas2617
")
7.
void nothing
, Level 11 Drow Ranger (
Twin Scimitar not included
)
8.
Psychoburner
, Level 11 Half-Dragon Sorcerer (
Specializing in Invisibility spells, and other such spells that cause him to disappear from sight for extended periods of time
.)
9.
Phantom Ronan
, Level 11 Dwarven Samurai (
Don't ask. It sounded good from a metagame standpoint
).
10.
Yukora
, level 10 Human Fighter (
Demonic Heritage Yet Unproven
)
11.
Alacar Leoricar
, level 10 Half-elf Wizard (
I know, what a shock
)
12.
kevinliu2333
became a level 10 Human Favored Soul of Lolithia (
SEEK NOT LOLILITHIA! SHE IS IN HER TOMB!
Cross genre FTW!
)
NPC's (Friends):
Priest
, chaplain of the village church
Wessel
, owner of the town's wooden shoe and healing potion shop
Umgenni Kemo
, owner of the Fancy Unicorn Inn and Tavern
Nan
, Guy who wanders around the village and randomly gives out oddly pertinent information to random travelers.
Patron of the Nerds
, Owner of the Busty Barbarian Tavern
Sliver Underlord
, guy who always walks in front of that one door you need to get into and won't move so you need to spend the next few minutes running in a circle until he finally gets out of the way.
Tneill
, Random female elementalist dancing near tree, WTB ICE ELEMENTAL SHARDS!!! LOL
Nemcon
, Pack of dangerous kobolds lurking just outside the village
SapphireTri
, save point
Krashbot101
, crazy villager who keeps Elixirs in his clocks
*** Hater
, obligatory elven fletcher
Bad Luck
, Town Weapon Shop owner
Glamdring the Foehammer
, Myrlynd's Spoon
Faust
, drunken bard passed out in the filth near the stables
Wrath of Dog
, randomly overpowered town guard that only exists for when your DM needs to lay the pain on that one really annoying guy in your playgroup who is always causing trouble.
Shaharazad
, crazy old guy outside the church who spouts off end of the world prophecies that are frighteningly relevant to the adventures of the party
grappler12
, shady innkeeper that steals your money while you sleep.
Arguas2617
, animal companion
Janus
, optional boss hiding in well
Shino Tenshi
, talking broom
KoolKoal
, random encounter
Crimson Avatar
, mysterious girl selling flowers.
Danbanzero
, man selling magic carpets in the market square
BuzzDX
, town militia solder that is easily outperformed by a teenager with wild hair and a sword.
StormBlind
, a mysterious well.
Joyd
, nefarious town cake-stomper
wamyc
, tutorial dungeon
Perished in Combat (Inactive Members):
None yet!
+1 Weapons Rewarded
*** Hater- +1 broadsword
Shaharazad- +1 falchion, +1 katana, +1 lance, +1 guisarme, +1 kukri, +1 handaxe, +1 dagger
Omna15- +1 longsword, +1 cutlass, +1 quarterstaff
Sliver Underlord- +1 crossbow
Alacar Leoricar- +1 bastard sword, +1 scimitar
Ethersphere- +1 ranseur, +1 greataxe, +1 halberd, +1 whip-dagger
Photon Eater- +1 fullblade, +1 rapier, +1 spiked chain, +1 morningstar
Yukora- +1 warclub
Mamelon- +1 quarterstaff, +1 ranseur, +1 spiked shield
Joyd- +1 harpoon
grappler12- +1 katana
Music to Game by:
Update 1
Clan Contests:
Contest 1: Backstory Contest (Winner: Photon Eater, with
Rose Giltrane
)
Contest 2:
Card Up Your Character
(Winner: Mamelon with
Portia, Argent Champion et al
)
Previous Adventures:
It looks like we rolled a [Natural 20]
Clan Policies:
1. This should go without saying, but no flaming/trolling, or otherwise being a butthead to members of this clan, or any other (We absolutely will not tolerate badmouthing other clans in Natural 20!)
2. Be open to different gaming ideas. Gamers are notorious for being set in their ways when it comes to how they think a game should run, so please understand that not everyone wants the same thing out of their experience.
3. Just as a general statement, please do not post material from any game system unless you are absolutely sure that information is available through an Open Gaming License.
4. Please keep an active membership. If you become inactive, we cannot assure that your status as an active member will remain untouched.
5. When requesting membership, you may either PM me, or just post a response in the thread proper. It may take me some time to add you, depending on how available I can be. Anyone is welcome to become a member, so long as they have an interest in gaming- be it in tabletop games, console RPGs, or whatever!
6. When requesting friendship, all you need to do is ask. We're open to anyone being a friend, so long as you are willing to talk about gaming and want to contribute to the discussions.
7. Friends who have not posted since the previous thread will be removed. However, you can apply for friendship again, but don't be too surprised if I am hesitant to add you.
8. Do not post links to
Dark Dungeon
. We've all already seen it, and it's just not that funny anymore, thanks.
And now, to start things off, some sample conversation topics-
1. D&D- which version do you prefer?
2. Video Games- What are you playing currently?
3. Tabletop- What are you playing now, and what is your current campaign all about?
4. Post up one of your characters!
5. Voice acting in video games.
6. Share some information from your current campaign
7. Religion in D&D
8. The Paladin Phenomenon- Why do GMs feel the need to punish good players with impossible moral dilemmas?
9. MTG in RPGs.
Banners and Images:

[16:23] Alacar Leoricar: maybe if you do it'll make the porn more meaningful