Orzhov Syndicate
Location:

U.S.A

Join Date:

11/16/2005

Posts:

134

Member Details

Time to begin a new contest!


Our clan has great flavor, themes, and most importantly, its members. But we're lacking a striking graphic to represent our clan.
Orzhov Syndicate Contest #2: Official Clan Banner.

Rules:
1 or 2 submissions per member.
Maximum size of 600x300 pixels.
You are allowed to edit your submissions to include our new motto.
Prize:
The title of "Orzhov Artmage" and no fear of the minimum post requirement (so you won't lose your title in case you go off on a long trip).
Submission by Krashbot101: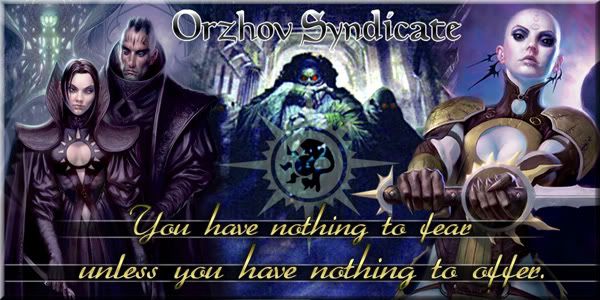 Submission by spiral:
Submission by Darklight:
Second Submission by Darklight:
-----------------------------------------------------------------------


ORZHOV SYNDICATE

"You have nothing to fear unless you have nothing to offer."

Clan Founder:
arch_wooohh

Clan Leaders (The Ghost Council):
MUCer
dragonhunter
Orzhov Syndicate

Orzhov Lawmages: Clan Council Representatives
Krashbot101 Orzhov Punisher * [Official]
!KAMELEON!, Cleric Lord * [Back-up]


Members:
[If you do not post in this thread you'll have to rejoin in the next. Meaning, I'll remove you from this list.]

1hikaru3
Arky305
Astartus *
Black&BloodyPsychopath *
Blocker
chaosjuggler *
charmer
Chipmunk-With-A-Gun
creampuffeater *
Darklight *
demon
Der-Traurige-Industrielle The Purgatorial One *
Dras
elder
Esillisar
Fear Mage
Go_combo_go
Hyperion *
infernotsu Lord of Lies *
Mamajason
markesh The Blood Cloaked Priest
Master of the Daemon Tide Orzhov Dementist *
Rodyle keeper of the vault
slovakshade
Super rat
wackyo86
worstnerdever

Friends:
Ahriman
Avatar of Kokusho
TheBlueBeetle
Illuvatar
InfiniteDraw
kobisjeruk
faust
Goatchunx
Good&Evil
Nocturn
Orzhov Joe
pacmanvr
Patron of the Nerds
PurpleD
Rayne
Sam111111
Striking Dragon
yukora

Last Thread
We are the guild of deals. Our goal is to gain wealth. With wealth comes power and authority. Anything that a client wants we will provide, for the right price ofcourse. Remember, we are the guild of deals so we are on good terms with all guilds and clans. No arbitrary enemies. Not to say we are push-overs, if a group strikes against us we will crush them with extreme prejudice.

Member of the Ghoust Council of The Orzhov Syndicate

"You have nothing to fear unless you have nothing to offer."