Megiddo
Location:

Internet Web Site

Join Date:

9/6/2007

Posts:

21,911

Member Details
CLAN FLAMINGO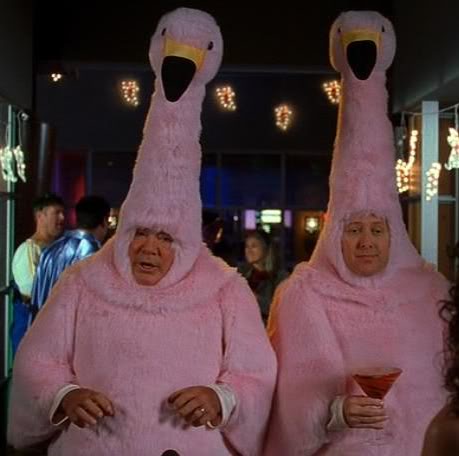 There is only one flamingo, that is Megiddo

it's Megiddo's clan we just post in it.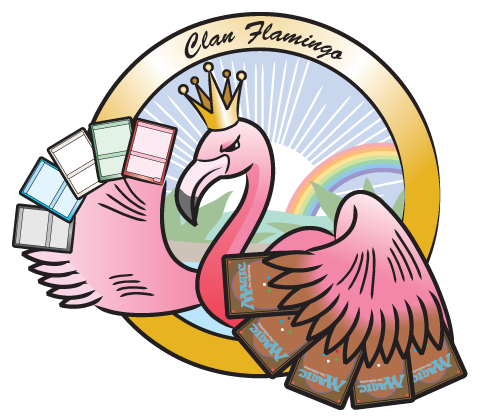 The Pink Baron welcomes you to Clan Flamingo!
Welcome to Clan Flamingo!
From our humble beginnings in 2010,
Club Flamingo
has slowly grown more and more popular among the Custom Card Contests and Games subforum. As 2011 went on, we slowly started to outgrow our single thread, and we've been seeking to expand. Since the new year we have brought some of that sentiment to fruition and led the charge in bringing innovations to CCC+G, the most recent of which is reviving the idea of a custom cards clan!
The guiding philosophy of Clan Flamingo is to foster innovation, creativity, and camaraderie among custom card creators.
It is my goal to give custom card creators a place to commune, chat, and create while providing support to designers both new and experienced. Different people will get different things from this thread, and that's ok!
Clan Flamingo is an outshoot of
Club Flamingo
, my fast-growing custom card game, and likewise the members of Clan Flamingo come predominantly from there. As time goes on, I expect that our membership will expand, growing to include more of the subforum and possibly more of MTGS as a whole.
Our common thread is custom card design, of course, as well as an interest in Magic in general, though we all have our own diverse backgrounds and interests.
Because of the nature of this clan, please be respectful and courteous to your fellow posters at all times. Gentle ribbing (and sheep jokes) are allowed at all times, but if you're feeling the need to be mean, please just step away from the computer for a while. Of course, if you have a legitimate complaint about another user feel free to report the post in question (if appropriate) or PM Megiddo regarding the matter.
Clan Flamingo has three main goals:
1. Provide help, support, and advice to new and experienced card designers.
2. Facilitate a community among the card designers of MTGS.
3. Serve as a "new game workshop" to ensure that new custom card games are launched with multiple people behind them and a solid, long-term plan for success.
Full Plumage:
☆ Tier VI ☆
CrustaceanCrusader
Oculus — Representative Flamingo
PanchoPonceN

☆ Tier V ☆
Megiddo — King Flamingo

☆ Tier IV ☆
avatarz
Gerrard's Mom
Rithaniel
Stapler

☆ Tier III ☆
Brofaux 
Doom Lich
Emocakes
Lanxal
MagicBrains
Piar
Prophylaxis
pstmdrn
summon_legend
void_nothing

☆ Tier II ☆
bloodyspasm
Diefi00
KoolKoal
MDenham
MirrorEntity Urza MirrorEntity
Vishamon

☆ Tier I ☆
Mubutu — The official 1% of Clan Flamingo
Trapped Hawk

☆ Tier 0 ☆
Altaurus321
AspiringInsomniac
Atogaholic
Balefire
Fungus
wilsonbiggs
yewlas

Fledglings
Froxbite
LuckNorris
Pheon
Ravarshi
wolftits — The official "Best Friend" of Clan Flamingo

Friend Clans
[The Merchant's Guild]
To become a member of Clan Flamingo
, post in the thread requesting to join. If you name appears anywhere on
this list
, you will be accepted barring unusual circumstances. Otherwise, you will be accepted on a case-by-case basis that essentially boils down to whether you are active in CCC or CCC+G. Activity in Club Flamingo helps you, but isn't required. In addition, please take the Club Flamingo entrance exam. PM your answers to Megiddo.
Up first, some Club Flamingo questions.
1. What was Club Flamingo's original name? Why was it changed to Club Flamingo?
2. Club Flamingo runs a Monthly Qualifier each month that tries to bend the rules and bring some innovative fun to CCC. What was the first CFG and who ran it?
3. There have been many WiJ-style games in CCC. Club Flamingo is neither the oldest nor the most recent. How many WiJ games existed
before
Club Flamingo?
4. What is the "default" title for Club Flamingo's thread? That is, when there is nothing special happening, what comes after the star in the thread title?
Next, some Clan Flamingo questions.
5. Clan Flamingo has a mascot. What is it? Who created it for us?
6. Clan Flamingo is known to harbor several "small children." Name one. Identifying the Clan "babby" is also acceptable.
7. Clan Flamingo members are required to study extensively the works of a particular user that we admire and hold up as a paragon of card design. Who is this user?
And now, some questions about Megiddo, the clan leader.
8. How many times has Megiddo won Club Flamingo?
9. When given the option, Megiddo strongly prefers a certain converted mana cost and power/toughness for creature cards. What is it?
10. Megiddo is known to be an aficionado of certain creature types. Name one.
Finally, some things to do.
11. Play in Club Flamingo!
12. Post here in the Clan thread!
13. Win a challenge in Club Flamingo!
14. Join us in #flamingopunk and chat!
15. Help somebody design and launch a new custom card game!
DON'T POST ANSWERS IN THE THREAD
To become a friend of Clan Flamingo
, post in the thread requesting to be a friend. Barring unusual circumstances I will add you to the list.
To chat with the Flamingos
, join us in irc! We can be found in the #flamingopunk channel. Not sure what irc is? Look up at the top of your page and click the little "chat" button!
Useful links:
Club Flamingo
— Where it all started!
Club Flamingo Tier List
— What's your rank?
Core Flamingo
— Clan Flamingo's official custom set!
Proposing your CFG
— What to do if you have a great game idea!
The Flamingo Calendar
January —
The Battle Factory
(COMPLETE! PanchoPonceN wins!)
February —
And Then There Were None
(COMPLETE! socrates wins!)
March —
Blockbusters
(COMPLETE! Rithaniel wins!)
April — Transmogrify That Card (Ongoing)
May — The Labyrinth Adventure (planned)
June-July — The Magic Wars (planning)
Last edited by
Megiddo
: May 18, 2012
Can we have Megiddo removed from the forum forever please?
i'm pretty sure i can find your ***** online within 3 minutes
[Clan Flamingo]

[Club Flamingo]