Bur
Staff
Moderator
Clan Representative
Initiating Survival Strategy

Location:

Who knows?

Join Date:

5/8/2012

Posts:

4,046

Member Details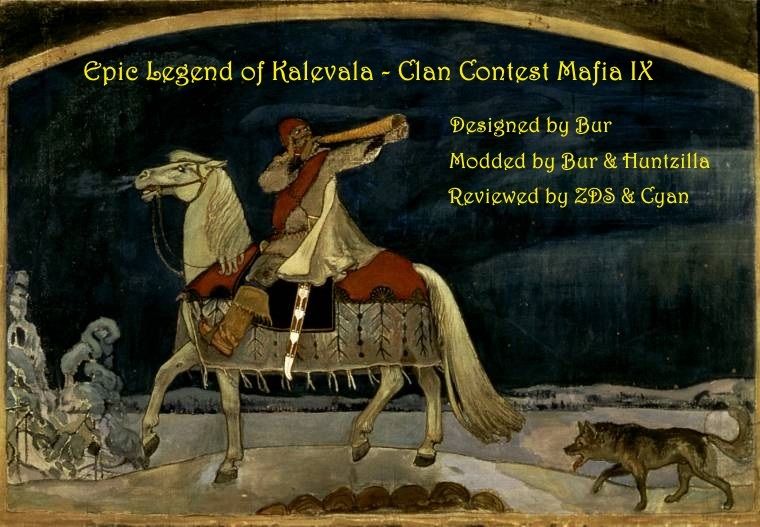 This is a Clan Contest Mafia IX for 9 players.
(Thanks to Iso for the template and the rules.)
Rules:
*No post editing. If you have something else to say, post again. I will be modkilling for this offense.
*Every clan, instead of the traditional representative, will be allowed a hydra account from which to post.
*

All posts must be signed by the player making the post. If you forget to sign, make a double post. Continuous violation will lead to warning and further violation may lead to modkill.


*Do not communicate with other players not sharing your clan hydra account outside of the game. If you are to communicate with another player, I have provided you the means in which to do so in your role PM. I will be modkilling for this offense.
*Do not discuss on-going games within this game.
*Do not discuss this game with other people aside from whom it has been designated you may communicate with, especially not in a publicly viewable area.
*Do not try to flavour-game. You have been warned.
*If you are not a player in the game, do not post in the game thread. If you accidentally post from your main account, please make a double post signing which clan you are from so that any confusion can be averted.
*Make your vote and unvotes bolded and in separate line so that I may find them more easily. Votes not bolded are ignored.
*There are no hidden win conditions in this game. Win conditions will not be listed in Role PMs.
*The Town's win condition is: Defeat the traitorous heroes.
*The Mafia's win condition is: Equal or outnumber the other heroes.
*Please do not "Thank" any posts.
*Stay within the rules of the forum, have fun, blah blah, etc.
If you have any questions, feel free to ask.
I will not be answering role-related questions in the thread. If you have a question, please PM me first on the matter. Remember to please include Huntzilla on all PMs to the game mod.
No one had really expected it. It had been peaceful in the Land of Kalevala for several centuries, since the departure of Väinämöinen. However, the rumours had made their way to the ears of the heroes of Kalevala: New kind of threat was about to befall upon their beloved motherland all this was caused by traitors amongst them.

It took them no need to reconsider and soon had the message been sent to other heroes to reassemble and rid their motherland of these traitors amongst them.
(Order of Operations, stolen from Cantripmancer)
1. Immunities
2. Controlling another player's actions
3. First strike non-killing actions
4. Gaining actions
5. Losing actions
6. Redirecting / replacement effects
7. Roleblocking
8. Protecting
9. Rescuing / Reviving
10. Sending items or messages
11. First strike killing actions
12. Killing actions
13. Gathering information
14. Anything else
Still fightning: (Alive)
1. Gaymers (scarbo, necarg)
Joukahainen - Town Vanilla
(Endgamed)
7. Spirit of EDH (Jr., TappingStones)
Mother of Lemminkäinen - Town Bodyguard
(Endgamed)
In Tuonela: (Dead)
2. Crafters (Wheat_Grinder, pikachugundam, Kankennon, Kahedron, pet snake) -
Ilmatar, Town Vanilla
(Lynched Day 1)
8. Masterless (Seppel) -
Ilmarinen the Blacksmith - Town Vanilla
(Killed Night 1)
3. The Family (Rhand, Iso, Generic, DCIII)
Kullervo - Town Vanilla
(Lynched Day 2)
6. Clan Flamingo (Megiddo, Chemtrails, Prophylaxis, Atogaholic)
Aino - Town Vanilla
(Killed Night 2)
5. Limited (Puddle Jumper)
Antero Vipunen - Mafia Vanilla
(Lynched Day 3)
4. MTGSBrigade (Teia, Sepiriel)
Louhi - Town Lie Detector
(Killed Night 3)
9. Ronin (Figurative, fulcrum, 7hawk77, Gentleman Johnny)
Väinämöinen - Mafia Roleblocker
(Lynched Day 4)
Last edited by
Bur
: Aug 22, 2015
Quote from

Brb gonna turn gay for bur