AsianInvasion
Location:

Pandemonium Fortress

Join Date:

12/28/2006

Posts:

14,766

Member Details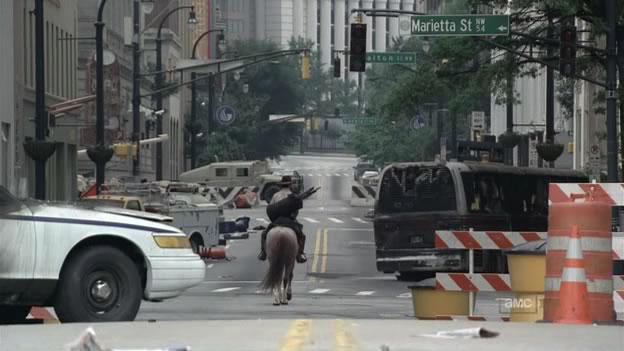 Rick rode into Atlanta on horseback. It was nothing like Morgan had said. There were hundreds of burned-out vehicles on the highway leading away from the city, but the road in was completely deserted. An abandoned military blockade was further evidence that something was wrong. Rick shifted his bag, the weight of his guns providing slight solace against the deafening silence of the once-bustling metropolis.
What had happened here? Where were the refugees? Would he be able to find his family, alive?
Rick's ears suddenly perked up. He could hear the sound of a helicopter flying overhead. The sound of help. He spurred his horse into a full gallop, rounding a street corner in pursuit of the chopper, only to stumble across a horde of walkers that completely filled the street. Atlanta had fallen.
---
Welcome to The Walking Dead Mafia, a Basic game for 12 players.
Reviewers: ced395 and Megiddo
(Rehashed from AsianInvasion, stolen from Toastboy, piked from Ecophagy, pilfered from loran16, stolen from Some One, stolen from Stormblind, stolen from CropCircles, stolen from carrion pigeons, who stole them from loran16, who then stole them from SorryGuy, who retrieved them courteously from Xyre, who jacked them from Jobie, who stole them from Puzzle, but Puzzle stole them from Crippled_Fist, who stole them from Ljustus, who stole them from carrion pigeons, who copyrighted them from CropCircles, who first pirated them from Puzzle, who got them in a private message from Halo_Freak):
Ignorance is not an excuse. Know these rules and do not break them.
Bold your votes and unvotes please, this makes it easier for your moderator. They should look like this: Vote loran16.
If you are unvoting, please write Unvote loran16 rather than just Unvote as this makes the vote counts easier and more accurate.
Any votes or unvotes not in bold will not be counted.
Do not communicate at night or day unless your role PM says otherwise.
Do not quote PMs or you will be modkilled. You may discuss the flavor and paraphrase it in your own words, but do not quote any PMs.
Please unvote before casting a new vote. This is optional, but it makes the host's life easier.
You may Vote: No Lynch, and a majority of these votes will end the day without a death.
Please do not thank, edit, or delete posts (no matter how stupid a mistake you made). This will get you modkilled. This is your only warning.
Once you're dead, you're dead, so stop posting please. A single 'bah' post is permissible.
Even after you are dead, please refrain from discussing the game or your role with anyone, even other players who have also been eliminated. If you have any questions about this rule, please ask.
If you anticipate being unavailable for more than a 72-hour period, please post a notice to that effect in the thread. Otherwise, you may be prodded or replaced.
If you have a night choice to make, it is due by the posted deadline. The game will not wait for you – if you do not submit a choice in time, tough! No choice will be made.
Lynches will require a simple majority of votes. Once a player has reached the necessary majority, his pleas are useless and any attempts to unvote will go unheeded.
If you are requesting a mod prod or vote count, please bold your request so that your moderator can see it more clearly.
In order to keep this game moving, everyone is expected to post at least once every two to three days and if you don't, you may be replaced or modkilled WITHOUT WARNING, whatever your side.
In the event of a Day ending with a deadline instead of a lynch, No Lynch will occur.
If two Day & Night cycles pass with no deaths, all players will lose.
The Town Win Condition is:

You win when all hostile players are eliminated.

HAVE FUN. This is not optional.
Lastly and most importantly: Respect us and the rest of the players; your moderator hopes to not have to modkill anyone.
Game-Specific Rule
: All town players have the role name "Walker."

Walker (Town Vanilla)

You struggled and fought against the undead hordes, but eventually succumbed. You have joined them in their hunt for the living.

You have no special abilities.

Walking (4/12):
Antny223, Walker (Town One-Shot Vig)
Rhand, Walker (Town Vanilla)
Shockwave07**, Walker (Town Two-Shot Doctor)
The Most Curious Thing (r. Steamflogger Joss), Walker (Town Vanilla)
* denotes a prod.


Dead (8/12):
Generic
Prophylaxis
LnGrrrR
ganderin_dan
Iso
Rancid raptor
Cythare
EmoCakes