Megiddo
Location:

Internet Web Site

Join Date:

9/6/2007

Posts:

21,911

Member Details
Mod Mafia 8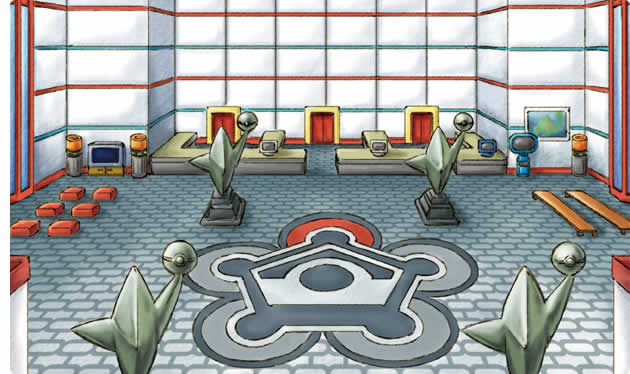 Pokémon Battle Factory Mafia
1. There are no alignment-changing roles, jesters, cults, or other nonsense like that in this game.
2. No post editing, no PM quoting. No discussing the game with anybody aside from me and people specifically outlined in your role PM, and only at the time and in the manner specified.
3. If you are dead, do not post or communicate with anybody about the game in any form. You may post a single "bah" post, provided that it does not contain any game-related material.
4. Lynch will be reached with a majority vote. No amount of unvoting will stop this.
5. If you need me to respond to something directly, please PM me. I probably won't respond to any question in-thread unless it is incredibly basic (e.g., a vote count mishap). Don't be surprised if the answer you get isn't what you expected.
6. Respect the spirit of the game and do not engage in any out-of-game behavior. Use of anything such as activity stalking or attempting to get yourself modkilled will result in a modkill, blacklisting from all of my future games, and recommendation that you be put on probation.
7. Please bold your votes. Unvote before voting for somebody else. Make all votes on a new line. If you do not follow these rules I will not count your vote.
8. If a deadline for a lynch is reached without a majority, the Day will end in No Lynch. If you fail to submit a Night action by the deadline, it will not be counted, even if I take a while to get to resolving it. Please inform me if you wish to take no action at Night.
9. Please title all game action-related PMs with "Mod Mafia 8" or similar and include the current Phase. If it's just a question, don't worry about anything like that.

Credit for the rules goes to all of the fantastic mafia mods out there I wish I could be like.
1. Players have both Abilities and Moves. These two things are distinct, and will always be capitalized to denote this. Abilities are passive and always in effect. Moves are active, and have PP, denoting how many times that Move can be used.
2. You MAY quote your Pokémon's information (species name, height/weight/number), as well as the names of any Abilities or Moves you have. You MAY NOT quote the exact wording of your Abilities or Moves, and you MAY NOT quote the link to the image or any of the formatting of your PM. Paraphrase.
3. The Town win condition is: "You win when all the scum have been eliminated."
4. The Scum win condition is: "You win when you control the vote."
Player Responsibilities
1. Follow the rules. If you break a rule, you will almost certainly be modkilled. This is your warning.
2. Play clean and ask me before doing anything that could even potentially run afoul of these rules. Ask me before doing something that is "usually" against the rules that I may have omitted from mine accidentally.
3. Have fun, but make sure that your fun does not infringe upon the fun of others.
4. Post regularly, at least once every 72 hours at a bare minimum.
5. PM me with any questions. Don't assume.
6. Inform me if players need prods. Failure to post after 72 hours is grounds for a prod.

Mod Responsibilities
1. Handle all game actions swiftly and correctly.
2. Provide regular and accurate vote counts.
3. Respond to all PMs within a reasonable period.
4. Provide links to waypoints, thread title updates, and other thread upkeep.
5. Issue prods and locate replacements if needed.
18

No. 358

CHIMECHO

WIND CHIME

2'00"

2.2lb
Ability
Levitate: You have no special abilities.

Move
Struggle: You have no Moves.
Battling (4/12)
3. Gerrard's Mom
7. kaburi
9. rianalnn
10. Teia Rabishu
A * denotes a prod. Three *s will lead to replacement.
Knocked Out (8)
4.
hansanator, Gallade
, Lynched Day 1
1.
Arcadic*, Ampharos
, KO'd Night 1
5.
Iso, Snorlax
, KO'd Night 1
11.
Void*, Gyarados
, Lynched Day 2
6.
Jay13x*, Excadrill
, KO'd Night 2
8.
KoolKoal, Volcarona
, Lynched Day 3
12.
Wheat_Grinder, Weavile
, KO'd Night 3
2.
BlackVise, Scolipede
, Lynched Day 4
Last edited by
Megiddo
: Sep 18, 2013
Can we have Megiddo removed from the forum forever please?
i'm pretty sure i can find your ***** online within 3 minutes
[Clan Flamingo]

[Club Flamingo]