pinkys_brain
Location:

CA

Join Date:

6/30/2011

Posts:

2,354

Member Details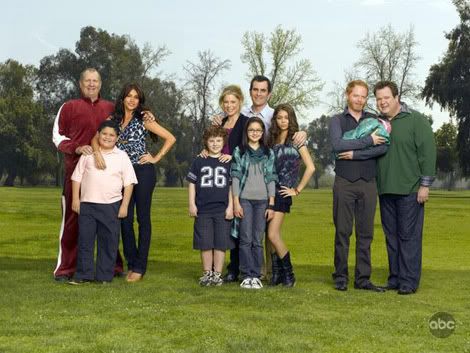 What is Modern Family about:
Modern Family revolves around three families that are interrelated through Jay Pritchett and his children, Claire Dunphy and Mitchell Pritchett. Jay Pritchett, the patriarch, is married to a younger woman, Gloria, a passionate mother, who, with help from Jay, raises her son, Manny. Claire is a homemaker mom married to Phil a real estate agent and self-professed cool dad; they have three children: Haley, the stereotypical teenager, Alex, the smart middle child and Luke, the offbeat only son.
Mitchell, a lawyer and his partner Cameron have adopted a Vietnamese baby named Lily.
Players:
3 Anaklusmos
5 fluffynOOB
6: Drey (replaces: The hair guy)
7 Parinoid
9 Brinatoo
10 LenKenneth
11 EronTheRelentless (replaces: DoubleX) (replaces: Squeege)
12 Void
*bold is confirmed*
dead:
Prophylaxis - Jay Pritchett - Cop - lynched day 1
The Cold Monarch - Haley Dunphy - Townie - shot night 1
BlueElectric/Iso - Cameron Tucker - 2-shot Chaterbox
Wolf with a Bass - Claire Dunphy - Town Doctor - shot night 2
Household replacements
Flips color info:
Green = town
Red = mafia
The audience (Spectators)
ganderin_dan
Sir Mu
Artifice101
Reviewers: AsianInvasion and Creampuff
Rules:

(Rehashed from AsianInvasion, stolen from Toastboy, piked from Ecophagy, pilfered from loran16, stolen from Some One, stolen from Stormblind, stolen from CropCircles, stolen from carrion pigeons, who stole them from loran16, who then stole them from SorryGuy, who retrieved them courteously from Xyre, who jacked them from Jobie, who stole them from Puzzle, but Puzzle stole them from Crippled_Fist, who stole them from Ljustus, who stole them from carrion pigeons, who copyrighted them from CropCircles, who first pirated them from Puzzle, who got them in a private message from Halo_Freak):

0. Ignorance is not an excuse. Know these rules and do not break them.
1. Bold your votes and unvotes please, this makes it easier for your moderator. They should look like this: Vote loran16.
2. If you are unvoting, please write Unvote loran16 rather than just Unvote as this makes the vote counts easier and more accurate.
3. Any votes or unvotes not in bold will not be counted.
4. Do not communicate at night or day unless your role PM says otherwise.
5. Do not quote PMs or you will be modkilled. You may discuss the flavor and paraphrase it in your own words, but do not quote any PMs. This is your only warning.
6. Unvote before casting a new vote. Failure to unvote may result in the vote not being counted.
7. You may Vote: No Lynch, and a majority of these votes will end the day without a death.
8. Please do not edit or delete your posts no matter how stupid a mistake you made. This will get you modkilled. This is your only warning. I am a stickler on this.
9. Once you're dead, you're dead, so stop posting please. A single 'bah' post is permissible.

10. Even after you are dead, please refrain from discussing the game or your role with anyone, even other players who have also been eliminated. If you have any questions about this rule, please ask.

11. If you anticipate being unavailable for more than a 72-hour period, please post a notice to that effect in the thread. Otherwise, you may be prodded or replaced.
12. If you have a night choice to make, it is due by the posted deadline. The game will not wait for you – if you do not submit a choice in time, tough! No choice will be made.
13. Lynches will require a simple majority of votes. Once a player has reached the necessary majority, his pleas are useless and any attempts to unvote will go unheeded.
14. If you are requesting a mod prod or vote count, please bold your request so that your moderator can see it more clearly.
15. In order to keep this game moving, everyone is expected to post at least once every two to three days and if you don't, you may be replaced or modkilled WITHOUT WARNING, whatever your side.
16. In the event of a Day ending with a deadline instead of a lynch, No Lynch will occur.
17. The Town Win Condition is: *To be revealed in game thread*
18. HAVE FUN. This is not optional.
19. Lastly and most importantly: Respect us and the rest of the players; your moderator hopes to not have to modkill anyone.
Sample PM:

Dylan - Townie
Flavor: You are Hayel's boyfriend. The family doesn't think very much of you, but you are blissfully unaware. All you know in this life is Hayle is your one and only.
Abilities: None
Win Condition: You win when all mafia members are evicted from the household
Last edited by
atlseal
: Jul 16, 2012
I am female, hear me roar!
mafia win/lose record
town (12) 6/6
mafia (2) 2/0
Cult (1) 1/0
3rd party (0) 0/0
mafia record
Also known at mafiascum
as farside22