AsianInvasion

Location:

Pandemonium Fortress

Join Date:

12/28/2006

Posts:

14,766

Member Details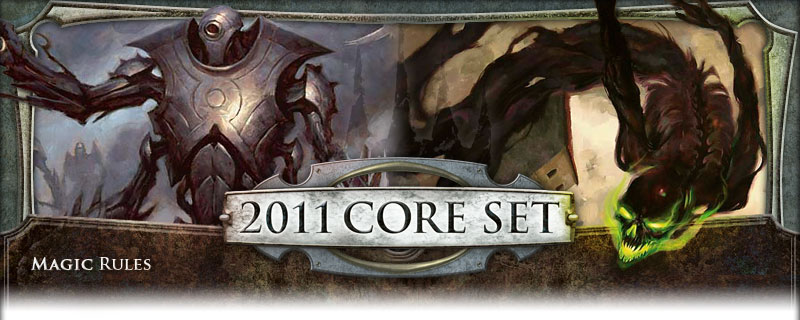 You had heard the rumors that there were
Magic 2011
rejects who were bitter for being excluded from the most recent Core Set, but you're not the type to worry about other people's problems. So what if a couple loser cards got their feelings hurt? Wizards of the Coast, your employers, had to cut costs somehow, and those fired must not have been pulling their weight. Tough luck, it's a down economy, go back to school, the usual excuses. But then cards started disappearing. Slowly at first, but eventually no one could deny that something was seriously wrong. You tried to petition Wizards for help, but they had long abandoned the
Magic 2011
project and were now all abuzz about some stupid metal world. Just when you thought things couldn't get any worse, they did.
You heard the screams. You came running (or whatever your equivalent is). The murderers got to him first.
Ecophagy has been killed.
He was
Primeval Titan
, Town Vanilla.
After hundreds of deaths, there are only the 12 of you left alive. Surely the killers must be among you. It's up to you to root them out before they destroy all that's just and good about
Magic 2011.
Welcome to Magic 2011 Mafia!
Rules
(Rehashed from AsianInvasion, stolen from Toastboy, piked from Ecophagy, pilfered from loran16, stolen from Some One, stolen from Stormblind, stolen from CropCircles, stolen from carrion pigeons, who stole them from loran16, who then stole them from SorryGuy, who retrieved them courteously from Xyre, who jacked them from Jobie, who stole them from Puzzle, but Puzzle stole them from Crippled_Fist, who stole them from Ljustus, who stole them from carrion pigeons, who copyrighted them from CropCircles, who first pirated them from Puzzle, who got them in a private message from Halo_Freak):
0. Ignorance is not an excuse. Know these rules and do not break them.
1. Bold your votes and unvotes please, this makes it easier for your moderator. They should look like this:
Vote loran16
.
2. If you are unvoting, please write
Unvote loran16
rather than just
Unvote
as this makes the vote counts easier and more accurate.
3. Any votes or unvotes not in bold will not be counted.
4. Do not communicate at night or day unless your role PM says otherwise.
5. Do not quote PMs or you will be modkilled. You may discuss the flavor and paraphrase it in your own words, but do not quote any PMs.
6. Unvote before casting a new vote. Failure to unvote may result in the vote not being counted.
7. You may
Vote: No Lynch
, and a majority of these votes will end the day without a death.
8. Please do not edit or delete your posts no matter how stupid a mistake you made. This will get you modkilled. This is your only warning.
9. Once you're dead, you're dead, so stop posting please. A single 'bah' post is permissible.
10. Even after you are dead, please refrain from discussing the game or your role with anyone, even other players who have also been eliminated. If you have any questions about this rule, please ask.
11. If you anticipate being unavailable for more than a 72-hour period, please post a notice to that effect in the thread. Otherwise, you may be prodded or replaced.
12. If you have a night choice to make, it is due by the posted deadline. The game will not wait for you – if you do not submit a choice in time, tough! No choice will be made.
13. Lynches will require a simple majority of votes. Once a player has reached the necessary majority, his pleas are useless and any attempts to unvote will go unheeded.
14. If you are requesting a mod prod or vote count, please bold your request so that your moderator can see it more clearly.
15. In order to keep this game moving, everyone is expected to post at least once every two to three days and if you don't, you may be replaced or modkilled WITHOUT WARNING, whatever your side.
16. The Town Win Condition is:
You win when the mafia are dead.
17. HAVE FUN. This is not optional.
18. Lastly and most importantly: Respect us and the rest of the players; your moderator hopes to not have to modkill anyone.

Reprinted - Alive (4/12)
Archmage Eternal -
Hypnotic Specter
- Mafia Roleblocker
atlseal -
Craw Wurm
- Mafia Goon
MandersHex -
Cyclops Gladiator
- Town Vanilla
Shalako -
Serra Angel
- Mafia Goon
Retired - Dead (8/12)
Ecophagy -
Primeval Titan
- Town Vanilla - Eviscerated Pregame
ExLight -
Elite Vanguard
- Town Vanilla - Lynched
Day One
The_Muffin_Man -
Palace Guard
- Town Doctor - Stabbed
Night One
22bebo -
Bog Raiders
- Town Vanilla - Lynched
Day Two
Arcadic -
Juggernaut
- Town Vanilla -
Shatter
ed
Night Two

Escorien -
Harbor Serpent
- Town Vanilla - Lynched
Day Three

22bebo r. KrackShott r. Gaius -
Runeclaw Bear
- Town Vanilla - Killed in
Endgame
The Ice King -
Canyon Minotaur
- Town Vanilla - Killed in
Endgame

Ragnarokio -
Merfolk Spy
- Town Watcher - Killed in
Endgame

Uncut - Replacements (7)
Cantripmancer
[email protected]
kohorney06
Sepiriel
Talore
TheIceMan
Zebi

Ecophagy, you are Primeval Titan - Town Vanilla.



Flavor

: You're the most expensive card in Magic 2011 and see play in multiple Constructed decks. You are one of the centerpieces of the set and as such represent the hopes and dreams of your employers. However, against the murderers you have no special abilities. Also, you are dead.


Day Ability

: During Day, you may vote.


Win Condition

: You win when the mafia are dead.
AI
Thanks to Ecophagy for reviewing this setup!
Attached image is property of Wizards of the Coast.