Raptor1210
World Project Leader
(O_o)(#_#)(@_@)(*_*)(T_T)(^_^)
Location:

Southern IL

Join Date:

5/17/2010

Posts:

4,467

Member Details
I was planning on having quest-type missions. For example, in the Anime, Officer Jenny or Nurse Joy (Both NPCs in this version of the game btw) would often ask Ash for help in solving somekind of problem. I'm planning on employing something similar here.
Re: Combat
While I originally wanted the combat to be entirely numbers based, the more I worked with it, the more trouble I had. I've decided to move towards a hybrid version instead. Basically the combat will still be free form but what the Pokemon can do (move-wise) will more closely tied to the normal games. For example,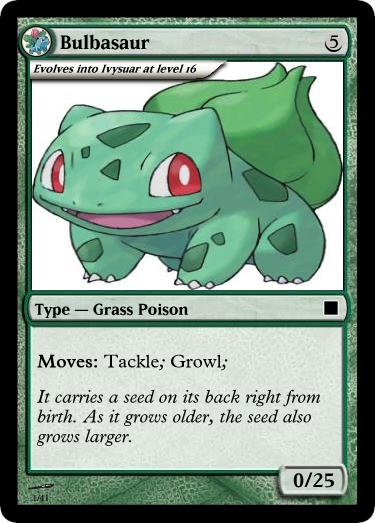 This is a Level 5 Bulbasuar with 0 Exp. It has the same moves it would have if you were to recieve it in the same condition in one of the GB games. As it levels it will learn new moves and, eventually, it will evolve.
At the moment I plan on having the Pokemon gain Exp by defeating other pokemon in battle, the level of the pokemon it defeats (as well as it's own level in relation to the defeated pokemon's level) will determine how much Exp it gains from the battle.

Sig by Rivenor
Cube
. The best way to play Magic.
PERIOD
. Come over and check it out. Also, check out my
Peasant Split Card Cube
.
The
World of Pokemon
RPG has been rebooted. Come over and check it out.
Set Creation Projects:
Archester: Frontier of Steam
Come over and check out our
AWESOME
Steampunk set.