Id_Ego
World Project Leader
Archmage Overlord
Join Date:

1/9/2007

Posts:

2,019

Member Details
Iguish smiles and bows, his hunched bow. "Proffesor Iguish is my name. I only started a week ago, maybe someone has told you of the great Prof Iggy though?" Iguish checks his locater for the nearest exit that would be presumeably not be rubble. "Anyhow, we have to get out of this building, it could collapse and kill us. Oh I wonder if they will ban chemistry labs in schools because of this tragedy."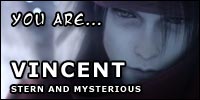 Which Final Fantasy Character Are You?
Join Planar Chaos, A Colo clan
Generation B1: The first time you see this, copy and paste it into your sig and add 1 to the generation. social experiment.
Obviously, the pie is a lake.
50% of amputees need a hand.