Sioux
Location:

Rosebud, South Dakota

Join Date:

3/10/2011

Posts:

434

Member Details
Current production order and ETA's:


Hello. I am Sioux.
I am a 23 year old Native American art student attending art school on my reservation. I originally gained my skills in Photoshop through training at a previous art school several years ago.

I had always wanted to try my hand at Signature making but my few early attempts at my original art school ended in failure and I chose not to continue. Only recently have I gotten back into signature making as apart of my new studies to get back into the art field and to reorient myself with digital art in general and to better my existing skills in Photoshop.

I figured helping make signatures actively as a part of the artwerks team wouldn't be such a bad use of my skills and would surely augment them further. More to the point helping Rizla create a richer artist friendly community here on MtG Salvation was an opportunity too great to pass up.

I hope you read over my rules and post a request if you feel you are in need of my skills. Thank you and have a nice day.


1. Minimum of 50 posts, please, though I may make an exception given the signature idea presented

2. Signatures only. No avatars, banners, specials. (I will cut an ava out of a siouxwerks. sig for you if desired)
Mods & users with 3,000+ posts may PM me for special requests as an exception.

3. MTG related signatures only. Don't ask me to make you a sig based around your favorite sports team or musician. This is a MTG forum, and everything I provide will be MTG.

4. I reserve the following rights as a freely-giving artist:
- The right to refuse any request without explanation.
- The right to modify a request without notice if I feel it will produce better work.
- The right to remove permission for art usage, with explanation.

5. Any person using art created by siouxwerks. will include a specific tag underneath the signature. This tag may not be altered, and may only be removed if the art is removed with it. The tag is always the same, for reference, see my signature.

6. My shop isn't fair. I may not fill requests in the order I receive them. I'm here to have fun too and if a certain request gets me excited and feeling creative then it will take priority, regardless of when it was posted.

7. The more information you provide pertaining to your request, the better your chances of having a desirable outcome. If I feel I cant meet your request with the information provided, I wont fill it, and I probably wont let you know.

8. I will finish work when I finish work even if the dead line I state is passed and gone. I am an art student living in a technologically barren area of the United States with limited Internet connectivity so my schedule is rather odd.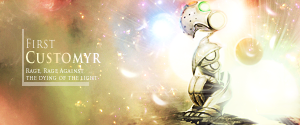 Free Signatures Banner Place Holder!
If you wish to sport one of my free signatures, if you do I am all for it, please, as per the rules of the shop, place
Sig.
siouxwerks.
below it in your signature. Thank you.


Banners
Last edited by
Sioux
: Apr 24, 2012