Guerte
Living the Luxurious Life
Location:

Williston, ND

Join Date:

3/2/2005

Posts:

2,297

Member Details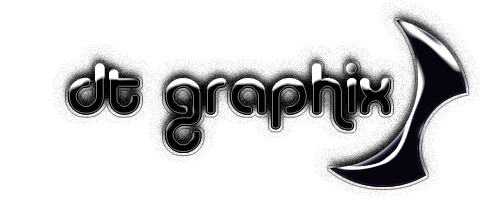 .: Welcome to DT Graphix :.
.: The Rules :.
Minimum post count of 25. If under this number, your request will be ignored until you reach 25.

Credit either the artist or the shop, preferably with a link.

Do not make a request in multiple shops; if you want something done here, request it here.

Please have patience. I have a full-time oilfield job so I will get these done when I get some free time.

Please use the order form (found below) when making a request.

Any questions you may ask away!
.: Order Form :.
Type of Graphic: (Avater, Banner, Wallpaper, etc.)
Size: (Avatars=100x100, Banner=450x150 or 600x100)
Animation: (Avatar Only)Text: (Placement can be wherever you see fit, or you can leave it to me)
Images: (Please provide the biggest, highest quality art as possible)
.: What I Can Do :.
Avatars (Regular or animated)

Banners (Regular, blended art, multilink, transparent, etc.)

Wallpapers

Cutouts

Custom Logos (Need very specific details on this one)
.: Examples of Work :.