Shazaam

Location:

Hudsonville, MI

Join Date:

2/18/2008

Posts:

166

Member Details
[Official] 3D Magic Cards & Life Counters Thread
If you've ever made a 3D Magic card, wanted to make a 3D Magic card, or just thought they were cool, this is the thread to post it in!
Post your pictures, ask for advice, etc. If you want to have someone make you a card or ask about getting a card you see posted, please keep it to private messages. There's lots of information about
the how
in the
Tutorial Thread
but feel free to ask questions here, too.
---
I've been making 3D CCG cards for a couple of years now, and just recently started doing it with Magic cards. Here's one of the first Magic cards I did:
These days I'm mostly working on EDH generals, since then I actually get to play with them. The first EDH deck I ever built was
Phelddagrif
, hence the card above. Here's one of my current generals: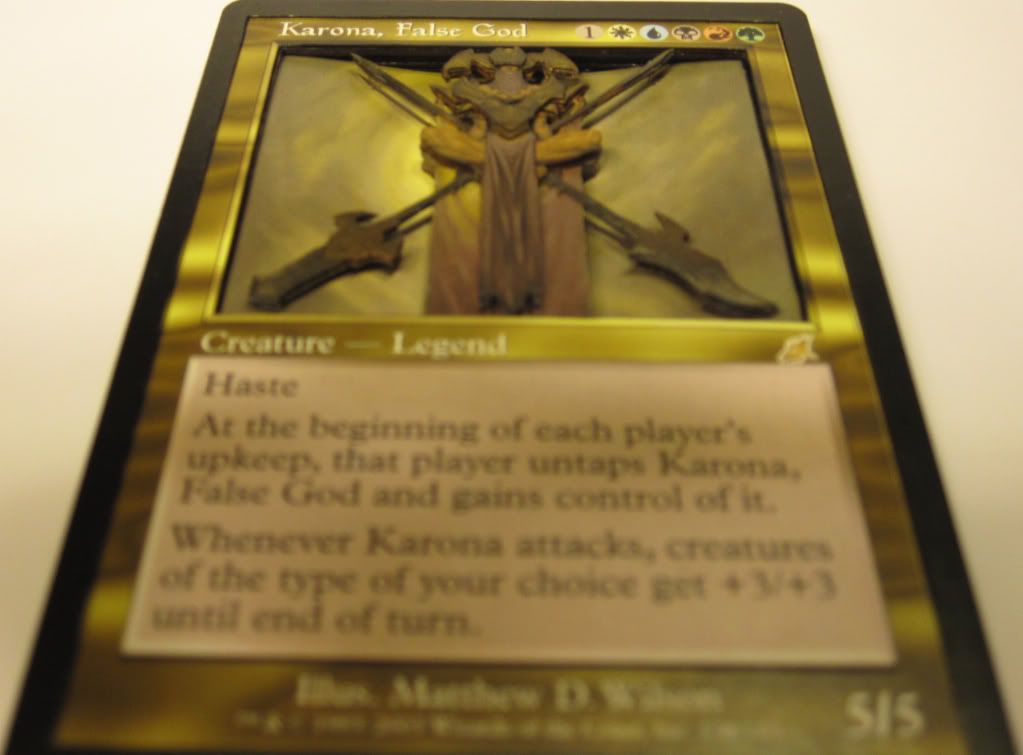 My other generals from this thread:
Kaervek the Merciless - Momir Vig, Simic Visionary - Wort, Boggart Auntie
Nicol Bolas - Oros, the Avenger - Karrthus, Tyrant of Jund
Numot the Devastator
Kresh the Bloodbraided - Atogatog
Scion of the Ur-Dragon
Drana, Kalastria Bloodchief
Asmira, Holy Avenger - Lorthos, the Tidemaker
Intet the Dreamer - Lord of Tresserhorn
Azami, Lady of Scrolls - Sharuum the Hegemon
Child of Alara
Braids, Conjurer Adept
Mangara of Corondor - Jhoira of the Ghitu
Captain Sisay - Balthor the Defiled
Torsten Von Ursus - Sivitri Scarzam

Unspoken Realms: Audio recordings of stories from Uncharted Realms