DistortedDesigns
Join Date:

7/14/2011

Posts:

15

Member Details
Hey Everyone, I thought I would share what I made. I had an idea to make a digital life counter. I wanted it to have a retro feel but kinda steampunkish. It took me a while to figure out how to build what I want and make it work the way I wanted without having to use digital board or a counting circuit. Basically you can rotate the knobs in the back and the neon tubes will display 0-9. I have a switch to turn all of the leds off and on. I have another switch that will turn the numbers to constant display or a pushbutton to show your life total so it conserves battery life. This thing took a long time to design, build, figure out how to wire, find the parts, etch the plexiglass, ect. I could do it again in half the time but who's counting. LOL
Here is the front pic of the window. You can see into the guts of it through the M in the center. I have over 25 ultrabright led's in this. I have two underlighting the neon tubes. The tubes run on 170v but I managed to run this whole thing on battery power. That was difficult to figure out how...
Here is the left side. I etched half of the face of some of the planeswalkers into the plexi. Jace and Chandra on this one.
Here is the back side.
Full back side with the knobs and switches.
Here is the right side.
Close up of the tubes.
Close up of the M and leds.
Here is the top view of it. The plexiglas on top is a dark hunter green and I etched the mana symbols into it. Little hard to see with the camera.
Here a corner view.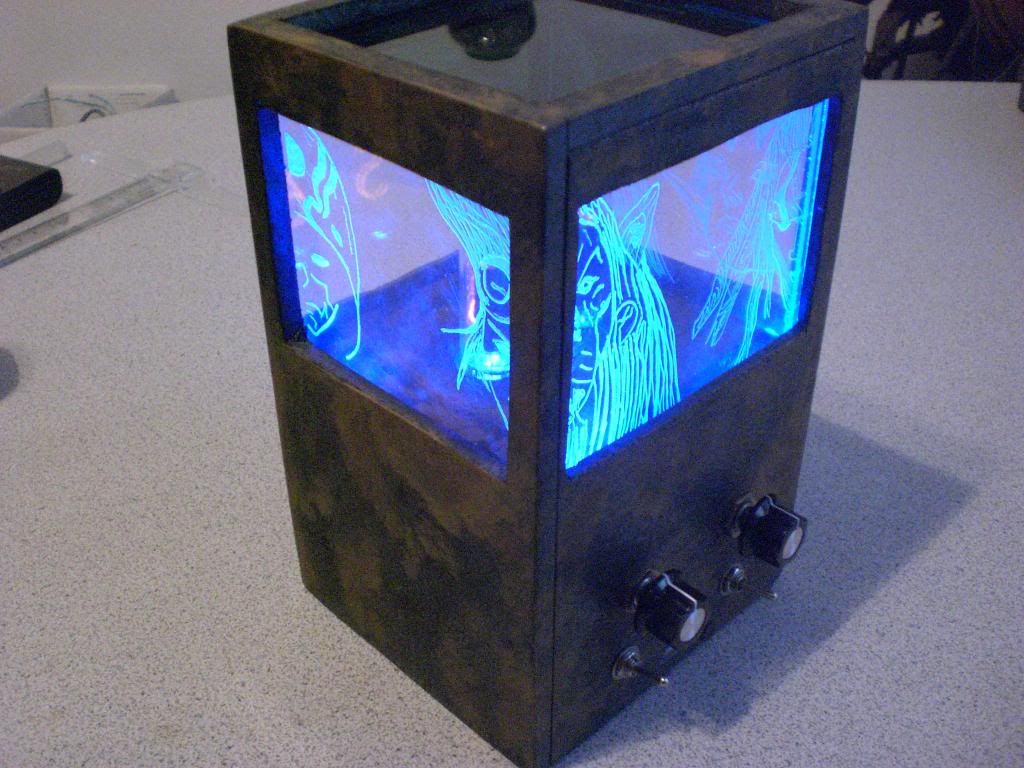 All in all it turned out pretty well. It took me about 30 hours to build. It is fairly big 4.25" inches square and 7.5" inches tall. So too big to use in a tournament but cool other wise.
Let me know what you think. I might sell it to fund my next project.
Thanks
Jason