bobthefunny
Staff
Location:

Northern VA, near DC

Join Date:

4/13/2011

Posts:

10,970

Member Details
Hey everyone! I have returned to host for the Holiday Card exchange once again! Some of you may know me from the Commander forums, some of you may have even gotten some of whatever I've made in years past. I'll even be participating once again this year! We have now passed the decade mark on this little exchange, and I see no reason to stop now!
As always, exchange entries MUST be in to me by the deadline: December 11, 2018.
For 2017, the MTGSalvation Holiday Magic Card Exchange returns for its ELEVENTH year!
Here is an introduction for those of you new to this - or - a refresher for the old timers:
How the exchange works
The premise is simple. First, MTGSalvation members from all over the world* send me personally altered cards. Then, as Christmas approaches, I randomly send their cards to someone else who participated. It's a fun gift exchange that's always a blast.
(*As of recent years, due to shipping prices, I will receive and send the US entries. For foreign parcels, I will help organize a round robin and set up so that you can each send to each other, and not have to ship overseas.)
What do I mean by personally altered? Does that you mean you have to be as good as the people over in the
official altered art thread
? Not at all! What's important is that you personalize your cards. For example, here are just a handful of cards done over the past few years: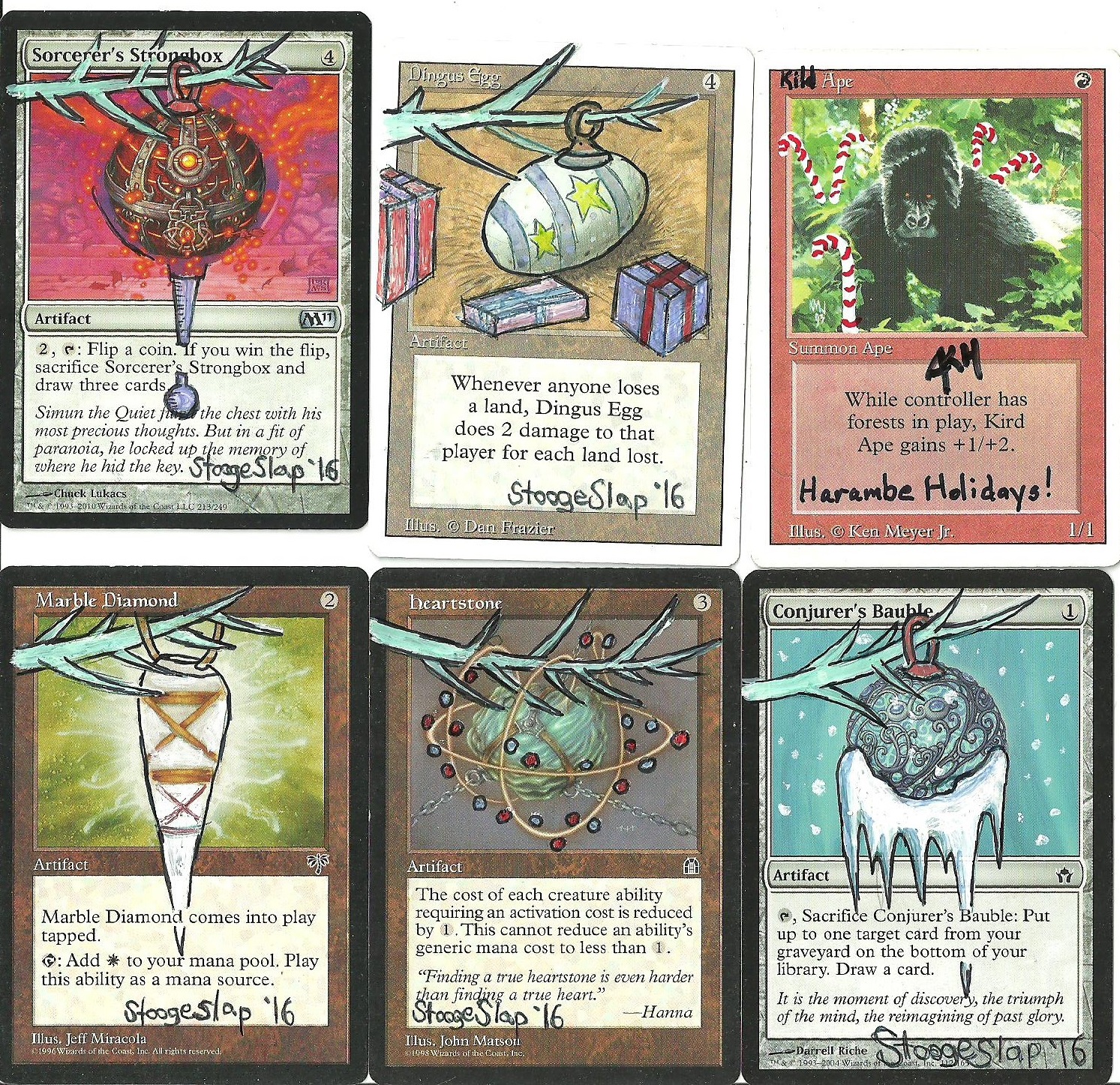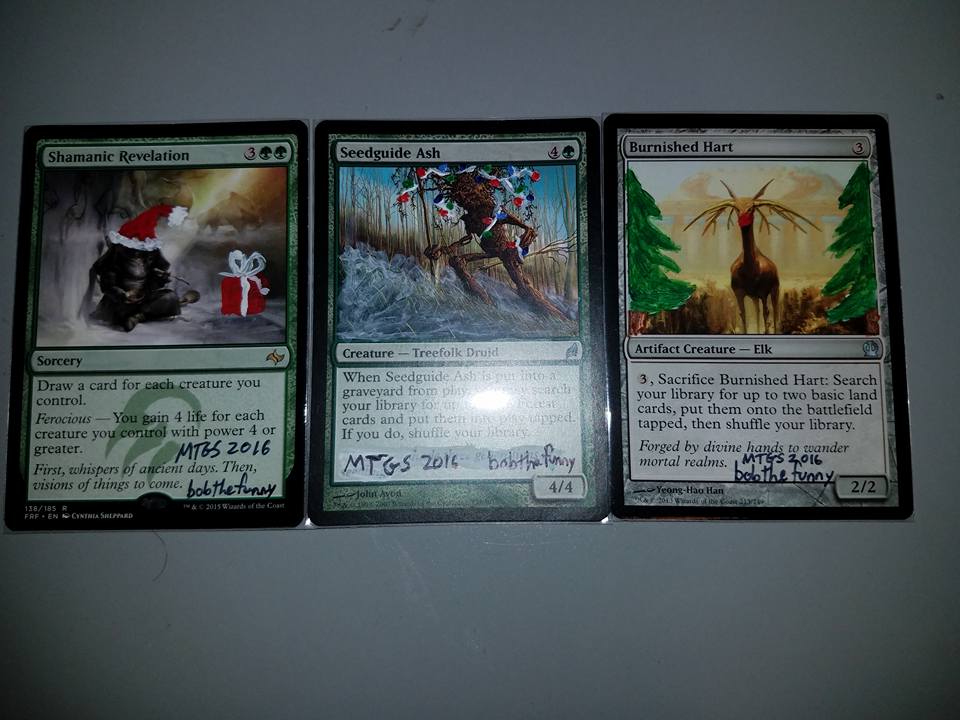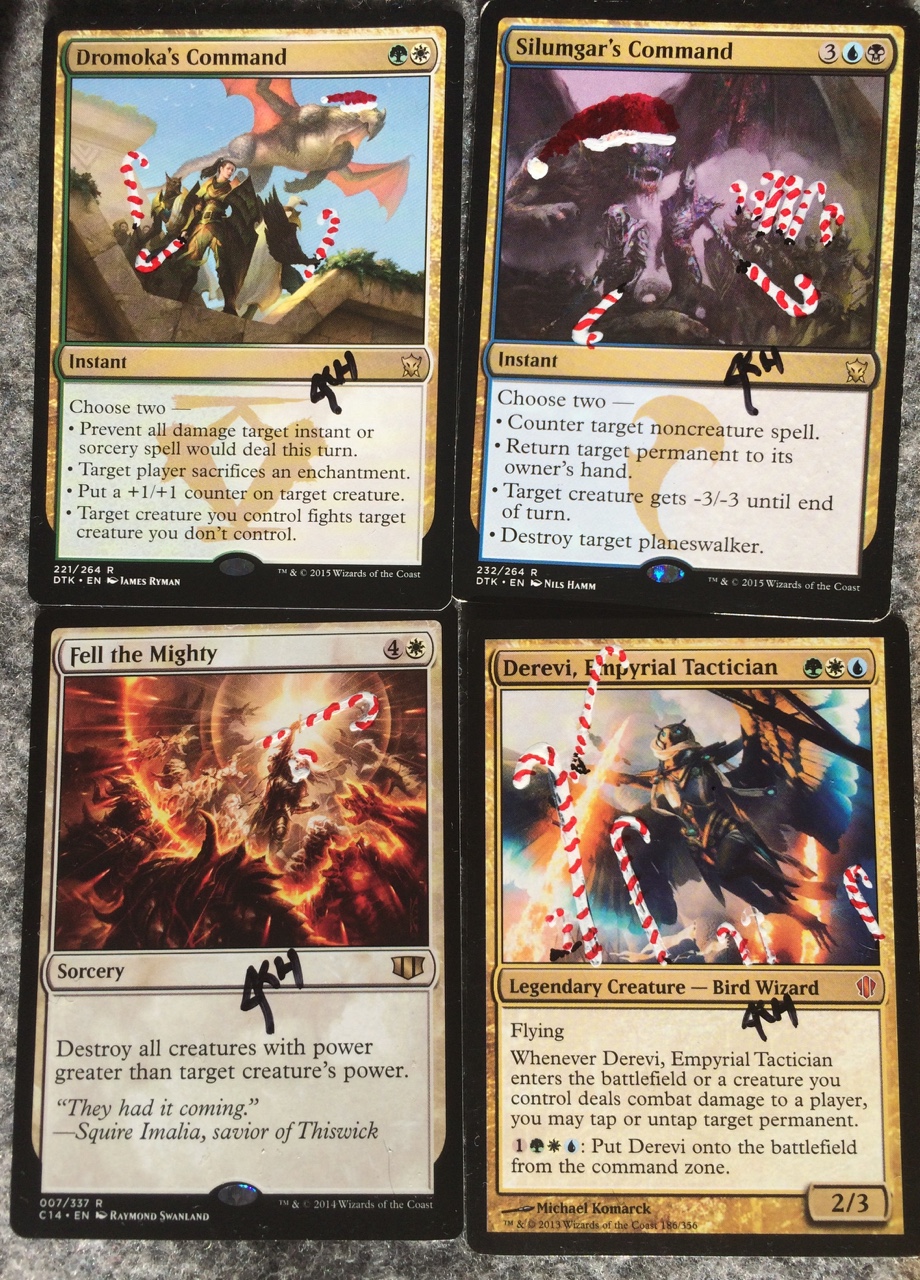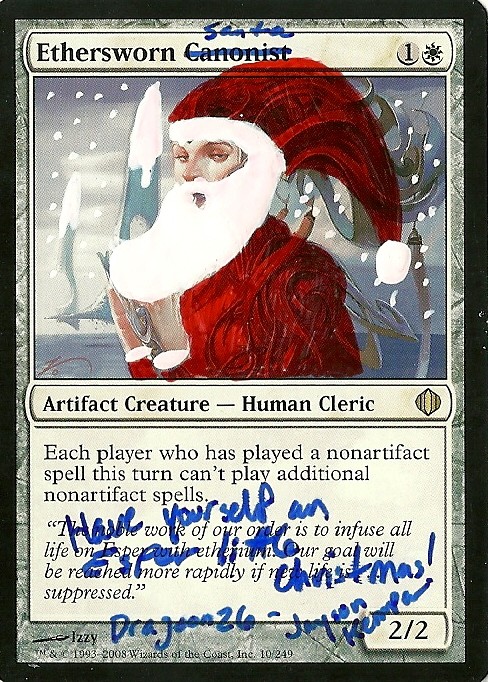 As you can see, there is a lot of variation in what people choose to do. Featured is wide range of artistic talent, from doodles to full-blown alters. Just make it fun. In general, if you wouldn't be happy with receiving it from somebody else, you should alter it until you would be.
How to Participate
Participating is easy! Just send me a PM with your address, and I'll send you mine back. All you have to do after that is send me your cards along with appropriate packaging and postage to mail your cards along to the next person. After that, just relax and wait for your return package to make its merry way to you. It's that simple!
All participants must have their cards to me by
December 11th, 2018. This means I MUST have the cards in hand by this date, NOT that you should mail it by this date.
. They will be redistributed and sent off over the weekend, and hopefully everybody will have theirs by December 25th. Please remember to budget enough time for your cards to arrive. For reference, I live in Virginia, USA.
Brand new accounts are excluded to avoid gaming the system. If you try and game the system to get more presents, I will catch you. Please don't do it. It will just result in a sad face for both of us.
This event is not sponsored or endorsed by Wizards of the Coast in any way. It is purely something done for fun by people who love Magic, and is not for for any financial gain or otherwise.
Tips and Checklist
Over the past three years, previous exchange runners saw a lot of cards come through. Here are some recommendations to help make the holiday exchange fun for everybody!
Try and modify cool cards. They don't necessarily have to be rares, but it's great when somebody can play the cards they receive in a deck and then tell the story of how they received them! If you are on a budget, think an altered playset of playable commons, an EDH staple, or basic lands are great... as long as it's playable it's cool!
Stumped for cards to alter? Try sending cards related to your name, avatar, or signature! That way there's a connection between MTGSalvation and the card's you're altering.
What you receive is random and a gift from someone else to you. Regardless of how you feel about the quality of cards you received, please be grateful. After all, it's a gift!
Part of the fun is ripping open the package when it finally arrives to see what you received.

Do not

post the alters you did ahead of time - though vague hints can be fun. We don't want to ruin the surprise!
Sending items such as letters, notes, or pictures along with your cards to the other person is not only allowed, but encouraged!
You might want to take a picture of your cards before you send them so that you can still show them off if the recipient has no way to upload an image.
You may submit as few or as many cards as you would like. Take your time and make some great alters!
IMPORTANT RULES --> READ THIS!!!


1. You absolutely must, must, must include a stamped envelope (NOT SELF ADDRESSED) envelope with enough postage for up to a 6 oz package. If you do not include one, I cannot promise you that you will receive any cards back. Make sure this envelope has enough postage to mail the stuff you sent. Again,

DO NOT

send a self-addressed envelope! You must provide an envelope that will be sufficient to mail your items further out.

2. In the past, a couple of people have sent extra large/heavy items. This is great, and often these items are very cool! However, if you're going to do this, please include an extra envelope that is the appropriate size and/or has the right amount of postage on it. Please do include some real cards as well, that way your recipient can still have something to include in a deck!

3. No proxies/fakes, no matter how cool. Sentiments on these vary across the entire range, but MTGSalvation does not condone this practice. While the gift exchange isn't directly affiliated with the site, let's keep this above the belt for the Holidays. Thanks!

4. If you are an international participant, please tell me in your PM so we can discuss how international shipping will work out best in your case. The US Postal prices have done some crazy things in the last few years, and shipping times may be a concern.

5. Along with your cards and Stamped envelope, please include a slip of paper with your MTGSalvation username. There will be a lot of cards coming in and if I don't know who sent me something I can't really let them know - which I'd like to do

Checklist
Send me a PM with your address
Check you inbox daily, I'm on all the time and will generally be quick to reply.
Alter cards!
Write your MTGSalvation username on a slip of paper.
Send me your cards, that slip of paper with your MTGSalvation username, and a stamped envelope with enough postage to mail your cards, inside another envelope. Don't forget any of those steps!
Time travel to later in December and check your mail. Enjoy your gift!

Questions?
Please post below.

Myself! (obviously)
Slavan K. Guiser
Elemental
Grant1
part_timeMTG
void_nothing
Mohawkdan 2.0
mohanthewise2018
stewuseless

==EU People==
NoNeedToBragoBoutIt