Phil
Clan Representative
Clan Representative
Omnipotent crawling chaos.
Join Date:

9/13/2010

Posts:

5,325

Member Details
I asked this question a billion pages ago, and was never addressed by staff. So I'll ask it again.
repost #like 5
-if the gutter is shut down for the reasons stated, what is going to happen to the rest of the forums who exhibit poor behavior. Examples:
1) useless spam in the rumor mill causing no room for actual card
discussion. Example: threads filled with this-
http://forums.mtgsalvation.com/showpost.php?p=8569264&postcount=5
2) the constant derailing into casual Vs. competative arguments of every thread in the edh forum. Example: this guy-
http://forums.mtgsalvation.com/member.php?u=79404
3) the standard/modern/legacy board's fake pro bullying.
Examaple:
http://forums.mtgsalvation.com/showpost.php?p=8571920&postcount=990
another example
http://forums.mtgsalvation.com/showpost.php?p=8591452&postcount=73
(I find this stuff by simply clicking on almost any thread there)
Now I understand the "well report that surf" argument. But if a gutter member f'd off in the gutter the gutter deals with it. If he does so out side the gutter then; he needs to be reported and dealt with by the staff.
If the staff is shutting down the gutter for the behavior of the members outside the gutter then they to need address every problem on every forum the same way.
How are you going to accomplish this?
neither the staff or the bandwagon gutter haters have addressed this
why is the gutter to blame for all the sites woes When IT'S ****ING OBVIOUS the site's non-gutter users are pretty good at making this place a **** hole.
Last edited by
Phil
: Jun 25, 2012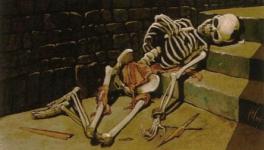 The EDH stax primer
When you absolutely, positively got to kill every permanent in the room, accept no substitutes.