Lesurgo
Location:

Washington

Join Date:

1/18/2005

Posts:

7,898

Member Details
Hello everybody! Happy holidays!
For the fourth consecutive year, the MTGSalvation Holiday Magic Card Exchange will return! Each year has been bigger and better than the last, and I expect this year to be no different. The firsts three exchanges can be found here:
2007
,
2008
,
2009
.
What exactly is going on here? Let me explain! (If you've done this before, skip down to the bottom and read the cliff notes for important changes.)
How the exchange works
The premise is simple. First, MTGSalvation members from all over the world send me personally altered cards. Then, as Christmas nears, I randomly send their cards to someone else who participated. It's a fun gift exchange that's always a blast.
What do I mean by personally altered? Does that you mean you have to be as good as the people over in the
official altered art thread
? Not at all! What's important is that you personalize your cards. For example, here are just a handful of cards done over the past few years: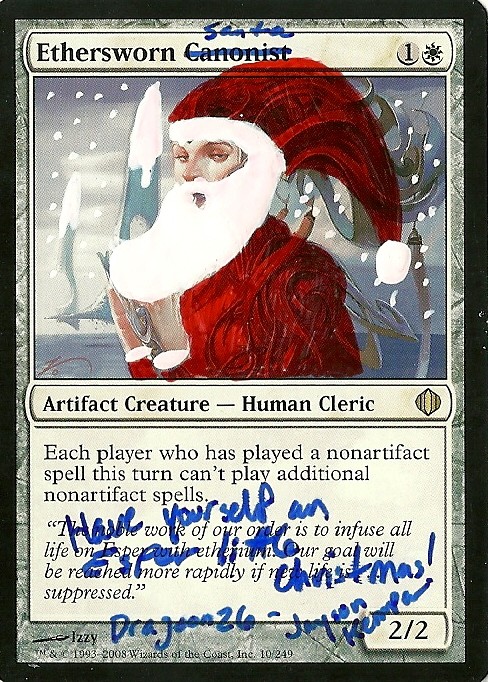 As you can see, there is a lot of variation in what people choose to do. There is a wide range of artistic talent, from doodles to full-blown alters. Just make it fun. In general, if you wouldn't be happy with receiving it from somebody else, you should alter it until you would be.
How to Participate
Participating is easy! Just send me a PM with your address, and I'll send you mine back. All you have to do after that is send me your cards along with a self-addressed and stamped envelope. After that, just relax and wait for your return package to make its merry way to you. It's that simple!
All participants must have their cards to me by
December 15th
. They will be redistributed and sent off over the weekend, and hopefully everybody will have theirs by December 25th. Please remember to budget enough time for your cards to arrive. For reference, I live in Washington state, USA.
Brand new accounts are excluded to avoid gaming the system. If you try and game the system to get more presents, I will catch you. Please don't do it. It will just result in a sad face for both of us.
Tips and Checklist
Over the past three years, I've seen a lot of cards come through. Here are some recommendations to help make the holiday exchange fun for everybody!
Try and modify cool cards. They don't necessarily have to be rares, but it's great when somebody can play the cards they receive in a deck and then tell the story of how they received them!
Stumped for cards to alter? Try sending cards related to your name, avatar, or signature! That way there's a connection between MTGSalvation and the card's you're altering.
What you receive is random and a gift from someone else to you. Regardless of how you feel about the quality of cards you received, please be grateful. After all, it's a gift!
Part of the fun is ripping open the package when it finally arrives to see what you received. Try not to post the alters you did ahead of time - though vague hints can sometimes be fun.
Sending items such as letters, notes, or pictures along with your cards to the other person is not only allowed, but encouraged!
You might want to take a picture of your cards before you send them so that you can still show them off if the recipient has no way to upload an image.
You may submit as few or as many cards as you would like. Take your time and make some great alters!
And finally, here's the cliff notes version of what to do. Think of it as your own personal submission checklist.
Send me a PM with your address
Refresh your inbox over and over until I reply with my address
Alter cards!
Send me your cards and a self-addressed stamped envelope. The SASE is crucial! (International readers, see below.)
Time travel to December 23rd and check your mail. Enjoy your gift!
International readers: If you're mailing internationally, we can work that out on a case by case basis via PM. In general, I'd appreciate if you sent a label with your address on it along with something like an international reply coupon or money for postage.
I'm looking forward to receiving your cards! Every year for the past three years this had made my holiday season incredibly special, and I look forward to seeing what you all come up with again this year! Have fun!
Please post any questions below.
Former MTGSalvation Administrator