Lesurgo
Location:

Washington

Join Date:

1/18/2005

Posts:

7,898

Member Details
Two years, I ran the first Holiday Magic Card Exchange, and it was fantastic. Last year, I ran it back, and it was even better. Wonderful altered cards came to me and randomly were redistributed to people all over the world, filling the Salvationosphere with holiday delight. The original exchange can be
found here
, and last year's exchange can be
found here
.
This year, I'm excited to bring it back. I present (ha) to you...
MTGSalvation Holiday Magic Card Exchange III
How it will work:
Everybody will send me one or more personally altered Magic cards. I will then randomly redistribute them and send each participant back someone else's card(s).
By personally altered, I mean that it has a personal artistic modification. Signing your name (forum and/or real, or at least your initials) is necessary. Beyond that, try and alter the card somehow. You don't necessarily have to go to the extremes that the people in the altered art card thread in artwork do (although I certainly think it would be awesome if some people sent in cards that had a very high level of awesome in their alterations!), but make it something that the person who receives it will enjoy. An example of what you could do would be something like this: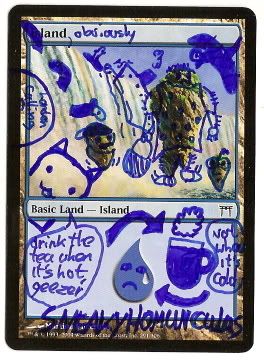 You can also find the full album of the cards from the first year
here
.
If you're not artistically inclined, don't worry. It doesn't need to be extreme, but it should be more than just a signature. In general, if you wouldn't be happy with receiving it from somebody else, you should alter it until you would be.
The Sending Rules
You may submit any number of cards. However, you will receive the contents of what one other member sent. If you send four cards and the person who is randomly chosen to give you what he sent sent just one card, the cards of other people won't be piled on to make it an equal number.
You will not know who will be receiving the items you send ahead of time.
You may send a letter, photograph, or other item with your card if you would like the person who receives your card to also have a letter or photograph. This is definitely not mandatory, and is just an additional kind gesture. If you wish to send any other kind of item, please clear it with me first via PM.
Please be courteous with your modifications. In otherwords, don't make them overly offensive.
How to Participate:
To participate, you must have at least 100 posts. This is to ensure that people who nobody knows don't sign up just to participate and that the person who receives their card can connect it to MTGSalvation. However,
I AM
willing to allow exceptions to this rule. Some people might only post in a certain area but are still well known, or might have a lot of posts in areas where posts don't count. Give me a good enough reason and I'll let you be a part of this. I'm really lenient on this, so if you are brave enough to send me a PM and ask for an exception, I will probably let you participate anyway.
(it is the holiday spirit, after all!)
To send me a card, you will need my address. Send me a PM and let me know that you want it for this purpose and I will give it to you. In addition,
please give me your address
in that PM.
NOTE:
my address has changed since last year. Make sure to send me a PM even if you're participated before.
There is no signing up, and there is no limit to the number of entrants. I must simply have what you send
by the 17th of December, 2009.
The key here is that I need to have your cards in my hand so I can mail them out. Make sure to budget enough time for the card to come via mail. For reference, I live in Washington State in the United States. If you are from outside North America I certainly do not have any problem with you wanting to be a part of this, but please keep in mind that the same deadline applies. If your card comes late I will try and pair you with another straggler, but I make no guarantees that you won't just end up with your card back or some altered cards of mine.
Tips & Suggestions
Please, please,
please
make the card you modify at least somewhat playable. Taking a
Dreg Reaver
off your desk and modifying it a little will cause the person who receives it to be unhappy. Unless you like making people unhappy of course. In that case, it will undoubtedly be the one person who has a
Dreg Reaver
theme deck. It's just bad all around. It doesn't have to be a rare, and I'm not asking you to part with anything expensive. Even an easy to find common like
Tarfire
or
Mulldrifter
. (Although if you could spare a playable rare it would definitely brighten someones day and see play in public settings where people could marvel it!) You don't know what formats the person who receives it plays, but if you make it something playable it'll at least fine the way into that persons 5 color deck, highlander deck, cube, a future standard deck, or something.
Try and make your card show off your personality or forum persona! Maybe you're a well known control strategist. Send a altered and signed
Counterspell
. Maybe you've had your avatar as
Incinerate
that flashes to a
Keldon Marauders
and everybody knows you by it. Send out altered, signed versions of both. Maybe you're Kraj or Memnarch6. Use an
Experiment Kraj
/
Memnarch
. If you popularized Pyromancers Swath combo, send out a altered signed Pyromancers Swath. Being able to connect a member with the card is a way to make your signed, altered card cool without having to be great at modifications.
Try and keep the modifications tournament playable. They don't have to be of course, but being able to play what you receive through this at a event and then tell the story behind it would be really awesome. In general, to keep a card tournament playable its artwork needs to be recognizable and the thickness can't have changed, so anything like stickers could be a problem. As always, before playing with an altered card at an event, always check with the head judge to make sure that it's okay.
Please don't be upset over what you receive. If you spent hours slaving over your card only to receive a playset of basic lands with stick figures fighting on them and a signature, you don't get to petition to receive "something better" than that. This is all for fun. Although, as always, it would be great if people put in a little effort so that people are excited over what they receive.
Please don't post your cards ahead of time. Part of the fun is the mystery of receiving them! Try and scan your cards before you send them though. That way, after the person receives them, you can post them up for all to see if that person doesn't have a camera.
Finally,
along with your card, please send me a self-addressed and stamped envelope, as well as anything you want your cards shipped back in. (Toploader, etc.) It makes it much much easier all around for me to get your gift back to you in a timely matter.
Post if you have any questions, concerns, or comments. This is a lot of fun, and I'm very excited to be doing this again! I will be participating as well, and I guarantee that I will have at least one rare in my batch of signed and modified cards, if that's any incentive for you to join the fun.
I'm looking forward to receiving your altered cards in the mail! Every day I get so excited to check the mail and see what came today, and I'm sure this year will be no exception.
Have fun! Go ahead and post or PM me if you have any questions.
Former MTGSalvation Administrator