The MTGSalvation Deckbuilder has been released! Whether you're building a deck, saving what you already have, or are wanting to browse other people's decks, our new deck system is for you!

The Deck Builder
You, of course, have to begin with the building and adding of decks! The deckbuilder is one of the core functionalities, as creating your deck and detailing it is the goal. Start by simply clicking build a deck, and all of the deckbuilding power is at your fingertips. It's best to start with selecting the format you're building for. This will load all of the cards for the format (be patient, it might take a minute!), and from here you can quickly and easily filter the cards to what you're looking for. Every time you add or change a filter, the cards will instantly refine themselves, so sorting through the results is as fast as possible.
Adding cards is as simple as clicking on them. Every time you click on a card you want, the deckbuilder adds it to your deck. When this happens, the card automatically sorts it into it's correct card type and your mana curve adjusts so you can see the curve as you're building it. Removing a card is just as smooth - right click on the card, and it will remove one of those cards. Sideboards are important in any constructed format, and they are fully supported here. You can toggle between adding cards to your main deck and sideboard by selecting the tab for either on the far right. If your deck is already built and you just want to create the entry for it, there is also a "paste deck" option next to sideboard. From there you can effortlessly import your prebuilt masterpieces.
Before you get to the written deck details, we need to select your Commander and/or Avatar. For Commander, you must select the commander for your deck. Partner Commanders are fully supported. Outside of Commander, this slot represents the deck's "Avatar". Choose any card from your deck, and it will be the graphical representation of your deck.
Once you get the deck constructed, it's time to write out the strategy and deck details. There's plenty of room for adding as much detailed information as you want, from overview to early, mid, and late game strategies. The deck information is written with an easy to use WYSIWYG editor, so there's no need to learn formatting code to make your strategy information look beautiful. Adding additional sections is as easy as clicking on "Card Descriptions" to add another detail segment. Select some of the cards you want to mention, give the section a title, and off you go. This is perfect for discussing groups of similar cards, discussing options and sideboard strategies, showing potential opening hands, and anything else you want!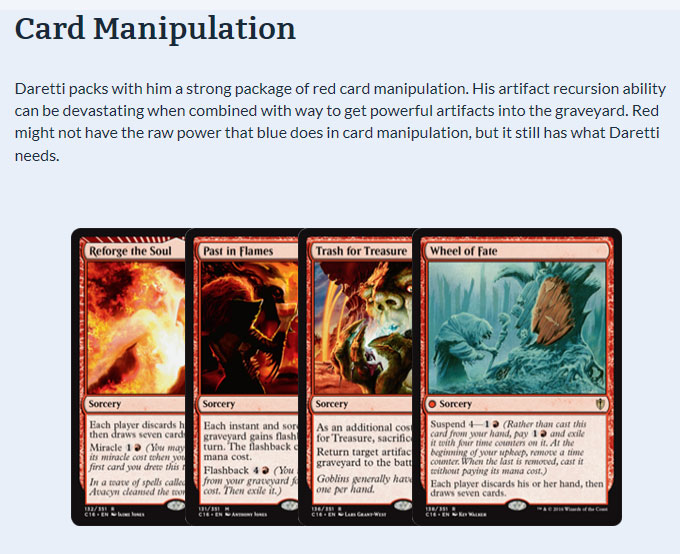 Card Descriptions is the most elegant way to add customized sections that touch on specific cards.
Simply select the key cards you want to talk about, and they're automatically added to the section.
Front Page Widget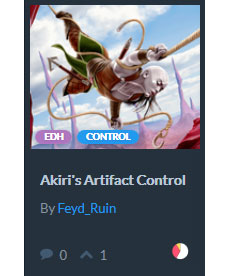 The frontpage widget allows you to see
the top rated decks at a quick glance.
As you probably noticed, our front page now sports a sleek new Decks Widget. Here, you can quickly and easily see the top 8 highest rated decks. These featured decks have been rated by our users to be the best of the best, and you can see the top decks for the week, month, or for all time. You can also filter between the formats, so you see what is relevant to you.
Want to get featured? It's easy. Build a deck, be detailed in it's description and strategy, and then share it. All featured decks are a direct result of other users upvoting a deck, and the strength of the deck entry is in your hands. Create your masterpiece and then share it with your friends and play group.
Deck Listing
In addition to featuring the top decks on our front page widget, all decks can be searched out and browsed. Our Decks Page lists all decks within the sytem, and can be easily filtered and searched. Whether you're looking for inspiration, or just browsing to see what others have come up with - the decks page can be your guide. You can filter by a format, color, price, deck type, and even designated commander for the Commander format.
If you want to see a larger list of the highest rated decks, you can sort by these, or you can sort by most recent, and even hot and trending decks. It will, of course, take time for everyone to add in their decks, so make sure to check back as the listings get full!
Deck Details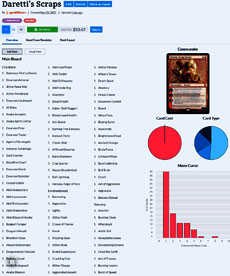 The deck details page can have everything
you need to examine and evaluate a deck.
Each deck of course has it's own details page. All decks feature a presorted deck list, estimated price listing, mana curve chart, color and type charts, and a variety of other useful features. Decks can be as detailed as any primer on the site, with card choice breakdowns, sideboard possibilities, general strategies, or even secondary options. How detailed a deck is depends on the time and energy the author puts into it.
In addition to the overall deck information and strategy, there are quite a few useful tools. To get a feel for the deck, you can visit the Hand Draw Simulator, which gives you a random opening hand. You can try multiple hands, muligan, and add cards to see what else would be coming. You can export the deck, whether for the forums or as a text for Magic Online. If you're wanting to post the deck on the forums, we have a quick shortcut using the deck id at the top, which will automatically pull the deck into your post easily. There is, of course, social media sharing if you want to help promote a deck, or tag your friends in something they might like. At the bottom, every deck is open to its own commentary.
Looking to the Future
We are far from finished with our deck features and support. This is the first iteration of the deckbuilder, and we're looking forward to hearing your feedback! What do you want to see us add?
Ready to Get Started?