Chandra
,
Liliana
, and
Nissa
,
Mrs. Pashiri
leads Chandra and Nissa to the home of
Yahenni
, a retired aetherborn with about two months left to live and friend of renowned pilot
Depala
. Yahenni is the host of one of the aetherborn's famous parties, which is the perfect time for the group to blend in. The trio seek information on where the Consulate may have taken
Pia Nalaar
after arresting her. After some introductions, Chandra and Mrs. Pashiri go mingle in the party while Nissa remains behind, clearly uncomfortable. Nissa is still not accustomed to the concept of cities, even with Ghirapur's relatively moderate cityscape as opposed to the oppressive Ravnica. As the evening progresses, Yahenni uses their empathic abilities to get Nissa to open up somewhat. Nissa admits she's not at home in an urban sprawl, and that she is confused about how the aetherborn could be part of a natural cycle. Yahenni's response startles her:
"We are the city. I'm made of aether, and one day, I'll return to it. Nature is all around us, it just may look different than what you're used to."
Nissa had never thought of things that way. Hot on the heels of her revelation, the pair go and investigate a disturbance at Yahenni's party. A consulate guard barged into the party and is banging on their bathroom door. Yahenni politely asks the guard to leave, but he claims to be after a consulate fugitive. Yahenni uses their empathic powers to gain Pia's location by gauging the guard's reaction to various prison names. They learn that Pia is being held in Dhund Prison, the same facility where
Baral
is stationed. They ask Nissa to escort the guard out, and Nissa knocks the burly guard unconscious and throws him over her shoulder without breaking a sweat. Chandra melts the lock off the door for Yahenni, and with that Nissa, Mrs. Pashiri, and Chandra leave with their new intel.
Inside the bathroom, Yahenni finds a dying aetherborn, a petty thief who just escaped from the Consulate. This infuriates Yahenni; the aetherborn live such short lives and they are jailed for petty reasons. In her anger, they consider using their
dark gift
on the guard outside. Why should they live such short lives, after all, when they can live longer by taking from those who deserve it? They ultimately put the idea out of their mind, thinking it only a last resort. They stay with the dying aetherborn until they passed, then go outside to announce next month's party.
Leaving the party, Oviya imparts that the Dhund is a secret prison. Its location is unknown, but it is rumored to be somewhere near the night market run by the crime lord
Gonti
. She also reveals that Baral is stationed there, setting Chandra into a fury. When they get there, they struggle to find leads, until Nissa has an epiphany. Everything on Kaladesh is laid out according to the flow of the aether, and the tunnels underground are no different.
Sensing the flow
, she leads them to a secret underground entrance, where Chandra quickly dispatches the brute left to protect it. In the tunnels, they find themselves going in circles. Finally, Nissa follows the aether flowing through pipes, and realizes what appears to be a wall is in fact an illusion. They journey into the Dhund, and discover it curiously empty. Too late, they realize they wandered into
a trap
as they are enclosed by hidden walls. All attempts at using magic to break open the trap fail as the cage has anti-magic properties, and they are taunted by Baral outside. Chandra begs for him to let everyone else go and take it out on her, but Baral responds simply with no. Baral leaves them to their presumed death, as gas is piped into the chamber. Neither Nissa nor Chandra want to leave Mrs. Pashiri to her death, and so they settle in to wait.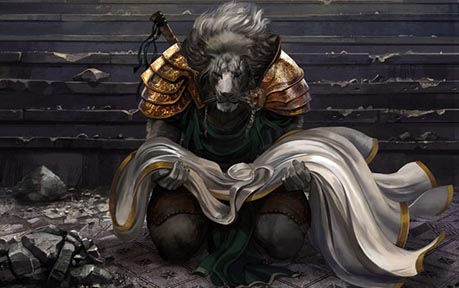 Ajani honors Elsepth by wearing her cloak after her death.
Art by Volta Creation
And Suddenly, Ajani