Kaladesh. The home of inventors, tinkerers, and master crafters. No wonder that this set is sure to excite the craftiest of deck builders! With the set now released, it is time to see what cards can provide value to existing decks, and which ones might push the creation of a new deck altogether. So let's get to looking at what works, and what does not.

In this month's look at Kaladesh, the Commander mod team looked over some of the cards that show great promise and selected the card of each color that showed the most promise.

We also came up with some more technical options: some hidden potentials which will not be for every deck, but something some crafty builders could make good use of. Finally, we of course go over the new legendary creatures of the set, and see how they might measure up as potential Commanders.


Commander News



Before we get to the card reviews, we have a few pieces of news to highlight:

The first is that with the release of

Kaladesh

, we have a new banlist announcement. Few people were surprised by the "no change" announcement from the RC, despite some recent heated discussion on a few key cards in our

Commander Rules Discussion Forum

.

Even with the "no change" announcement, we are always curious to know how you feel about the state of the current banlist, and right now is the time of our

Third Annual Dream Banlist Poll

. If your ideal banlist is different from the current one put forth by the Commander Rules Committee, come on in and see how your opinions measure up against the rest of the MTGS users!



Top Picks



Each mod looked over a color and pulled out the top pick of what could have a high impact in decks of that color identity. While some decisions were more difficult to narrow down to only one stand-out pick for the color, below are the cards that have simply beat out their competition for their color:




bobthefunny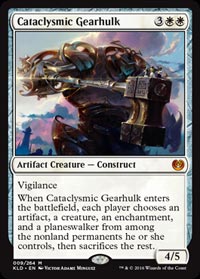 Cataclysmic Gearhulk
will hardly surprise anyone as a top pick for this set. While White has no shortage of wrath effects, past creatures with a wrath effect have had hefty limitations, including only affecting
tapped
or
attacking
creatures.
Cataclysmic Gearhulk
changes that. While not as powerful as its namesake
Cataclysm
, the Gearhulk already upsets the 'equality' of the boardwipe by being both an artifact as well as a creature, giving you more flexibility in the choice of your resulting boardstate. Blink decks, such as
Roon of the Hidden Realm
, will especially love the Gearhulk, both for the option to reuse its ability, as well as further potential offset of the ability through temporarily hiding key pieces of the board. Expect some amusing combos with
Flickerform
, or
Ghostly Flicker
with
Archaeomancer
.
Jivanmukta

Torrential Gearhulk
, despite having flash will not be a surprising addition to countless decks in games to come. Similar to the black and green Gearhulks, it does most of its work without needing to be built or played around by its controller. It rewards Blue players for doing what the color likes to do best: sitting back and waiting.
Torrential Gearhulk
might not recur sorceries the way
Snapcaster Mage
can, but it has a much easier time killing anything it ambushes. Losing sorceries is actually quite a large hit, as many of the more powerful spells are sorceries, but there is still plenty of versatility to be had in a toolbox of instants, including a few
game-changing options
. The ability to cast the spell for free puts it on a respectable mana cost as well, as flashing back a
Cryptic Command
will cost the same amount with a
Snapcaster Mage
as with the Gearhulk, but with the Gearhulk having a less color-intensive cost.
cryogen

While I initially predicted energy to have limited usefulness due to its parasitic nature,
Demon of Dark Schemes
is unique. The Demon provides an ongoing effect to gain energy, as well as fueling its own ability. This means that you do not need to rely on additional energy sources to make it work. It is one part
Massacre Wurm
and one part
Coffin Queen
, all on a decent body. With the same cost as the
Massacre Wurm
, it may even make a few replacements as the Demon adds evasion at the cost of only one power. While you lose the kill condition of
Massacre Wurm
,
Demon of Dark Schemes
instead adds a more long-term value engine, which some decks may prefer. Expect to see
Demon of Dark Schemes
in recursion-based decks looking to add another wrath option to their creature toolbox.
Demon of Dark Schemes
is not a powerhouse by any stretch, but that is fine because it should fly under the radar most of the time.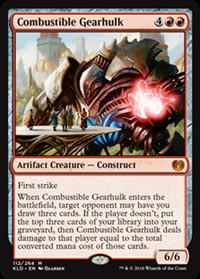 Wildfire393

Combustible Gearhulk
is the standout red card of the set. It draws immediate comparisons to the often-maligned
Browbeat
, but it comes with a lot of advantages over the punisher sorcery. First and foremost among those advantages is the fact that even if your opponents can afford to suffer the damage, it leaves behind a sizable 6/6 body with first strike. This is especially relevant for decks that can take advantage of that body, by copying it via
Kiki-Jiki, Mirror Breaker
, recurring it via
Feldon of the Third Path
,
Goblin Welder
, or
Daretti, Scrap Savant
, or flickering it via
Conjurer's Closet
. Also notable is the fact that the three cards are put into the graveyard if the damage is taken, which can also fuel the aforementioned recursion. On top of that, the fact that the damage is targeted at a specific opponent means that in a multiplayer format, you can target the player at the lowest life. Since the damage can be variable, they will have a harder time deciding how much damage they can take. This gives better odds that they simply allow you to draw the three cards, whereas
Browbeat
is regularly absorbed by a player with a high life total instead.
Combustible Gearhulk
also pairs well with top-of-library manipulation such as
Scroll Rack
, allowing you to pre-load cards with high costs that you want in the graveyard.
Airithne

Nissa, Vital Force

may not be as strong in Commander as other green planeswalkers, but she does offer something new between her minus and ultimate, and her plus loyalty ability is nothing to scoff at, despite the risks of animating a land. To top it off, Nissa is quite easy to reach the ultimate on, being active after only a single activation of her first ability. This means that with good timing, such as after a

Wrath

effect, Nissa will be able to drop and protect herself for a quick emblem the following turn. Or, if you happen to be playing blue, it means that a single piece of

time magic

can ensure an easy emblem. With the capability to protect herself, to add a recursion package to your board position, and an ultimate that provides decent card advantage,

Nissa, Vital Force

provides a solid package for a green planeswalker. She may not see play in every deck, but there are certainly commander players that will be glad to have her.



Tech Highlights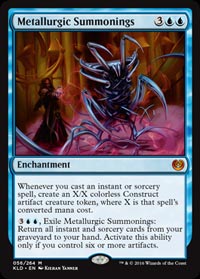 bobthefunny

Refurbish
provides a new solid effect for decks running white. While White has had numerous effects to recover artifacts in the past, it has had few effects that returned them directly to play. While
Refurbish
is not White's new artifact version of
Replenish
, adding a new piece of recursion to your options can open up some interesting lines of play. A
Breath of Life
for artifacts can provide a lot of utility, from returning equipment to gaining a discount on a
Darksteel Forge
. These possibilities allow
Refurbish
to be a solid addition that stays out of the spotlight.
Jivanmukta

Metallurgic Summonings
is a new toy for spellslingers. Getting rewarded for casting
Mystic Confluence
with a 5/5 construct is something I think most people would be pleased with, and even smaller tokens will provide value, adding another
Young Pyromancer
or
Talrand, Sky Summoner
effect for dedicated instant and sorcery decks. The second ability may involve a challenge to activate, since you need six artifacts, but between the Constucts that
Metallurgic Summonings
makes and your available mana rocks, that should be easy enough to achieve. The second ability then allows you to recuperate your used spells. Expect to see it used in Storm combos, as well as for refilling your hand in a spellslinger list. The second ability also allows you to use your initial spells more aggressively for value, since you will be able to recover them later.
Wildfire393

Fateful Showdown
has a very unique effect. It combines
Shattered Perception
with
Spiraling Embers
. While neither of these effects are anything surprising on their own, the combination is new, as is the fact that it is instant speed. Filtering an entire hand-worth of cards on an opponent's turn can provide some key outs, and restock your potential answers. It takes a very specific build to take full advantage of this, but it has a lot of potential. Fateful Showdown can filter poor quality cards, take out a threat at a key moment, and stock the graveyard with reanimation targets.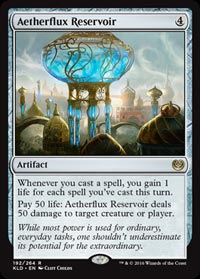 cryogen

As the set was getting spoiled, one card jumped out at me. It is not the flashiest card of the set, and it is not one that is likely to make even the slightest impact at your EDH table, but it is the one that I got the most excited for. The card, of course, is
Filigree Familiar
. Sure, it is a worse
Solemn Simulacrum
, but it is absolutely ADORABLE. Plus, at three mana, it passes the ever-important
Sun Titan
test.
bobthefunny

Aetherflux Reservoir
is another interesting new addition to Commander. Since life totals start higher, it is much easier to reach the required lifetotal to take someone out in one shot.
Oloro, Ageless Ascetic
,
Ayli, Eternal Pilgrim
, and other lifegain decks may certainly be tempted by the ability to one-shot an opponent, despite the high risk on the cost. I plan to slot it into my
Trostani, Selesnya's Voice
deck to test.
Aetherflux Reservoir
could also see use in a few slower spellslinger decks, as the pseudo-storm lifegain would be a welcome addition to helping them stay alive. It would also serve as an alternate win condition in those decks. Just be careful to not accidentally activate it into an opponent's
Willbender
.
bobthefunny

Inventors' Fair

may as well read "Search your library for a card named

Crucible of Worlds

." While useful lands are certainly no new addition to Commander games, easily recurrable tutors have proven their value time and again. Even without the Crucible to power out a strong recuring advantage, having a tutor on a land adds a great set of flex options to any deck, being able to fetch

removal

,

card draw

,

equipment

, or even simply a

solid threat

. Do be aware of the three artifact requirement to activate though. While most Commander decks will have a sufficiently high count of mana rocks to reach the limit, it may prove to be an inconvenience after a wipe.


New Commanders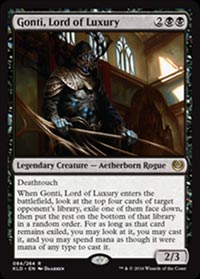 Jivanmukta

Padeem, Consul of Innovation
is something I am very happy that exists. Yes, it is a mono-blue artifact commander who is not
Arcum Dagsson
. But that is a good thing. An issue I see is that when a general becomes so known for a specific (and generally degenerate) style of play it renders that general unplayable for those not seeking to abuse it. There are casual mono-blue artifact decks for which Padeem is the logical choice for a commander and unlike
Muzzio, Visionary Architect
, she does not feel reminiscent of Arcum either. I am always happy when Commanders with known archetypes come out at a lower power level than already known ones. It allows for tuning of the most important spot in an EDH deck.
cryogen

Gonti, Lord of Luxury
is a stand-out black card of this set, and you should expect to face this general at some point. Gonti is a rogue, but with
a few exceptions
, there are not many playable rogues. But the real treat for this is the second ability, which takes
Daxos of Meletis
and sticks the ability in black. Because this is an ETB ability, you can capitalize on it with cards like
Conjurer's Closet
, and even if you have to recast Gonti multiple times, Black has no shortage of ways to produce obscene amounts of mana. Any commander that has built-in card advantage is always something to look at, and Gonti's ability can be used to advance your game plan, as well as to act as disruption to your opponents.
Airithne

Oviya Pashiri, Sage Lifecrafter
may not be as flashy as other popular token generals like
Kamahl, Fist of Krosa
, but you will always have easy, early access to her. She can be compared to a mono-green
Rhys the Redeemed
, with the main difference being that while Rhys goes wide, Oviya can go big. Oviya will also always give you an early play or find a use for your mana later on in the game. Expect to pair her with a variety of untap effects to make good use of her abilities, while also pairing in Green's usual token shenanigans. She is also one of the few mono-green generals that opens up the possibility of an artifact-themed deck, which provides a new direction for the color.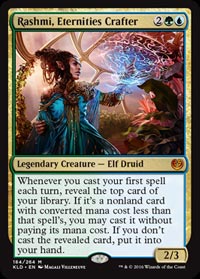 Wildfire393

Rashmi, Eternities Crafter
is the latest legend. The color combination has gotten a glut of powerful legendary creatures over the past few years with cards like
Kruphix, God of Horizons
and
Prime Speaker Zegana
, but Rashmi might just take the cake for strongest Commander. Cards like
Seedborn Muse
and Blue's array of instants already push the color combination into playing multiple spells in a round, but Rashmi pushes this to the next level, rewarding you with a cascade-esque card draw or free spell during each turn when you cast a spell. Dropping her and then following up with some free instants like
Submerge
,
Force of Will
,
Gush
,
Bounty of the Hunt
,
Reverent Silence
,
Mindbreak Trap
, and similar during the first round can result in a powerful jump in board position. Once the turn gets back around, a large sorcery can be dropped to further cement this lead. Rashmi will synergize well with cards that have alternate costs to get a bigger jump for the cascade-style free spells, as well as spells with buyback or retrace to continue cascading from recasting.
bobthefunny

I might be cheating a bit by selecting

Skysovereign, Consul Flagship

, as my Commander pick, since, well... it cannot

technically

be a Commander. Skysovereign not being a creature certainly makes it difficult to put into the command zone, but with the power/toughness box down in the bottom right, I am certain that a number of more casual circles will be happy to house-rule the battleship an allowance to the rules. Skysovereign also brings the literal Battlecruiser to Battlecruiser Magic, and is a solid card to boot. Skysovereign is a decent removal piece, and does significant damage in the air at a reasonably low crew cost. I fully expect to see this airship land in a few 99's, but I would also be more than happy if someone were to sit across from me and reveal it as their Commander.



Time to Start Inventing



Although we were not able to go over every new card that could have a place in a Commander deck (I am personally excited about

Armorcraft Judge

), we hope this is enough of a taste to get those creative juices flowing. While Kaladesh seems to have fewer options at first glance, it really does have a little bit of something for everyone, with the Inventions

Masterwork Series

for the collectors and pimpers, to a number of standout cards for each color, and of course the addition of vehicles for those who like to embrace new mechanics and archetypes. I am certain that we will see more than a few

Depala, Pilot Exemplar

decks in the coming weeks.

Let us know if you have a favorite that we did not mention here, and where you plan to use it. And if you are building a deck around one of the new Commander options, we especially want to see those, so go invent something to fill up our Decklist Database!