One of the things I love about Magic is the ability to innovate. When I first started playing during Invasion as a noob, I knew only of casual and competitive. The years progressed and today we have multiple other formats. Today we have Pauper, EDH, Two-Headed Giant, multiplayer, Vanguard, Legacy, Vintage, Extended, Highlander, Standard, Cube, Draft and excuse me if I have forgotten a few. In my humble opinion, the game will only gain formats as more cards, mechanics, and types are added to the game. Since I want to take a break from serious articles and have some fun, I want to throw out a few ideas I have come across over the years.

Speed Magic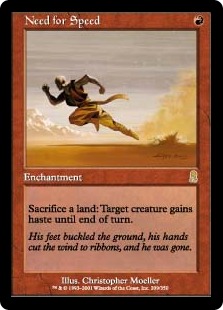 The idea behind Speed Magic occurred when a friend of mine and I were arguing about the importance of die roll. To remedy the situation, we decided to try taking turns simultaneously. After a few games and some revisions to the rules, we had Speed Magic. It was interestingly fun due to the high amount of tension and the quick pace of the matches. Since there is no such thing as individual turns in Speed Magic, the game is about priority. After each untap phase, one player gets priority for the turn. The following turn the other player gets priority for all spells. Basically, each player can play creatures and sorceries each turn. Both players can attack every turn. Speed Magic is all about priority.

The main problem we stumbled across was the land drops. Having a person getting to drop a land and then get to play a spell was problematic. The solution we decided was to let the person who doesn't have priority drop a land before the player with priority gets to play spells. Extra turns were resolved by literally returning to regular Magic. Other than that, everything else is exactly the same as any other Magic game.

Example: Player A starts with priority.

Both players untap
Player A get priority during the upkeep step.
Player A passes, Player B gets priority. Both pass and proceed to the draw step.
Both Players draw a card. Player A gets priority, passes, Player B gets priority.
Both pass, the turn proceeds to the Main Phase.
Before Player A gets priority, Player B has the opportunity to put a land into play, nothing more.
After Player B's land drop opportunity, Player A has priority.
Player A passes. Player B gets priority. Player B passes and Combat begins.
Player A declares any attackers. Player A passes.
Player B declares any attackers. Player B passes.
The Attach phase begins with Player A having priority.

I'll stop here. The rest should be self-explanatory. It seems really odd at first, but it soon dissipates after just a few games. The method can also be used in multiplayer games to great benefit. Most multiplayer games can take forever, but Speed Magic accelerates the game dramatically. The games moving along more quickly was great. A side-effect was not sitting there watching the clock, grabbing a soda between turns, rewriting the constitution, drafting a process for free energy as I waited for my turn. I got to play. Sure, I had to wait for priority, but in the mean time, I could untap my lands and draw counters, and do all that happy upkeep stuff. Nobody has to wait until it is their turn to all those unimportant motions. Plus, you got to draw a card right away and think about it. Nobody had to sit their and wait while Tim drew a card and spent the next minute thinking what he was going to do with it. The difference betwee Speed Magic in a normal game and Speed Magic for multiplayer is minor. If Player A has priority for the first turn, Players B, C and D get to drop lands before Player A gets priority. That is all. Give it a try. You might be pleasantly surprised.

Double Dragon

Tired of being only able to play one deck? Only have one buddy able to play Magic, but you are yearning for some multiplayer downtime? In such scenarios, why not play with two decks? I have and it was a blast. Two-Headed Giant rules cover the bases for all needs and purposes. When you want to play more than just two decks, Three-Headed Giant can be an alternative. I will admit that playing three decks can be a little much. The reason I loved playing Double Dragon is I had the opportunity to play with twice the Magic cards. Instead of deciding whether to play Burn or my Reanimator Deck, I could just play both. Not revolutionary, but a lot of fun.

Power Drafting

I walk into the local store one day and buy a booster box. Instead of just cracking open the packs, I tried to snatch up a few players to draft. We could only get four of us together. Before giving up, I finally said jokingly, "Let's just draft the whole box." We chuckled at the audacity. Then we went ahead and drafted whole box. It gave each of us nine packs. The drafting took a little longer, but the quality of our draft decks was spectacular. We played with the decks for quite awhile. After a couple of hours, we realized with the size of our draft pools, a player could rebuild the decks in a totally different way. The ability to change a deck during the draft was a very good learning experience. I could switch from aggro to more control aspects. I probably tweaked my deck 5 different times.

The other benefit I found is it eliminated Rare drafting and other problems. At the end of the night, I got all the cards back. At least, I hope I did. Whenever a new set comes out, I usually always buy a box. I try to make it a priority to draft it. It is a great way for new players to learn without them thinking about their pocket book. It can be interesting to see how players change their picks when they can just draft. It makes me think Drafts at FNM should at least have the option of letting one player just buy all the cards for the pod. An incentive would be they would automatically get a promo. The problem of course is people stealing cards and there will be those who will. The thought is an optimistic and ambitious. If you can trust the people you play with, I suggest it.

Make it a Double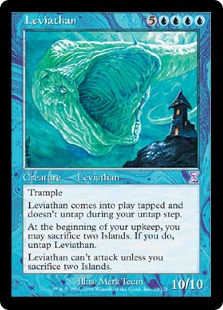 A buddy and I were sitting around building decks out of our collections. We began having a discussion about how a lot of the cards had such high casting costs, but we would love to play with them. However, the costs were just too prohibitive. Splashing for green allows a person to play those ridiculous spells unless rituals and combo pieces are used. Sure, that is the game, but sometimes I just want to tap land and play the darn cards. My friend joked that it was unfortunate we couldn't just play more than one land a turn. We looked at each other and decided to allow playing two lands a turn. We quickly threw together decks with obscenely high mana curves. I quickly pulled out my Leviathans, one of the first cards I fell in love with in my early days. The idea behind attacking with a giant sea creature just tickled me pink. Plus, I just loved the artwork.

We started flinging the cards and quickly realized two things. The life total needed to be upped. It was simply too easy to kill your opponent. We originally thought as much, but we figured we should at least try it first. The other problem was quickly going into top deck mode. It was a lot of fun ramping into those big spells. Suddenly, the game would slow to a crawl. Super Magic turned into slow Magic. Not willing to give it up, we decided to double the card drawing Howling Mine style. The lands dropped quicker and we spent more time playing instead of draw-go. If you give it a try, two lands, two cards a turn at 60 life. I might even bump it higher. You starting attacking with Iname as One and Chorus of the Conclaves with 18 mana powered Fireballs, the life totals can quickly diminish. We tried getting stupid and going three land, three draws, and 120 life. Even though I am trying to promote alternatives, it isn't worth it. Two lands and an extra card a turn is plenty. There just aren't the cards out there to justify it. I had no problems with Leviathan at going double. Maybe a few cards could warrant making a deck that way, but the price isn't worth it.

Partying Down


So, I have been mostly talking about cards. There are other ways to enjoy the game in a casual setting. Why not have a party? Oh, I am not kidding. During casual night, I suggest setting up a theme for the night ahead of time. The theme could be deck wise, but...wait...wait...it could have social aspect. One night we called it something like presidents and peons or something. We had a ton of people over. In one room, we had a nice table, cushy chairs, liquids, snacks, and other hedonistic items. The second was standard metal chairs, water and snacks. The last one was in the basement. There were no chairs or table. A player had to play on the floor, with a lamp as lighting, no food or drink. The idea was we had three games of multiplayer going on with people moving up or down in social status by winning or losing. We had three pods of four. The winner moved up a room and got to bring a friend with him to add more political plight. The first to lose took the other down with him. Winning got you snacks and food. Losing got you leg cramps and a grumbling stomach.

It was actually a success. Obviously, people were not excited about having to go play in the basement. Unlike most multiplayer games, their was now consequences to losing. Politics of multiplayer were becoming increasingly more important. Players began pleading to move up and others ganged up on others to send them to the basement. It brought with it an entirely different aspect. If you were being a jerk and playing ridiculous combo deck, you would wind up in the basement by a demotion. During the course of the night, the players began to more carefully pick their decks. Playing something fun and fair led to the land of food, drink and comfort.

Other than that, get creative. Make it a party.

Sleeving Up

Lately, I have been playing a lot of EDH and Pauper. Kudos to whoever came up with them. Besides the fact it is incredibly fun, I really enjoy the fact I can utilize more of my cards. I hate seeing my cards just sitting in binders. I also really hate seeing the large amounts cards just sitting in other people's collections. The financial aspect doesn't bother me too much. The fact they spent 10,000 dollars on Magic cards is their loss. My problem is they are just sitting there. To me, it is like buying a puppy and never playing with it. So, you paid way too much buying a pure bred mutt, whatever. Play with it. It's a damn puppy.