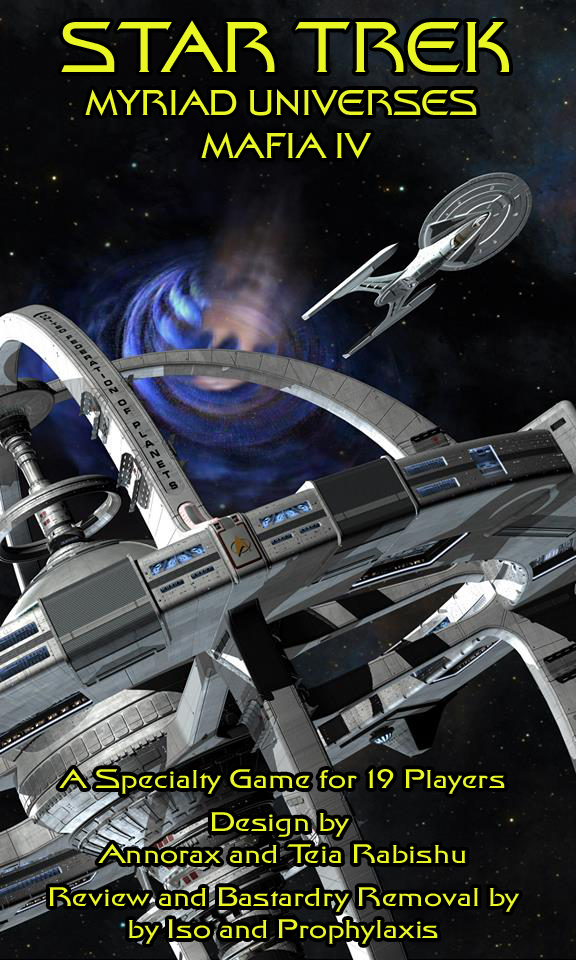 You, the happy denizens of the 24th Century, have awoke to find something eerily wrong. The year is 2381 and everything is… differenty. Everywhere in the universe, at the same time, I, Q, appear and announce that I have collapsed several different universes together for no reason other than fun, and that I've introduced an Mafia of evil people who want nothing more than to kill everyone and everything in the universe. To that end, they've stolen some ugly blue police box from the Department of Temporal Investigations evidence vault on
REDACTED
and started messing with history, starting with the moment the Federation Temporal Agency and Starfleet Temporal Integrity Commission would allow them to do so, February 28, 2381 (a Saturday.)
The Alpha Quadrant's still recovering from the apocalyptic Borg invasion, during which sixty billion Federation civilians, half of Starfleet. and three quarters of the Klingon Defense Force were wiped out in the span of a week. The invasion was stopped only by the dissolution of the Borg Collective by the Caeliar, a mysterious, hermit-like race who evolved from humanoid form to become fully artificial beings made of controllable atoms (catoms). And just to show you that they're a lot of fun, they're also the geniuses who created the Borg,
entirely by accident.
Yes, that's right, you puny humans, the Borg were a cosmic accident. They're gone now... or are they? Maybe a few survived, you might never know...
I've tweaked some of your alignments to make the games more amusing for me. You have all been sent to the newly christened Deep Space Nine (II) station, designed by Master Chief Petty Officer Miles O'Brien and his assistant, Lieutenant Commander Nog. This place was even more boring than the last station until a few cubes came by & gave it some much-needed character.
This game is for 19 players. Signups will be closed late Monday evening (May 30) if enough players have signed up, otherwise the deadline will be extended. Priority will be given to those who are currently in no games; please indicate the number of games you are currently in. Players may also sign up to replace; replacements will be chosen in random order.
Mentors are encouraged & there will be a spectator thread.
IN: 4
Killjoy, Killjoy (2.5)
DoTArchon (0.5)
Cythare (0)
Silvercrys3467 (0)
REPLACE:
Rhand
SPECTATORS:
Bur
TappingStones
MENTORS:
Ecophagy
Iso (R)
Prophy (R)