genaraln7
Join Date:

11/22/2012

Posts:

48

Member Details
As all have seen on the MTG spoilers the new Theros set has gods in it.
And the gods are extremely good;
They all are Indestructible, Legendary, Enchantment, Creatures and have a passive abillity, an active abillty and can become incredibly strong creatures when you have enough devotion.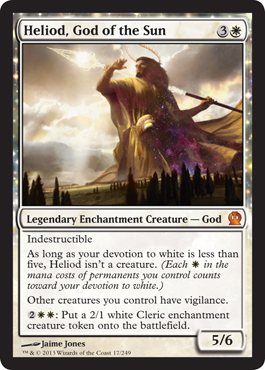 The question i have is, how to yield the full power of the gods.
Its easy to work out the static and active ability's into a good deck, only how do you also make the gods fight as creatures with consistency?
Most deck play at least 2 colors and cant afford to cut them, but to get the most out of the gods you want him to fight as well as his ability's.
How meany permanents do your need in your gods color to make your god a creature on say T4,5?
You have the one symbol in the god himself then you need another 4 symbols And no tokens dont count!
I have seen someone post a topic with statistics but i cant seem to find it..? Could be handy if someone knows it...;)