sslater

Location:

Muskegon, MI

Join Date:

8/6/2010

Posts:

737

Member Details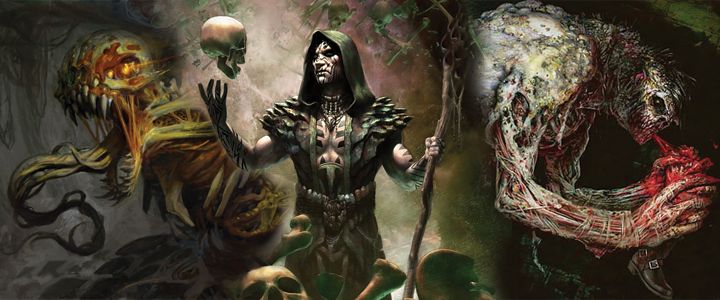 banner created by .handslikeguns
[PRIMER] GOLGARI AGGRO "THE PLAGUE"
INTRODUCTION
G/B is my favorite color combination. Now that we have some great color fixing, almost any deck is possible right now. I like the elements of this deck because it can play the beatdown or the control depending on the matchup. The creatures are tough and resilient, allowing them to have a very intimidating board presence. I feel that this deck is far different then the The Rock deck because it is a pure aggro deck.
WHY PLAY "THE PLAGUE"?
If you enjoy making other decks removal useless, this is the deck for you. If you enjoy turning guys sideways, this is the deck for you. If you like interacting with your opponents, this deck does that. It is really fun all the interactions that occur.
DECKLIST
So this is a deck that I've been testing. I think if we can find a couple minor tweaks, the deck could be a real player in Standard. Anyway, here is some decklist to start:
MAIN DECK CARDS
Deadbridge Goliath
: Big Insect.
Yeva, Nature's Herald
: Sees play in some decks.
Predator Ooze
: Indestructible guy, good at providing beatdown or being a good roadblock.
Dreg Mangler
: Haste guy that hits hard and fast. Scavenge is actually a very good ability that is relevant later in the game.
Wolfir Avenger
: Flash makes it very good against control decks. Regeneration makes it even better against control decks, and a problem for creature based decks.
Lotleth Troll
: Creating a creature that gets bigger and regenerates is really good right now. Very little can actually deal with this card.
Strangleroot Geist
: Haste + Undying. It is one of the best creatures available in all of Standard.
Arbor Elf
: Helps ramp us into our powerful three drops.
Ulvenwald Tracker
: Makes every creature a possible removal spell. When combined with Regeneration creatures, it gets even more value.
Rancor
: Makes sure our tough creatures are able to push through damage or able to trade with bigger guys.
Garruk Relentless
: Removal spell that creates tokens afterwards. Can play a
Birthing Pod
role as well.
Garruk, Primal Hunter
: Makes the right size tokens, 3/3, and draws cards. Best Planeswalker in Standard in my opinion. Played in the Sideboard as well.
Increasing Savagery
: What's better then a
Deadbridge Goliath
? A build your own hasty version. Sees play in some decks.
Death Wind
: Scaling removal. Was having problems with
Olivia Voldaren
and
Huntmaster of the Fells
, this takes care of them better then anything else I have tried so far.
Abrupt Decay
: Versatile card that is good against RDW, Zombies, enchantments,
Liliana of the Veil
, etc. Good Sideboard card.
Ultimate Price
: Removal is removal. Good Sideboard card.
Tragic Slip
: Kills early mana dorks, allows you to take out bigger creatures later in the game with the Morbid ability. Keeps
Falkenrath Aristocrat
in check. Good Sideboard card.
SIDEBOARD
Mark of the Vampire
: Gains life, very relevant against RDW and Zombies. Also makes our creatures bigger in the mirror.
Sever the Bloodline
: Good removal.
Lingering Souls
is still a good card right now.
Deathrite Shaman
: This card does so much. Gaining life against other aggro decks or providing the last points of damage to finish off an opponent. It also is amazing against the Reanimator decks that are creeping up again. One of the best cards in any format period. Some list play this guy maindeck which is perfectly fine. If you do, I think you need to play at least a couple
Evolving Wilds
just in case you need ramp.
Duress
+
Appetite for Brains
: The ability to take out removal, planeswalkers,
Thragtusk
,
Restoration Angel
,
Angel of Serenity
, etc. can't be understated.
Tribute to Hunger
or
Devour Flesh
: Hexproof guys are a problem.
Golgari Charm
: Good sideboard cards, does multiple things well. I love casting this when the
Champion of the Parish
ability is on the stack from either
Mayor of Avabruck
or
Gather the Townsfolk
.
Ranger's Guile
:
Feeling of Dread
and
Azorius Charm
really hurt this deck.
Last edited by
sslater
: Jan 30, 2013