Wandering smiter
Join Date:

9/24/2012

Posts:

5

Member Details
hi everyone:) i looked around here and didn't see a Bant deck like the one i have in mind so i decided to show it to you all.
my mind started working when i first saw this card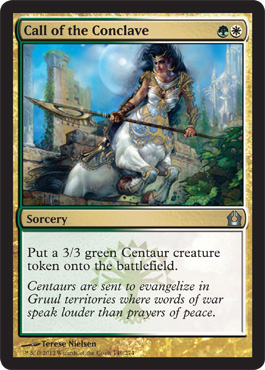 "not bad" i thought it's like
watchwolf
but it's a sorcery! that means i can use it with
snapcaster mage
and that's why i decided to use a bant shell. looking throught the spoiler i also noticed two really good istants that looked even better whit the snapcaster's help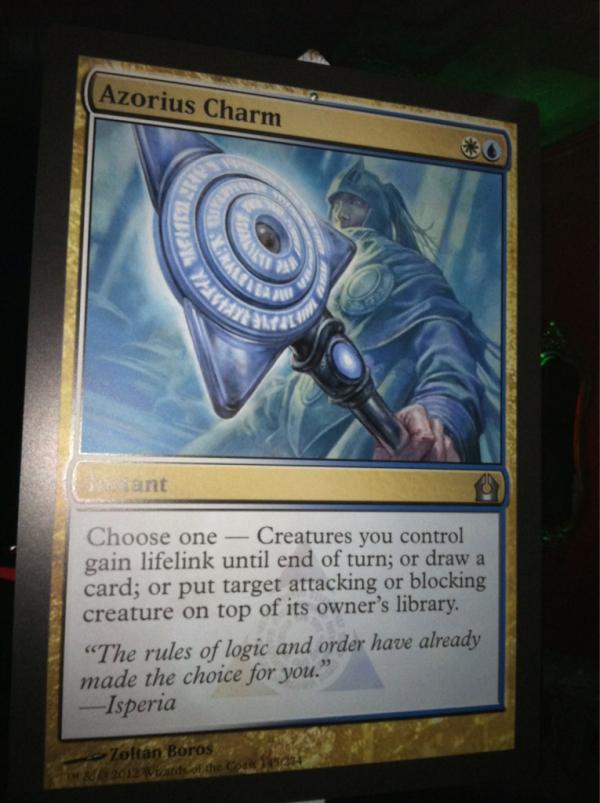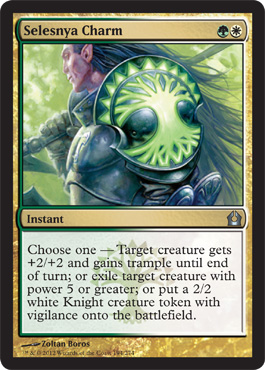 both the charms seems really good to me, the selesnya one helps you get rid of big bad creatures, give you a nice flashy token and tramply pump that can help you save a creature in fight or from a red sweeper, the azorius one can get you a card, putting an attaccking or blocking creature on top of the opponent,and can get you some life, and it's all doubled with our favourite blue flashy wizard:D. Then I started to think about what 3 drop overpowered creature the deck could have and the obvious answer came to my mind:D
who if not
geist of saint traft
? so i added him to the list, and i started searching again through the(amazing) RTR spoiler of the forum and i saw anothe gem:) an ivory one

the baddest loxodon ever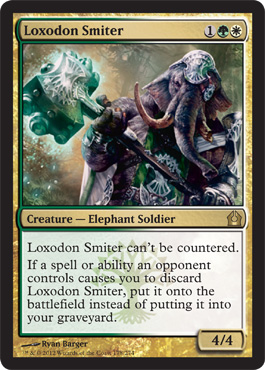 a 4/4 for :1mana::symg::symw: that will hit the battlefield no matter what?
I want it. then i started looking at some other removal, because as our MaRo said "8 something is'nt enough"
so i decided to pick the "oblivion pulse"
detention sphere
Enchantment:1mana::symw::symu:
When Detention Sphere enters the battlefield, you may exile target nonland permanent not named Detention Sphere and all other permanents with the same name as that permanent.
When Detention Sphere leaves the battlefield, return the exiled cards to the battlefield under their owner's control.
this card is just amazing, having trouble get rid of the multiple
geralf's messenger
or the
blood artist
that keeps lowering your life? fear not because now you can get rid of them whitout losing a single life points, some creatures aren't big enough to be exiled by selesnya charm and your opponent have no intention to attack or block whit them? detention sphere lock them away, all for :1mana::symw::symu: that's too good not to use it.so now we have
a pretty good shell i think:D but hey, it's a 3 color deck! we need some mana fix to make sure we don't get (mana) scre*ed! and since this is ravnica and obviosly we're going to use shocklands and m13 taplands we're almost ok, almost but not at all, what about
abundant growth
? it's a cantrip that also help you with mana problems,let's try it.
and if it i'snt enough let's put one or two
farseek
just in case:D
now the deck is almost done but there is still some place for something, we have the best 3 drops in bant, and bant have green, that means ramp! with a little of ramp we can play
geist of saint traft
or
loxodon smiter
on turn two, that's pretty scary!so let's add some
arbor elf
and
avacyn's pilgrim
to the boat. now the deck is almost done and the list is
now we have 37 cards and the deck doesn't nedd more than 21 lands, thath leaves 2 slots, and for these slots i found two good candidates,
new prahv guildmage
CMC::symw::symu:
creature-human wizard
:symw::symu:: Target creature gains flying until end of turn.
:3mana::symw::symu::Detain target nonland permanent an opponent controls. (Until your next turn, that permanent can't attack or block and its activated abilities can't be activated.)
2/2
this guildmage is good , he can help our creatures to fly untouched upon the hopeless army of our opponent or, if we have the mana, lock down the biggest threath of our opponent, wich is always good.
now the next candidate, she's the guildmage who loves nature the most,
vitu-ghazi guildmage
CMC: :symg::symw:
creature-dryad shaman
:4mana::symg::symw:: Put a 3/3 green Centaur creature token onto the battlefield.
:2mana::symg::symw:: Populate. (Put a token onto the battlefield that's a copy of a creature token you control.)
ok i admit that her ability are costly, but paying four to copy the angel token that follows our ghoslty saint it's not a bad thing don't you think? she can also slowly build an army by herself if things are goind slowly.
and that's all, right now i can't decide which guildmage is better so i want to hear your thoughts on the deck:D. i know that as an explanation of a deck this is pretty darn long and if you red it all i thank you from the deep of my heart:pals:, now the final decklist(whit both guildmages)