RealOG47

Join Date:

11/19/2010

Posts:

1,190

Member Details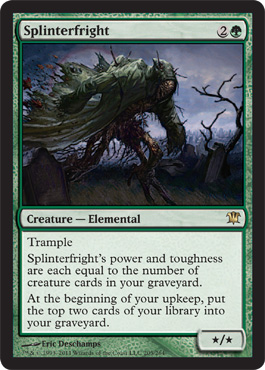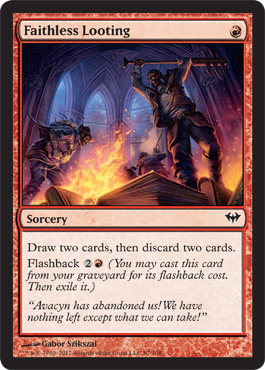 So, this is a continuation of the deck that we were working on in the Standard New Card Discussion forum. Sorry it took so long for me to get this back up. Let's see where we can go from here. Here's my most updated list. I encourage the other people who have been working on the deck to also post their lists, so we can see where everyone is at and decide on a best course of action going forward.
Here's my sideboard plan:
vs. RDW: -1x Shriekhorn, -1x Llanowar Elves; +2x Gnaw to the Bone.
This is our easiest matchup, so not much sideboarding is necessary. I would just suggest getting extra GttB into the maindeck to help stall if necessary. Of our creatures, the two most expendable ones are Llanowar Elves and Phyrexian Metamorph. In this matchup, Llanowar Elves is less useful, so one of it and one Shriekhorn should be taken out.
vs. U/W Illusions: -2x Phyrexian Metamorph, -1x Kessig Cagebreakers; +2x Daybreak Ranger, +1x Gnaw to the Bone.
This matchup is determined by how easily you can control the board, so Daybreak Ranger is key here to fight Delver. GttB is a stall tactic to buy a few turns. You want to be as fast as possible, so the mana dorks and mill cards need to stay at max value. Typically, you won't want to have cards in your hand that make it difficult to play around Mana Leak, so Kessig Cagebreakers isn't as good in this matchup. Though Phyrexian Metamorph fights Geist of Saint Traft, the general goal of this deck is going to be to try to get the opponent off balance and force them to have to block rather than attack.
vs. WRR: -1x Grim Lavamancer, -1x Gnaw to the Bone; +2x Postmortem Lunge.
This is a wierd matchup because it involves two decks that should win anytime they can execute their strategy. Getting the Postmortem Lunges in gives us a chance to win races they were expecting to win and allows us a lot more leeway in who executes first. Grim Lavamancer is good for killing birds, but he isn't the most useful in this matchup. I like Postmortem Lunge more than Gnaw to the Bone here because PL is a wincon, while GttB just stalls.
vs. Tempered Steel: -3x Shriekhorn, -1x Kessig Cagebreakers; +3x Ancient Grudge, +1x Gnaw to the Bone.
Speed doesn't matter in this matchup. All that matters is stopping the opponent. Once they can't execute their game plan, you'll win off the overwhelming power of your creatures. Kessig Cagebreakers is the weak link here as an expensive threat when all our cheaper threats win this matchup.
vs. Tokens: -1x Shriekhorn, -1x Llanowar Elves, -1x Kessig Cagebreakers; +2x Ratchet Bomb, +1x Gnaw to the Bone.
We should be pretty good maindeck against these matchups, but I think that getting more answers would help us out. I'm a little hesitant about taking out so many creatures, but getting online is pretty important, so there isn't much of a choice.
vs. W/u Humans: -3x Shriekhorn, -1x Llanowar Elves, -1x Kessig Cagebreakers; +2x Blasphemous Act, +2x Bonehoard, +1x Gnaw to the Bone.
I actually just noticed how rough this matchup might be for us. I haven't had a chance to test against it, but it seems to have pretty good answers against our general game plan. No wonder you were asking about it Duckie. The changes are so that we can have better answers. Bonehoard is good since we can start equiping our birds to either block or get in for damage.
vs. Solar Flare: -1x Llanowar Elves, -1x Kessig Cagebreakers, -1x Shriekhorn, -1x Gnaw to the Bone; +2x Bonehoard, +2x Postmortem Lunge.
It's a stupid matchup. My best advice is to try to get threats down as early as possible and just keep them coming. You want to get early mill engines, but after that, playing threats is the most important thing. Bonehoard is about increasing your threat density, and Postmortem Lunge is to try to take surprise wins. Just try to avoid counterspells as best as possible and hope they don't have removal. The other difficulty in this matchup is that they are likely to side in Nihil Spellbomb and Flashfreeze, both of which could be a problem for this deck.
This is my general analysis of our matchup versus the top decks. Any comments are welcome. I'll work on linking this post to the first post, so that it will be easy to find the sideboard strategy. I may be tweaking the sideboard a little bit, since the second GttB doesn't provide much value, and an extra Shriekhorn or a Thrun, the Last Troll would be useful in a couple of matchups.