Bane of the Living

Join Date:

1/24/2007

Posts:

104

Member Details
I feel like this card is obviously powerfull enough to warrant a deck warped around his new abilities. Lets take at them first: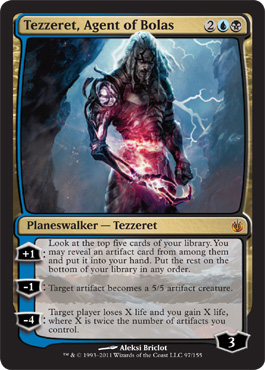 +1: This should never miss. Infact if it does he doesn't belong in the deck. The first ability is very powerfull but it demands a commitment to artifacts. Are you ok with that? If so we go to ability two.
-1: I see this as the reason to play this card. Tezzeret demands artifacts to play with, which means your opponents will have all their artifact removal online. This is bad. Darksteel is good. Make that pos Darksteel Myr a 5/5. Make Darksteel Axe a 5/5. Who needs Phylaxitive Lich?
-4: This is hardly irrelivant as I see it as a beautiful way to chain multiple Tezzerets. With only 4 artifacts left (darksteel cough) when you ultimate your still making a 16 point life swing.
I tried to make the deck focus on his first two abilities since they can be very overwhelming. We already know how good it is to attack for 4 on turn four with Koth. Dropping Tezz and attacking for 5 brings us a long way from Juzam Djinn.
Here is my rough draft list.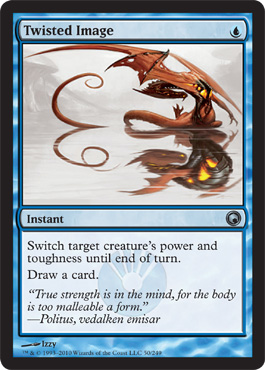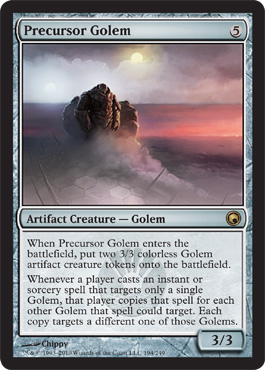 Precursor + Twisted Image combo is present here. But so is a new interaction with Mimic Vat. If your 5/5 Tumble Magnet dies, you can now imprint it on the Vat. While this doesn't seem that extreme at first, you may note that this means imprinting Mindslaver.
Sideboard
Tumble Magnet is amazing with Tezzeret since he protects him the turn you play him but also becomes a 5/5 (obviously). The big deal is that nothing smaller than a 5/5 will attack into the magnet, yet anything bigger just gets tapped. Stupid.
This is a rough list. I know I wanted Mimic Vat for the possibility of imprinting non artifact creatures. It plays best with black removal cards and lost of artifacts to overload artifact removal.
There are so many more ways to build this deck. You can max out the Twisted Image combo to ensure you get it, play Grand Architect, you can even use him to turn small artifacts with infect into.. 5/5's with Infect. He's in the colors of proliferate and just keeps digging for more infect guys. I'm positive there's a UB Tezzeret Proliferate/Infect list.
What do you guys think?