Metashdw
Join Date:

8/18/2011

Posts:

20

Member Details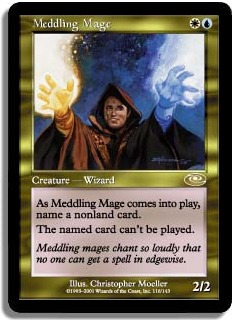 Introduction
I've always been a fan of control, and these colors are two of my favorites. MWC has a Primer thread, and it might be a better deck all around, but I want to see where we can get with these colors. The best part about this deck is that it has a lot of options to completely shut down aggro, from WoG board clears to Ghostly Prison to Magus of the Tabernacle to Spell Snare, if you see a lot of aggro you SHOULD be able to build a control deck with these colors to consistently beat it.

Prominent Cards
Board Control
Wrath of God
Staple Board Control. With your win conditions getting around it, I see no reason not to run 4 main.
Day of Judgement
Worse than WoG, but if aggro is as prevalent as people say it is it might be worth running alongside wrath. I doubt it though.
Oblivion Ring
Slow, but deals with a lot. Very good.
Journey to Nowhere
Single target creature hate is OK, but not great because of WoG/Day.
Path to Exile
If only STP were legal... oh well. Next best thing IMO.
Condemn
Alternate to PtE, but doesn't exile so it's worse.
Venser, Shaper Savant
Decent in certain matchups.
Counter Control
Cryptic Command
Top-dog counterspell. The UUU makes it difficult to cast but with the proper manabase it's definitely playable.
Cancel
Hinder
I would run Hinder over Cancel, but I think these cards are kind of slow.
Glen Elandra Archmage
Decent in the control mirror and vs combo. SB card.
Spell Snare
Good vs aggro. Maindeck if you see a lot of aggro, SB otherwise.
Rune Snag
Mana Leak
Both of these are great in the aggro matchup
Remand
Underrated in it's potential, the cantrip effect is amazing and often in this deck you just need to stall.
Spell Pierce
Popular choice lately and I think it's very good in the current modern environment. One of your only answers to combo that goes off on turn 3.
Aggro Hate
Wall of Omens
Debating whether or not to main this, it's great vs aggro and nets you a card, but lackluster in the control mirror and vs combo.
Ghostly Prison
Magus of the Tabernacle
Clashes with Sacred Mesa, but alright if you use a different win condition.
Vendilion Clique
Putting this here but it's good vs control and combo too, quick beater and late game can cyle cards for you
Kitchen Finks
2 blocks and 4 life for 3 mana, vs aggro can net you upwards of 10 life over the course of 2 turns. Keeps you alive long enough to find answers.
Plumeveil
Against aggro this is basically a removal spell. But then, there are cheaper removal options.
Hosing Control and Combo
Meddling Mage
Maindeck at least 1 to gifts for. I love this card, but it requires knowledge of the decks you're playing against, and might be better in the SB.
Ghost Quarter
/
Crucible of Worlds
Combo. Easy to obtain thanks to
Gifts Ungiven
, works great vs 5CC and 12post. Sideboard material
Bribery
I'll be playing your turn 5 Emrakul, thanks!
Teferi, Mage of Zhalfir
Great in the mirror and potential win condition.
Iona, Shield of Emeria
Most of the time if this creature hits the board you've already won. Unless you're running tron you won't play this card.
Aven Mindcensor
Absolutely playable in this format, so many decks revolve around tutoring. This card helps shut down 12post by hosing their land tutors just as well as aggro by giving you an instant speed blocker that can cause their fetch lands to self destruct.
Angel's Grace
Board material vs combo to save you on the turn they go off and allow you to recover during your next turn.
Mindbreak Trap
Epic tech vs hivemind and storm. Also good vs any combo decks that play a lot of spells on the turn they go off (eggs?)
Spreading Seas
Seeing as 12post is probably the most popular deck right now, this card will probably be in a lot of sideboards.
Card Advantage
Gifts Ungiven
Great card, but requires a deck with a lot of targets. Something to build around if you're going to run it.
Ponder
If only it was instant... still it's decent.
Preordain
Ponder is better IMO.
Solemn Simulacrum
Yes, please.
Emeria, the Sky Ruin
Will we ever see 7 plains? With Solemn, maybe. You could potentially Gifts Ungiven for Plains. If you don't run Cryptic Command, it's likely that you could put 12-14 plains in your deck, in which case this card would be worth it. I would rather have CC, personally.
Thirst for Knowledge
No Artifacts -> just run Ponder/Preordain. Instant speed is nice though...
Jace's Ingenuity
Slow, but instant speed means this card could definitely be good in this deck.
Compulsive Research
Possibly worth running, as control decks generally have an overabundance of land.
Reveillark
Even without a combo enabler this is a good recursion card.
Mystical Teachings
Honorable mention because there are UW/b decks that revolve around this card. It can find answers for basically any situation. Like Gifts, requires a deck to be built in such a way that can really abuse it, but if you can pull it of it can be really good.
Win Conditions
Sacred Mesa
Win with a flock of pegasus. Enough said. One of the best cards to rebuild with after a Wrath.
Baneslayer Angel
Sick beater, low casting cost.
Elspeth, Knight Errant
/
Elspeth Tirell
Sacred Mesa works great with these, I would run at least one of them.
Venser, the Sojourner
Gives a creature protection from wrath of god. Combos with Wall of Omens, lets you change Meddling Mage, and oh, you like to cast spells right? You only need 1 thanks to Gifts.
Gideon Jura
Do I need to explain this?
Celestial Colonnade
Also gets around Wrath.
Consecrated Sphinx
Awesome beater with epic card advantage. Staple.
Sword of Fire and Ice
Along with Light/Shadow this card really brings the pain. Put it on your man-lands after you remove their blockers and see the card advantage pile up in your favor. With man-lands this avoids wrath, too.
Sun Titan
This can be good, but usually has no targets in this deck.
If anybody has cards that I missed, let me know.
First attempt at making a deck:
Sample Deck (not extremely efficient vs aggro):
Worth mentioning are the decks that have done well in the first few MTGO dailies:
bombwizzi702 8-25-11 (4-0, Rank 3rd overall)
U/W/b Variant. Chihoi 8-25-11 (3-1 overall)
Note: Black splash is minimal, 6 black cards +
Esper Charm
in the main deck
New UW Control deck stomping the MTGO daily!
L0rd 8-27-11 (3-1)
aspina 8/30/2011 (3-1)
UW/r Gifts-based Control/Combo
Wartico1 8-30-2011 (3-1) - Three separate appearances!
Request for sticky if you think this could be a top tier deck like I do