DrWorm

Location:

Beneath the rain...

Join Date:

3/11/2005

Posts:

9,008

Member Details
Origin Story:
A couple of nights ago I started working on a red devotion deck to get some oomph out of
Fanatic of Mogis
, and came up with a deck that was really fun. It was so fun that my initial name for the deck was "Woo Hoo!", but after looking at the list and thinking about what the deck does I realized that I had inadvertently made a Mono-Red version of Death & Taxes (a deck I have played in modern for a couple years). After a week or so of testing I began to gravitate towards a snow build due to the improved creature removal that Skred gave me, so it moved slightly away from that D&T soul into something else.
Mission:
RSD is first and foremost a deck created to maximize devotion in order to do big things with
Fanatic of Mogis
and anything else that Theros might send us, so rule #1 is the more permanents and in the cost the better. If there is only one in the cost, or none for that matter, then it better be doing something no other card can and that is needed in the deck. RSD can be a straight beatdown deck at times, but it is not aggro. It has control elements in order to protect your permanents, but it is not really aimed at controlling your opponent. There are taxing elements, but the cards themselves are quite playable even if the tax never comes up. The name of the game is get out red permanents and keep them out.
The Play:
As I mentioned before you can be the beatdown, or suffice with tenderizing your opponent for a bigger play later. Of course the cherry play is dropping Fanatic when you are truly devoted to blood you want to bathe your enemies in. The deck avoids counters handily, punishes flashback and spells, and can easily side in a
Blood Moon
if need be. It sits comfortably at 4 lands so sacking an Edge is no worry either. I think the biggest issue that jumps out at me right now are sweepers, but it is early days for the deck.
The Curve:
Even though the deck is not aggro it still wants to curve out well. As it stands the curve for RSD looks like:
1:**********
2:*************
3:********
4:******
The curve for the Non-Snow build:
1:********
2:***************
3:*********
4:******
The Cards:
I initially had Purphoros in the MD, but it started to feel like a win-more in the deck, but I am not totally ready to dump the deity yet so it is in the SB. Moving it to the SB allowed me to lower the curve a skosh by adding a couple of
Legion's Initiative
for repeat offending. If had more
Fulminator Mage
on MTGO I would probably run 2-3, but it is just too expensive for me to seriously think about it as an option.
Why white? The main reason I wanted white from the start was flicker effects, but I really do not want to splash deep at all outside of red.
Missed it by that much:
I looked at all cards less than 5 cmc that had at least two red mana symbols in the cost, so there were a lot that I looked at and did not like for the deck, but there were a few that I liked but not enough to bump another card.
Burning-Tree Emissary
: I thought about it, but the bot I was buying from did not have them and found I liked what I had for my two-drops as is. BTE might be worth trying, but it feels more aggro to me and I think I would rather my creatures to do more than race.
Ashenmoor Gouger
: This would likely replace Ram-Gang, but I love the fear that BRG puts in opponents attacking on the ground. Gouger is more resilient for sure, but I think I can win with quantity even if I have losses. My paper deck uses this card, but mostly because I have to pick up some BRG from my FLGS.
Skred
:
I love Skred, and in the initial B&T version I was not really comfortable running more than twelve spells that do not contribute to devotion, and Bolt won by way of versatility, while Magma Jet won due to Scry being great with Chandra. After testing I was having trouble with things like big metal wurms, so I made a snow build for the extra punch.
So far it is an improvement, I do miss being able to go for the head to bring home a game. The more I test it the more I love it, even without Reckoner.
Boros Reckoner
: I don't want to buy them on MTGO. I do however own them in paper and have added them to that deck. Testing has been
very
limited, but it looks strong.
Wild Cantor
: Not an imposing card on the battlefield, but it has a and it can accelerate in a pinch while still being a one-drop. I think I would only add this if I dropped a couple of four drops.
Blood Moon
(main deck): This for me is a meta call. A few months back I was testing and tuning a Moon deck, and found that it was not having enough of an impact on my opponent's game far too often. Red is not an uncommon color in the meta, and most decks have some way to work around it. There are a few decks that might really hurt from a
Blood Moon
, so it is still in the SB, and if the meta changes then I will happily move it.
Update
: My current testing is running into a lot of decks that are really hurt by an early
Blood Moon
, so I added it to the MD of RSD and it has been really devastating. I have yet to loose a game in which I land a turn 3
Blood Moon
.
EDIT 11/05/2013: Added
Grim Lavamancer
and got rid of
Seismic Assault
.
Last edited by
DrWorm
: Nov 5, 2013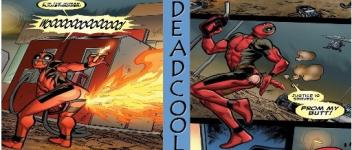 tumblr:
thewormturns
Reprint
Opt
for Modern!!

FREE DIG THOROUGH TIME!
PLAY MORE ROUGE DECKS!