ISBPathfinder
Staff
Administrator
EDH Primer Committee
Bebopin

Join Date:

8/16/2010

Posts:

14,613

Banner.
siouxwerks.
&
rizlawerks
***Note***
: This primer is to build a very powerful agro / control based bant deck. Jenara is great as she is versatile and there are many ways in which to build her. I try to keep an open mind to others opinions so if you feel strongly for or against a card please voice it and we can discuss. Feel free to ask any questions about card choices as I would love to review any past experience I have had with other options. If you are looking for a deck that combos out on turn 4-6 though this is not the deck for you.
Deck History
I started playing EDH the summer of 2010 with a new meta and it was a ton of fun. My first deck was
Captain Sisay
. I think in the first few months we all played all of the tutoring commanders to death and sort of as a consensus everyone just got sick of them all. We don't have any combo tutoring commanders in our meta anymore even though there is nothing holding us back from them other than nobody feels like playing them. I moved from there to Korlash, Teferi, and a few other smaller decklists temporarily in there in the months that came after that. I finally picked up on Jenara sometime around January 2011 and have been in love with Bant and Jenara as a commander since then. She has been to date the most versatile commander and set of colors that I have played and I love all of the interaction within the deck. It is currently my oldest deck to date that is still assembled.
When I originally built Jenara she was a bit voltron and I built it with the sole intention of killing opponents with her and due to such it was a lot more protective of her running a lot of equipment and enchantments that would stop opponents from targeting her and such. I have since then realized the power of the rest of the deck and I rely on her a lot less than I used to. My average cost per spell was a lot higher back then as well as I used to run
Time Stretch
,
Genesis Wave
, and
Rite of Replication
.
From there I changed the deck to be all about the interaction of dropping creatures with enters the battlefield (ETB/CIP) triggers. I pushed it to the point where I tried to replace everything that wasn't a creature with a creature. This version turned out to be good against the wrath control heavy decks which we had been rolling for some time but I found it a bit lacking when facing some creature based decks. Uril for one used to roll me every game.
Currently I would consider this deck to be an aggro-control deck. We have a lot of creatures in the list but most of those creatures are about building up card advantage and taking away threats of opponents. As a game goes on our deck is designed to have better resources and win the game through means of our better resources. For a long time I considered this deck an aggro deck but I have since sort of changed my mind a bit to say it is aggro-control with plenty of control elements in it that you probably could get away with calling it a control deck. Regardless the deck has had fantastic performance to date and I am happier with the list than I ever have been.
Why Play Jenara?
Jenara is completely different from every other bant deck. Unlike Rafiq, Jenara's abilities can cover all of the buffing necessary. Jenara's flying helps evade chump blockers as well which are often found in token and utility decks. Using Jenara as your general means that you will not be relying on your deck to boost your general up for a win, likewise you do not require your general to win the game. I often throw my general out into play early on just to throw a few punches. She will die eventually and it is fine as she has a very low starting mana cost.
You should consider running Jenara if you like a powerful commander that your opponents will always fear at every stage of the game while not being bound to using her to win. The colors of Bant allow us a huge variety of builds between being a control player, a combo player, and perhaps an aggro player. It is up to you to determine what sort of build you want to take on your deck. I like to think that most every Jenara deck can be a bit of a combination of the three all at once.
Our colors give us the following:

Counters, Draw, Theft, Clones, Recursion.
Ramp, Noncreature Removal, Recursion, Creature Tutors

Wraths, Spot Removal, Recursion
The three colors are very powerful together leaving very little weakness to any one specific tactic.
REASONS YOU SHOULD PLAY JENARA:
- You enjoy having a commander who scales well at every stage of the game. She is just as amazing on turn 3 as she is on turn 15. She comes in early and can make herself scary simply by paying some mana. She needs no other cards to build up.
- Her decklist can run a lot of amazing cards that are truly powerful with or without access to Jenara. I find that due to this interaction you see less people tucking Jenara as it does a lot less to your deck. Plus this deck can do a lot without her as well as having an easy time tutoring her back up if needed.
- You love Bant! Personally it is probably my favorite 3 color combination in EDH as it is so versatile. The colors lend to some strong agro tactics while giving options to control as well in white and blue. Green gives ramp and fatties so it really covers most every outlet.
REASONS YOU SHOULD NOT RUN JENARA:
- You enjoy a synergistic build around commander. Jenara's ability to self buff makes her a bit of a goodstuff commander. The equipment in here are primarily for the utility abilities rather than the buff / evasion.
- You enjoy streamlined commanders that build their deck for you. Jenara has tons of different ways to be built because she is more of a good-stuff Bant approach than a build around sort of commander. Every decklist you see out there could very well be different as every meta is different.
- You want to combo out on turn 4. Jenara has some very powerful interactions and some good solid combos such as the Lark + Survival combos but these colors aren't the best at tutoring noncreatures. There are a few white tutors that still work for this but you are probably better with someone else other than Jenara if you want to dedicated combo.
RUNDOWN ON JENARA HERSELF
Ok, first lets stack up all of the bant options before we go in depth on Jenara herself just to show other options and then I will justify why I chose Jenara to lead this deck.
So you can see that there are a few other decent choices in bant. I have seen some of the alternates and played a few of them myself. In my experience,
Jenara
is the option that plays the best as a goodstuff commander and while many of the alternate options have their merits, I found that many of them required more building around them in general. The utility bant commanders are fun but I personally have really enjoyed the versatility of a cheap wincon as a commander. It also frees up some of the slots in the deck and allows the other 99 to perform a bit more consistently in my experience.
Rafiq
is sort of the one other solid beater commander but I personally find him requiring more cards to set up and he tends to be more explosive of an early game kill style of commander but I have seen many complain that they run out of gas trying to push early game
Rafiq
beats.
As for Jenara, I could talk all day about how she can be utilized but honestly I will save all that talk for the strategy section of the primer. Breaking her down quickly she is a 3/3 flyer for which in its own gives her good power for her cost as well as evasion with flying. Add to that the fact that you can pay to give her a +1/+1 counter and she can be an absolute house in the mid to late game. She comes in early and has good power + evasion making her powerful in the early game. Combine this and the fact that she scales her powerful at every stage of the game. She is always a big threat and never easily dismissed. When opponents start running out of removal in the late game you can punish them with her then as she tends to be the biggest beater on board.
Personal Bio

My name is Brian, I am 27 years old, I live out in South Dakota sort of in the middle of nowhere. I have been playing EDH with the same group of people most of my EDH career with some time spent in a few other playgroups but I am back to where I got started on EDH again. We often get together on Tuesday nights and split into 2-3 games of EDH playing for a real fun time. I tend to get targeted quite heavily as a player for having good cards and good decks. While I love perfecting my decks I try not to make them too broken in the ways of combo and mass LD so I tend to stick to synergistic strategies that avoid that when possible. I am a spike player and I love getting my cards worth so I play plenty of card advantage style cards and I love comes into play effects.

I have been playing magic since 1996 or 1997. I have been playing magic since Ice Age, but that was when I was in like 4th grade, so obviously I was not the player then that I am now. I picked up on playing standard FNM back in high school where I played a lot in the Odyssey / Onslaught blocks. I played into Mirrodin and quit around when Kokusho started beating everyone up. I don't hold it against him though, I would love to see him come off of the ban list as I think he is fine in EDH. Perhaps keep him banned as a commander.

I am back to playing magic again and have been playing standard since Zendikar came out. I go back and forth on my thoughts of Standard but regardless I love playing EDH. I am sure that at some point I might give up on standard again but I hope to keep playing EDH for years to come. My EDH play started up sometime early in the summer of 2010 so I guess around the release of Rise of the Eldrazi or somewhere in that time frame. (You can bet we all smashed with all 3 big eldrazi in like every deck early on.)

I have built a whole lot of decks at this point but generally I have stripped away most of the decks I have built. Jenara is my oldest deck at this point and one of my favorite go to commanders. Due to how much play testing I have put into her though I dont play her all that much anymore as there isn't that much more tuning to do I feel like. I don't like replicating how decks feel so I try to have each deck have its own unique style or game plan to it. I was originally a huge aggro player but have really sort of blossomed into a control player the longer I play magic. I tend to dislike playing combo so I never really add cards because of their combo off interactions but if a card belongs in the deck it will make the list regardless of the combo interaction.


Deck List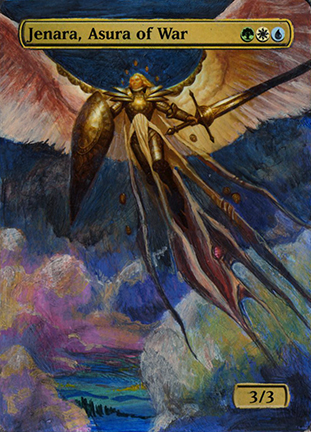 The original deck development / alterations can be found
here
if you are interested to see some of the progressions my deck went through.
You can find other user's lists of Jenara following the primer posts.
I discussed my list on a Commandercast podcast here.
Strategy


Using Jenara


Deck's Strategy


Combo Options

Weaknesses



Signature by
Inkfox Aesthetics by Xen
Avy by
Disappointing Signet Inc
[EDH Primers]
Jenara
|
Marton
|
Thrun
|
Lin Sivvi
|
Toshiro
[EDHNon-Primer]
Obzedat
[STANDARD]
[MODERN]
Flash Control
My helpdesk