Janos Audron
Join Date:

9/18/2008

Posts:

266

Member Details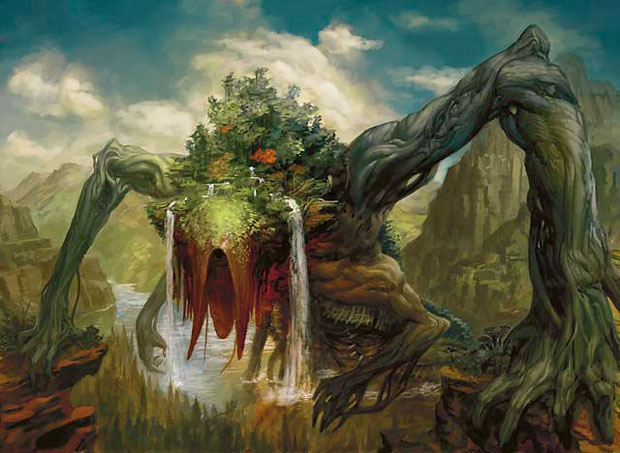 Hello, fellow planeswalkers!
I fell in love with this guy as soon as the new Commander decks were spoilered. Resilient to the colors of best removal in EDH, and promising discounted fatties all around, Animar wants a deck built around him; it's not hard to find some creatures which fit him, and they'll always be good on their own too.
The plan is simple but really effective: most of the times, Animar will be the first thing you cast. Then keep playing creature after creature until you get to the point you can almost play your whole deck, attack with them, you win.
Key-cards for this process are:
Magus of the Future
(or
Soul of the Harvest
) and
Urabrask the Hidden
(or
Anger
).
Cloudstone Curio
will make the deck explode, especially with morph creatures and Eldrazis.
Backup plans include becoming a stupid deck with lots of mana and casting threat after threat until your opponents have no answers, or becoming a combo deck and bouncing everything with
Tidesprout Tyrant
or exiling everything with
Ulamog, the Infinite Gyre
. The key-cards here are
Cloudstone Curio
/bouncer creatures and
Cloud of Faeries
/
Peregrine Drake
Props to
gelf
and
Jester831
, I took a lot of advice from their lists and tweaked mine to the deck that, at its present state, is my most efficient one in multiplayer.
Wraths: left unchecked, this deck feels unstoppable. But one wrath effect usually solves the problem for your opponents. I have some protection (in the form of counters), but when that's not enought I'd like to have some form of recovery.
Genesis
is kinda slow, but I can't think of anything else. What other cards could I make use of?
Wraths/2: Sometimes I feel like I need some wrath effect of my own, but the alternatives are very limited. Maybe a creature like
Crater Hellion
or
Kederekt Leviathan
is enough since I can tutor it?
Mana: it's not a real problem, but after seeing the mana distribution on Deckstats I feel like the land base could use a tweak or two; also I need more utility lands and less taplands.
Gas: so many times I'm going run out of gas and hope I don't draw another land. I'm usually safe with Magus or
Soul of the Harvest
, or if I'm holding
Slithermuse
or
Regal Force
5/5/2012
Lots of changes!
Removed some redundant guys and added a lot of acceleration. Now even if the enemy wraths me or manages to kill/bounce/tuck Animar I still have enough mana to cast some big guys.
Enclave Cryptologist
is awesome. Since now I have another way to put stuff in the graveyard, should Anger come back in?
Also, how did I play the deck without
Natural Order
and
Birthing Pod
?
24/04/2012
- Whirlpool Drake (not really worth the slot)
- Darksteel Ingot (I'd rather have a creature do your job)
- Sakashima the Impostor (double Animar was fun but it became even more vulnerable to wraths)
+ Farhaven Elf (coming in to sub for Darksteel Ingot, awesome art)
+ Skullclamp (testing it before her best friend Trinket Mage comes in)
+ Increasing Savagery (testing it, feels like a win more card until now)
Straightened up the manabase a bit, added
homeward path
cause
Gilded Drake
s suck.
Please tell me what do you think about this list, any help and suggestion is welcome, but please always specify what card I should replace (and possibly why).
I'll keep updating the list and I'll hopefully expand on strategy, metagame and card choices.
I am not a native English speaker. If you see any grammatical errors in my posts, you're welcome to point them out to me by PM!
My EDH Decks (any suggestion welcome!):