Platinum Knight

Join Date:

8/31/2011

Posts:

660

Member Details
So I've tried to write my first guide on Aurelia, the Warleader and hope to get some comments on improving both my EDH deck and guide. Enjoy!

=====
Aurelia, the Warleader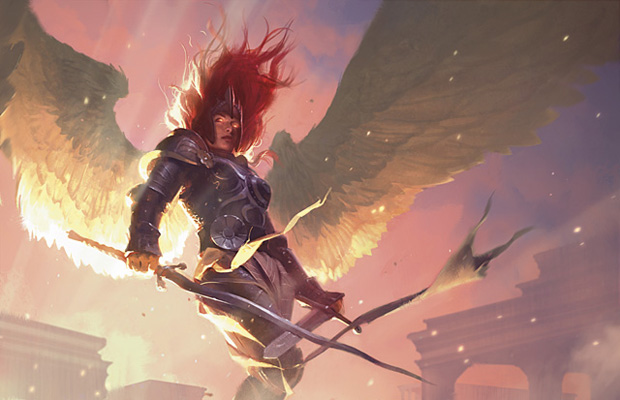 Introduction
Welcome everybody to my very first Commander guide! Ever since I started playing Magic: The Gathering I was always fascinated by the white and red themes. I really enjoy playing this color combination and hope that I can introduce players from all backgrounds to my very own
Aurelia, the Warleader deck
. I originally started this deck with
Agrus Kos, Wojek Veteran
and then changed my general to
Aurelia, the Warleader
as soon as she was available. The difference? Very, very, very much improved.
Aurelia, the Warleader
may very well be the best Boros general you can play. Throughout my guide I will go into detail about my decisions for my cards, the matchups I've had in both multiplayer and 1v1 matchups (non-competitive), and strategies on how to play a better Aurelia Commander deck.
Before you read further it's important to understand the fundamental traits of playing the Boros archetype. Boros is not simply "OMG ZERG AGGRO RUSH RUSH KEKEKE" nor is it "I play a knight. Pass turn. Now I play a soldier. Pass turn. You countered my spell? GG next game /sadface". A good Boros deck should be a balance between aggression and control. When you play a Boros-aligned creature, it tends to be a standalone threat without dependence on other resources. Each creature you play in this deck is a threat to your opponent and can deal massive amounts of damage. When the board is in your opponents favor, you should have an arsenal of board wipes ready to reset the board and play more threatening creatures. Boros is about balancing aggressive combat damage and board control as one powerful entity.
You would like playing Boros if you...
+Enjoy playing aggressively
+Like to build a small, self-sufficient army of creatures and tokens
+Have the patience to play few creatures that result in becoming massive threats over time
+Want to achieve victory through the simplest strategy: overwhelming your opponent with combat tricks and lots of combat damage
You would not like playing Boros if you...
+Prefer to play control/tempo decks
+Like land ramping
+Want a more unique strategy to winning the game rather than through straightforward combat
At my local game store (LGS), people have been asking me why I ditched my former general for
Aurelia, the Warleader
and why she is a better option as a Boros general than the other legendary creatures. First off let's take a look at Aurelia and see what she does: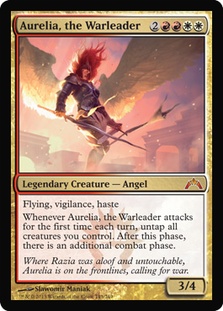 At first glance 6 CMC for a 3/4 does not seem very beneficial. Also the double red and white mana costs make Boros players shudder as Aurelia is deeper into both colors than most other Boros legendaries. However, here's the upside to her: she flies, she has vigilance, she has haste, she untaps all your other creatures regardless as to whether they attack or not, and she creates an additional combat phase. Uncontested, Aurelia deals 6 damage on her own. With the additional combat phase this is ideal for Boros players as we are reliant on strong, self-sufficient creatures that produce immediate threats.
Let's compare her to our other Boros generals...
vs.
Agrus Kos, Wojek Veteran
: No haste, no flying, and no vigilance. He does pump your red creatures with +2/+0 and your white creatures with +0/+2 whenever he attacks, but this is only beneficial for red creatures or red and white creatures in your deck. Mono white creatures do not get the same damage treatment that you're looking for when creating aggression to your opponent. Plus, his ability is only when he attacks...so if he dies to removal or becomes RFG he becomes a useless general and your simple plan to swing with your buffed army becomes a pipe dream. However, each time he attacks all your red and white creatures get bigger, which means more combat phases = even bigger creatures. Good for your deck, but not as a general.
vs.
Basandra, Battle Seraph
: No haste, has flying, and no vigilance. Not being able to cast spells during combat can be equally beneficial and detrimental to you. We lose out on combat tricks. Forcing your opponents creature(s) to attack is handy but more often than not you won't be using her ability unless if your opponent has mana dorks or weenies on the field. Would not recommend for your deck nor as a general.
vs.
Brion Stoutarm
: No haste, no flying, and no vigilance. BUT. And this is a big 'but'. Lifelink and flinging are very relevant in our deck, especially since we will be making tokens from some of our resources. He's more of a utility card to stabilize the board. Having him on the field with Aurelia gives us the chance to swing for 8 and gain 8. Good for your deck, but not as a general.
vs.
Gisela, Blade of Goldnight
: The closest contender to a playable general. Gisela is a big influence on the field: first strike, increasing damage to our opponents, and decreasing damage dealt to us. In a multiplayer game, Gisela is a tool for diplomacy by helping our allies and hurting our enemies. In a 1v1 matchup, she is the icing on the Aurelia cake. Even on her own she is very impressive and can make a big impact on board control. Good for your deck and as a possible general.
vs.
Jor Kadeen, the Prevailer
: No haste, no flying, and no vigilance. First strike and metalcraft (global +3/+0 boost) are beneficial, but it's a niche deck that relies on artifact creatures and the voltron route. He can be a real threat with the mana rocks (i.e. turn 1 -> land,
Sol Ring
+
Mox Diamond
+
Mana Crypt
...and yes I've had that unfortunate indicent before). In a generic Boros deck he's not good with Aurelia, but in a niche metalcraft/voltron deck Jor Kadeen rises to be a terrifying general.
vs.
Razia, Boros Archangel
: Ah! Now I can finally stop repeating myself and say that Razia has haste, flying, and vigilance. Great! So we should play her, right? Well not exactly. While she does have all those nice qualities and can beat for 6, she is heavily costed at 8 CMC, has a lower toughness than Aurelia, and her tap ability isn't very effective as we can only direct it to another creature, not another player. I wouldn't recommend her for the Aurelia deck simply because she doesn't do much except swing in for 6 and dies easily to burn/midrange flyers.
Aurelia, the Warleader
- Our general and fearless leader. She gives us the blessing of victorious combat...and then we get to do it again!
Figure of Destiny
- One of the best turn 1 creatures a Boros deck can have. This guy is better than the Rise of Eldrazi leveler creatures, allowing a player to effectively level at instant speed and can also de-level when an opponent tries to take control of him. "You want my 8/8? I'll tap a red/white source and make him a 2/2. Enjoy."
Tauren Mauler
- He gets bigger, and bigger, and bigger. In multiplayer this guy is a house, sitting in the benches getting stronger while your opponents cast spells. And he's a changeling too? Score!
Boros Reckoner
- One of the latest additions to our decklist. An all-star for combat tricks and getting in much needed damage when your opponent is too stubborn to die.
Adaptive Automaton
- Initially I would name soldier as the creature type when I first made this deck with Agrus Kos, but as it evolved into Aurelia I am naming Angel
Mirror Entity
– This card was originally intended for my Agrus deck when I focused on a soldier token theme. You might look at this initially and ask yourself why you would play this. Two reasons: 1) it creates a threat for any of your tokens, and 2) I can choose to pay 0 for X in case if my opponent tries to steal a creature of mind which in turn would kill the creature before they take it.
Silverblade Paladin
– This guy is too good. Anything and everything that comes out with Silverblade only benefits by giving both creatures double strike. Pair him with Aurelia and you'll make minced meat out of your opponent.
Hero of Bladehold
– I remember playing this card back when it was standard legal and it was very threatening. Battle cry, token production…all the things a Boros deck wants. Plus it's got a big butt at 4 toughness so it can sustain against most instant burn spells. Plus, it's also a "pick me!" target for opponents to hate on, taking the focus off of your other creatures.
Brion Stoutarm
– Your brother in arms and one of the main reasons why I initially started out with token decks. Lifelinking 4 damage for 4 CMC is awesome, but what makes Brion even more amazing is his second ability. I can just fling creatures at my opponents and gain life. Very effective to sustain a commanding life lead.
Instigator Gang
– The distant cousin of
Hero of Bladehold
. The upside to Instigator is that it's a standing battle cry and when it's flipped it goes to +3/+0 for all creatures and gives itself trample. You'll definitely want to play this once you have a decent sized army on the field.
Solemn Simulacrum
– Everybody's favorite creature: sad robot! Land fetching and card draw. What's not to like?
Urabrask the Hidden
– When you're playing against another aggro deck, Urabrask becomes the biggest threat on the board. Giving your creatures haste is a big bonus, especially when we're looking to resolve a Gisela shortly after that (assuming you have the mana for it).
Archon of Justice
– It flies, it exiles a permanent on death, and it's in your colors. No reason not to play it.
Balefire Liege
– The walking
Lightning Helix
! If only the red ability could target a creature too…then this card would be beyond bananas *drooling*
Zealous Conscripts
– A nice trick in the red mage's book. Stealing another player's permanent is always a bonus. Ever steal a
Jace, the Mind Sculptor
with 12 counters on it after playing Conscripts? I did. It was amazing.
Agrus Kos, Wojek Veteran
– My old general! Some people ask me why I keep him in my deck. The answer: he gives bigger fists to attacking red creatures and bigger butts to attacking white creatures. He is also a lightning rod to hate spells if your opponent(s) don't want to deal with extra combat damage.
Sunblast Angel
– Pairs well with
Urabrask the Hidden
and can reverse board control in your favor. A standing half-wrath spell.
Captain of the Watch
– 6 CMC to get a 5/5 + 3 2/2's on the field all with vigilance. I don't see any problem with that.
Elesh Norn, Grand Cenobite
– The slowroller against aggro decks and against enemy generals with 2 or less toughness.
Gisela, Blade of Goldnight
– My "second in command" with Aurelia. Almost a guaranteed win if you can resolve her with Aurelia on the board. It makes everything hit harder for you and hit softer for them. Also a good diplomacy tool in multiplayer games as it effects all opponents.
Serra Avatar
– The ultimate "deal with me now!" card. Like
Serra Ascendant
(who is not in this deck and should be…thinking about including her), she comes on the board as an immediate threat because of your life total.
Avacyn, Angel of Hope
– Your BFF. You play her. Always. Indestructability on all permanents you control is fantastic. If you can resolve equipping a
Lightning Greaves
on her it's great for you.
Everflowing Chalice
– A mana rock that can be kicked for whatever you wish. Definitely a good turn 1 pairing with
Sol Ring
if you wish to kick just once.
Sensei's Divining Top
– Manipulates top three cards and allows for card draw after manipulation. Can also bounce in response to removal targeting it.
Sol Ring
– The best mana rock. A must include for this deck.
Armillary Sphere
– Good for land fetching.
Boros Signet
– Another good mana rock for Boros players.
Lightning Greaves
– The best equipment in my opinion.
Boros Keyrune
– A mana rock that can animate into a 1/1 double striker.
Sunforger
– An all-star equipment card. Tutors for an instant spell costing 4 or less without having to pay for its mana cost.
Darksteel Ingot
– Second best mana rock to
Sol Ring
.
Oblivion Stone
– For board wiping. Can also be used as a safe investment to prevent destroying your own non-land permanents if another player has an O-Stone too.
Thran Dynamo
– Another good mana rock.
Rise of the Hobgoblins
– One of my favorite enchantments for the deck. I get a lot of odd looks when I play this card because nobody thinks 1/1 tokens are a threat. We have a lot of cards in our deck that compliment these guys and having the ability to give our creatures first strike is an added bonus.
Story Circle
– The ultimate hoser against mono-colored decks. Also gives you a chance to build up a decent hand size or board presence while keeping your opponent's damage in check.
Shared Animosity
– This used to be a great card for my token deck, but now I'm not too keen on this card. Another cheap battle cry enchantment that can be replaced with something better. (PENDING REVIEW AS OF 2/4/13)
Price of Glory
– Handy against decks that run plenty of counters and instant speed removals.
Marshal's Anthem
– Recovery after board wipe. Also you get to choose which creature cards come back to the battlefield.
Crescendo of War
– Great diplomacy card. Keeps all players in check and makes most people rethink their attacking strategies.
Assemble the Legion
– At first I enjoyed playing this card, but then I found out that the bigger the multiplayer game was, the worst this card became. I think we can do better than this. (PENDING REVIEW AS OF 2/4/13)
True Conviction
– Potentially game ending. If not dealt with immediately you will win. The best I ever did was swing for 134 damage with True Conviction on the field on turn 8.
Enlightened Tutor
– Best white tutor card.
Path to Exile
– Cheap removal at instant speed.
Swords to Plowshares
– Same as
Path to Exile
.
Boros Charm
– This card has amazing utility for our deck. Most of the time you will be casting it for its ability to make all of your permanents indestructible.
Lightning Helix
– Arguably the best Boros instant speed card ever.
Oblation
– For when you want your opponent's general to go into their deck rather than back into the command zone. Can also be used on one of your creatures and net you 2 cards.
Intimidation Bolt
– Some people read this card wrong and think it's a
Fog
. Rather, you're just saying "Hey bro, it's cool that you took 3 damage and you can attack, but the rest of your creatures can't."
Master Warcraft
– To be honest I've only used this card once. I don't think it's as strong as I'd like it to be. We're going to see if we can remove this for something better. (PENDING REVIEW AS OF 2/4/13)
Return to Dust
– That's a nice
Sol Ring
and
Mana Crypt
you have there. It'd be a shame if something were to happen to them…
Aurelia's Fury
– This card is spicy. I really enjoy that I can disrupt a player's turn by restricting them from most combat tricks and getting my damage through by tapping down their creatures.
Idyllic Tutor
– Second best white tutor card.
Day of Judgment
– I prefer it over Wrath of God at the moment, but we might make the switch to WoG down the line. (PENDING REVIEW AS OF 2/4/13)
Purify
– Destroy ALL the artifacts and enchantments. When things get out of control and you need to reset the board we have this card.
Austere Command
– It's a board wipe or a
Purify
or a mix of both.
Catastrophe
– If you have the board lead with creatures and mana rocks and your opponent is behind, you can destroy lands and win games. Otherwise it's another (more expensive) board wipe.
Banefire
– Uncounterable damage to the dome. I like it.
Insurrection
– You should win the game if you cast this.
Ajani Goldmane
– You'll be using him more for his -1 ability than his +1. When you have a couple of creatures on the board and -1 Ajani, they get stronger permanently and have vigilance until end of turn. A great ability if you casted
Rise of the Hobgoblins
on the previous turn.
Ajani Vengeant
– One of the best planeswalkers ever printed in my opinion. You use him in any Boros deck.
Elspeth, Knight-Errant
– Token production, buffing creatures, and an ultimate with indestructability. No drawbacks whatsoever.
Gideon Jura
– The poster child of "Come at me, bro!" Also great if you cast him after your opponent(s) attack to destroy a tapped creature.
Elspeth Tirel
– Better than Elspeth 1.0 with token production and Ajani 1.0 with life gain. The only downside is her ultimate can wipe most of your board too. Still, she is a threat.
Plains
&
Mountains
– You have to.
Sunhome, Fortress of the Legion
– Another political card. You can give double strike to ANY creature, so if you have a friend in need and they're attacking/blocking, help them out and activate this bad boy.
Temple of the False God
– Slight drawback if you're relying on mana rocks, but great acceleration once you have 5 lands.
Battlefield Forge
– 1 damage? Not a dent in the life bank.
Arid Mesa
– Always included.
Reflecting Pool
– Always included.
Clifftop Retreat
– We have enough plains and mountains to get around it's drawback.
Plateau
– Always included
Sacred Foundry
– Always included.
Command Tower
– Always included.
Rugged Prairie
– A nice way to fix mana as needed.
Boros Garrison
– Always included.
Windbrisk Heights
– You want this in your deck. It makes whatever you want to cast free of charge aside from the Windbrisk activation.
Ancient Amphitheater
– The only thing I don't like about this card is that we're not running many Giants (in fact we're only running 3). Still, this isn't a bad land to have. If you want to replace it with something else by all means, but I like having it just for the sake of having the option to produce red or white.
Tectonic Edge
– To get rid of any pesky non-basic lands.
(TO BE ADDED IN THE FUTURE)
(TO BE ADDED IN THE FUTURE)