Miscalcul8edRisk

Location:

Phoenix

Join Date:

7/21/2005

Posts:

1,923

Member Details
Origins:
I took my first foray into EDH in October 2007 when I read some articles about the format online and it sparked my interest immediately. I was never much of a competitive M:tG player in the tournament scene due to the demanding time constraints of my college architectural program keeping me from playing in tournaments with any semblance of consistency. Additionally, I resented the idea that you had to be playing 1 of perhaps 8 viable decks at any given point in any of the sanctioned constructed formats to be taken seriously. Even the best decks quickly became boring to me and I lost interest in playing competitively as a result. My venture into EDH was therefore a seemingly predictable natural discourse since the casual singleton nature provided me with what seemed to be enough variation to hold my interest.
Despite not having much of an interest in the typical constructed formats, I did, however, build a number of relatively competitive decks, of which I had a favorite…Legacy ATS (Angry Tradewind Survival), a predominantly Blue/Green deck centered around a Survival of the Fittest toolbox strategy. Naturally, when it came to choosing a general,
Momir Vig, Simic Visionary
immediately stood out to me and seemed to resemble my preferred playstyle. It didn't take long for me to brainstorm a number of ways to develop the deck. By December '07 I had built a fully functional Momir Vig EDH deck (though perhaps not in its optimal state) and was toting it around Los Angeles in my free time, usually playing against the typical Standard decks du jour…and winning quite handily to many peoples' surprise. At that time most people had no idea what EDH was, or clearly what it would become, but I began to notice people gradually taking interest.
As EDH has grown in popularity, so has my unwavering belief in the format and I have experimented with expanding my EDH arsenal to varying degrees of success. However, to this day I have yet to encounter another deck/general that I enjoy as much as Momir Vig, no questions asked. Often times I will dabble with playing other decks, and typically at least once during a match I will think to myself "If only I were playing Momir Vig instead, I probably could have done something about that". So for the last three years I have been developing this deck through trial and error and extensive playtesting against a broad spectrum of generals, and one thing is for certain, Momir Vig is legit! He may not be the absolute "best" general available (though I personally believe him to be reasonably close to the top tier), but speaking from personal experience, he turns even the worst losses into games full of minor victories. Then again, I didn't build the deck because I thought it would be the best; rather, I took something that looked enjoyable and made it my pursuit to push it to the limit. I couldn't be happier with the result.
In and amongst the following you will find a record of the knowledge and experience I have gained while playing this deck for the past three years. I hope you will find it interesting, and perhaps a bit motivational as you continue to develop in this great format. As always, thank you for your insights and support. God bless.
Current Decklist:



Deck Analysis:

coming soon

Why Play Momir Vig?
So you like toolboxing, huh? You like having an answer to practically everything? Well friends, you have come to the right place.
Momir Vig, Simic Visionary
holds the distinction of being, in my opinion, the ultimate toolbox utility general followed closely by
Zur the Enchanter
and
Captain Sisay
, those only trailing because under normal circumstances their tutoring capacity is limited to one activation per turn. Momir Vig, on the other hand, can chain multiple tutor effects together to create huge swings in tempo, card, and board advantage to the point of imminent victory. He may be limited to finding creatures, but with a diverse creature selection you can handle just about everything that is thrown your way.
If you enjoy combo decks, this deck might be for you. There are a number of fantastic combos that this deck regularly assembles (see Obvious/Subtle Synergies below), many of which make it very difficult for an opponent to keep pace. However, use caution if you are taking this deck into a new playgroup/meta because it will most likely elicit some resentment, and that's not fun for anyone. I should mention that I usually keep other less competitive decks handy whenever I play so that I don't step on any toes.
If you enjoy the strategic aspect of the game, this deck is definitely for you. Knowing what to play and when is crucial to this deck's success and I particularly enjoy the thought process and mindfulness that this deck requires to be piloted optimally. I like to view each and every match as a mental exercise. Even after playing this deck for 3 years, I am still discovering little tricks here and there. You will learn a great deal about this deck by goldfishing it routinely and trying to hone in on the subtleties and intricacies that emerge. The beauty, as they say, is in the details.
If you like to win by concession/submission, again, this might be for you. Probably 8/10 matches that this deck wins are by concession. Your opponent will inevitably see no conceivable way to win and begrudgingly scoop. Admittedly, I don't like to win this way persay, but for me the fun isn't in winning anyway, it is in the incremental advantages gained leading up to the win. It might sound cliche, in fact...it most definitely will, but playing this deck encourages you to embrace the journey, not the destination.
If you just like to beat face...this deck is
not
for you.
Still not convinced? Read on.
Card Explanations:
Cloud of Faeries
: Primarily, this serves as a piece of the main combo that the deck assembles. Cloud of Faeries + lands that produce more than 1 mana + repeatable bounce effect = infinite mana. Can also be used in combination with
Aluren
+ repeatable bounce effect to achieve the same effect. Many people also run
Palinchron
to supplement the Faeries, but I think it is a bit redundant and unnecessary, especially since his mana cost is very steep for this deck.
Gilded Drake
: Excellent with all of the bounce effects in the deck since you will still retain control of the stolen creature when Drake leaves the battlefield. Gilded Drake, in particular, is very good at stealing early generals since, more often than not, they aren't expecting a Control Magic effect so early. He can be the deciding factor in matchups, like Rofellos, Zur, or Arcum, where typically they will hit their curve much faster than you.
Trinket Mage
: Typically used for a mana boost ala
Sol Ring
or
Mana Crypt
but can also dig out
Pithing Needle
as an answer or
Expedition Map
to find a land of your choice. Also notice
Seat of the Synod
and
Tree of Tales
are included in the land section if, for some reason, you absolutely need a land drop.
Man-o'-War
: Really good bounce effect to work proactively to further your combo potential or reactively to get rid of an opposing threat. I don't think you're ready for this jelly.
Aether Adept
: Essentially Man-o'-War #2 with the added benefit of being a Wizard for a slightly more prohibitive mana cost.
Vendilion Clique
: They are the Bomb hunters. They serve to make sure that your opponent isn't holding a hugely swingy spell to jack up your plans. Also can be used for a cantrip for you in a pinch. Additionally, it is typically a strong play to bounce an opposing general and Clique it to the bottom of that player's library to really mess them up. If anyone has ever played against a Clique deck, you probably know where I am coming from.
Clone
(Formerly): Clone serves two main purposes: potentially doubling up with a CIP/ETB effect of a creature that is already on the field, or is a fantastic general killer and since his ability doesn't target not even Uril or a shrouded Zur are safe.
[CARD]
Phyrexian Metamorph[/CARD]: Clone but with the added utility of being able to copy artifacts in a cheaper package. What's not to like?
Tradewind Rider
: Awesome bounce effect since there are so many creatures in this deck. He gets disgusting when
Seedborn Muse
is also involved. Many people underestimate this guy, notice he bounces
permanents
, not just creatures.
Sower of Temptation
: A little more control magic never hurts.
Venser, Shaper Savant
: Essentially Man-o'-War #3 but with a little bonus of being able to bounce a
permanent
or "counter" spells in a pinch...nice
Banefire
...
Body Double
: He lets you take advantage of cards that have been killed along the way or works well with cards that were intentionally put in the grave via
Intuition
, etc.
Teferi, Mage of Zhalfir
: Anybody who's been on the other end of this guy knows he's very hard to play against. Teferi +
Seedborn Muse
makes it really difficult to your opponent(s) to do anything worthwhile.
Draining Whelk
(Formerly): Potentially huge flier that counters a spell to boot. Probably the worst creature of the pack but is still a formidable threat.
Tidespout Tyrant
: Actually the deck's primary win condition. Combo off, bounce all of your opponents' stuff, play your entire deck (if they don't scoop beforehand), and proceed to the next game.
Birds of Paradise
: Valuable mana acceleration and fixing. Oldie but goodie.
Elvish Visionary
: See Wall of Blossoms explanation below.
Lotus Cobra
: Essentially Birds #2 but with the potential for an added benefit in the acceleration department with a fetch land or mana ramp card.
Riftsweeper
(Formerly): Another card that has two major functions: retrieve something that was RFG'd/Exiled to be shuffled in for later use, or screw with suspend strategies (Jhoira and Co.). He is actually very much a meta consideration, he can be removed in favor of something a bit more consistent if you don't see a lot of suspend.
Sakura-Tribe Elder
: Mana ramps and chump blocks.
Wall of Blossoms
: With Momir Vig in play this might as well be
Demonic Tutor
. Awesome source of card advantage once you get your engine running.
Farhaven Elf
(Formerly): More mana ramp that has an optional search tacked on...which is actually very important. More on that later.
Loaming Shaman
: Another card that doubles on offense and defense. Can shuffle in your graveyard to get something back for reuse, or screw with reanimation/survival strategies (Iname and co.)
Tilling Treefolk
: In this deck Tilling Treefolk is a better
Life from the Loam
. He brings back fetchlands for reuse, cyclers for additional draw power, and Strip Mine and/or Wasteland for a soft lock. The fact that he is a creature makes him easily tutorable and potentially instant speed when Aluren or Teferi are part of the equation.
Uktabi Orangutan
: Artifact destruction that is on the lower end of the curve and conveniently sneaks in under an Aluren. This in conjunction with another (3cmc or less) creature + Aluren + repeatable bounce allows you to machine-gun artifacts as you please.
Carven Caryatid
: If
Wall of Blossoms
=
Demonic Tutor
in this deck, this =
Grim Tutor
(without the life loss).
Eternal Witness
: Recursion engine with plenty of bounce to keep it fueled.
Acidic Slime
: Will always have a relevant target to destroy and makes an opponent think twice in combat, especially if you have Teferi on your side.
Seedborn Muse
: This card is made of win. This allows you to simultaneously build up your army and have mana open for permission spells on an opponent's turn. As mentioned before, this gets insane with either
Tradewind Rider
or
Teferi, Mage of Zhalfir
.
Terastodon
: So far this guy has been amazing in testing. The ability to take out multiple targets is superb. The elephants it leaves behind are negligible since you will most likely always have the board advantage when this guy comes out. It hasn't come up yet, but the ability to take out some of your own unimportant permanents for attack power is not to be underestimated.
Coiling Oracle
: This dude has card advantage written all over him. Not only is he a
Demonic Tutor
, he also either draws you a card or ramps your mana to boot. If you are able to combo out, this guy will let you literally play out your entire deck...lands and all. Oddly enough, he is probably the best creature in the deck.
Wistful Selkie
: See above, she falls under the same category as Coiling Oracle, but without the potential for ramp. The fact that she is a wizard is also very important for reasons i will get to further down the list. The ability to spent only Green mana for the cost is also extremely beneficial at times since your most fruitful mana source will often be Gaea's Cradle (which will typically produce upwards of 6 mana).
Trygon Predator
: He is an incredibly cost-effective attacker with a killer ability built in. Truth be told, he is essentially just a solid blue/green creature that will trigger both of Vig's abilities but brings something else to the table in combat.
Winged Coatl
: This is one mean snake on a plane. Has flash, triggers both of Vig's abilities, and takes out something (shrouded or not) in combat. He has a knack for catching opponents with their pants down.
Mystic Snake
: This is essentially a repeatable counterspell with any bounce effect that also happens to tutor for whatever else you need. As if a repeatable counterspell wasn't good enough already.
Simic Sky Swallower
(Formerly): Beef. It's what's for dinner.
Phyrexian Revoker
: Honestly this guy is a better Pithing Needle in this deck because it is more readily available under most circumstances and it has the ability to shut down mana abilities, which is often times more useful than being able to name a land.
Spellskite
: One of this deck's biggest problems is a continuous flow of spot removal keeping Vig off of the field. Skite is a preemptive repeatable counterspell of sorts that provides a bit of an insurance policy for Vig. Note that it is also recurrable with
Academy Ruins
.
Solemn Simulacrum
: I just can't bring myself to cut this guy even though he has 0 synergy with Vig directly. He does, however, provide you with a colorless source of tempo
and
card advantage in one neat little package. To me he gets the nod over things like
Farhaven Elf
,
Yavimaya Dryad
, or
Yavimaya Elder
because he simply doesn't require a specific set of circumstances to be beneficial, colorless drawback aside. He is just about as solid as they come.
Duplicant
: Unfortunately colorless, but is another creature that can get disgusting with bounce effects. Also easily gets around protection which makes up for the fact that he can't tutor through Vig.
Garruk Wildspeaker
(Formerly): Mana ramps to get some more bang for your buck and also doubles as a win condition after you have established a considerable board presence.
Jace the Mind Sculptor
: I'm not sure this one requires much explanation. He's good when you're behind, good when you're ahead, plays offense and defense, and provides yet another potential win condition in his ultimate.
Memory Lapse
(Formerly): This deck thrives off of tempo advantage in the early turns. If I can slow the opponent down enough to get Vig through and protect him for a turn, things go bad for them fast. Typically I run this along with the two subsequent counters on top of my usual counter suite when I am playing 1v1 exclusively. Otherwise they typically aren't as valuable in a multiplayer environment.
Remand
(Formerly): Another tempo counter that provides you with a cantrip.
Counterspell
(Formerly): The original gangster.
Mana Drain
: Why not? Essentially lands me a turn 3 Vig with permission available. Can also get stupid in the late game where people are throwing around 8+ mana spells.
Intuition
: Used primarily to set up your combo. Fetch Eternal Witness and/or Body double in conjunction with whatever else you need. Popular targets are:
Aluren
,
Equilibrium
,
Opposition
, and
Cloudstone Curio
.
Capsize
: Repeatable (with buyback) utility bounce spell that can lock players out of a particular card, or potentially all of their cards when you generate infinite mana.
Hinder
: EDH staple for countering an opposing general, or can be used as an additional tempo counter. Great against decks that can use their graveyard to their advantage.
Voidslime
: Amazing utility counter that can answer almost anything, resolved or not.
Fact or Fiction
: Pure unadulterated card advantage.
Cryptic Command
: Again, and important utility counter that brings an additional effect (or two) to the table.
Evacuation
: The reset button. This is a last ditch effort to save all of your hard work should it be jeopardized under any circumstance.
Force of Will
: Free counters are always good. EDH is no exception.
Equilibrium
: One of the bounce outlets that contributes to the infinite engine that Momir Vig assembles. This card is often taken for granted as a defensive threat. With the sheer number of (cheap) creatures in this deck, it becomes relatively easy to keep your opponent's board clear of creatures of their own.
Opposition
: Another card that thrives provided an extensive creature count. This card can quickly lock an opponent out of the game, almost indefinitely, since every creature you play will, in one way or another, lead you into the next. This provides you an outlet to put your creatures to work immediately and becomes a real pain in the ass with a Seedborn Muse or a bounce outlet on your side.
Earthcraft
: Similar to Opposition in that you can get additional use out of your creatures right of the bat. In some cases this can be nearly as good as an Aluren (see next) when you have a bounce outlet at your disposal.
Aluren
: Free creatures are great. Free creatures at instant speed are stupid. Combine that with the chain-tutoring that Momir Vig allows and my vocabulary fails me...win, perhaps? This card is the nut for comboing off, however, don't be fooled into thinking that the deck requires Aluren to win. More often than not, I never even get around to playing it. I've found that Aluren is even better in EDH than most formats since most of the creatures that are typically played fall into the 4+ cmc range which makes it usually a very non-linear advantage in my favor.
Mana Crypt
: Huge tempo advantage.
Sol Ring
: More huge tempo advantage.
Expedition Map
: This card digs out the important lands in the deck, whether a
Maze of Ith
in a pinch, a
Tolarian Academy
/
Gaea's Cradle
to boost my mana, or a
Riptide Laboratory
to protect my general or bounce other key wizards for repetable effects. It is nice that I can find this via Trinket Mage as well.
Mana Vault
(Formerly): Mana Acceleration that can be found via Trinket Mage in a pinch. It can also make for a turn 2 Vig which is usually pretty powerful.
Relic of Progenitus
(Formerly): Trinket Mage-able graveyard hate that cantrips. What's not to like?
Sensei's Divining Top
: All around good card for filtering draws. Works well with the vast number of shuffle effects that typically occur over the course of a game.
Pithing Needle
(Formerly): Good for hating out problematic cards that hit the table.
Grim Monolith
: Mana acceleration. The "doesn't untap" is often unimportant since
Seedborn Muse
is usually one of the first things I will find after getting Vig online.
Mind Stone
(Formerly): Provides mana, but more importantly provides a cantrip to draw into an important creature that may have been stranded on top of my library after a Vig tutor.
Scroll Rack
: At the very least it is another way to ensure that you have access to the creature on your topdeck following a green creature spell. Otherwise it turns irrelevent cards in hand into gold, especially with the gratuitous shuffling that this deck is known for.
Simic Signet
: Mana acceleration + fixing.
Coalition Relic
: Very good accelerant/fixer for EDH in general.
Cloudstone Curio
: Yet another (free) repeatable bounce effect to get multiple uses out of your creatures. Again, part of the combo with Aluren to chain creatures indefinitely.
Crystal Shard
: Repeatable bounce effect that can be offensive and defensive.

coming soon

Wood Elves
: Everyone, myself included, at some point makes the mistake of thinking that Wood Elves is an obvious inclusion for the deck since they can fetch
Tropical Island
/
Breeding Pool
instead of a basic land. But read the card closely. Notice there is no "may" in the text. This makes for a very subtle, albeit important distinction. Lets say you topdeck into Wood Elves, your only green creature, with Momir Vig in play. Unless you have a
Sensei's Divining Top
/
Mind Stone
/Cycling Land/Blue Creature with Flash, it will be impossible for you to tutor up a creature with the Wood Elves since you are forced to search upon coming into play.
Farhaven Elf
doesn't have this problem, thus, he gets the nod over Wood Elves despite his lands coming into play tapped.
Genesis
: Genesis is another one of those cards that is extremely powerful but not much help to this deck. He will really only impact the game at the point that you are typically already winning, and his ability can only be used during your upkeep. Instead I suggest using the recursion abilities of
Eternal Witness
or
Body Double
since they are not necessarily restricted by this and can have an immediate effect on the field, whereas Genesis, as I mentioned, has to wait.
Sylvan Library
: This is an amazing source of early card advantage that can simply act to filter your draws or push through a debilitating string of topdecks. Typically the life payment is pretty irrelevent since the card advantage you gain will expedite your combo clock to nullify the impending damage clock.
How to Play the Deck:
It should be relatively plain to see that once this deck gets rolling, it can be nigh unstoppable by looking at the creature suite in conjunction with some of the repeatable bounce effects. However, if not executed properly, you probably aren't going very far. Typically the best tutor target to go after first, provided you have the mana available, is
Seedborn Muse
. That card and that card alone is responsible for allowing this deck to be able to not only built up your side of the field, but is also instrumental in assuring that you will still be able to respond to opposing threats with permission. Seedborn Muse also has the benefit of being a green creature, and as such, it will chain into another creature (that you will topdeck)*. Typically, next in line will be
Mystic Snake
since not only does he provide you the permission you desire, but he will chain another creature into your hand upon playing him. If you have a bounce outlet online,
Teferi, Mage of Zhalfir
is a wise subsequent target, but otherwise you can tutor up things that are relevant to the current gamestate. It is important that you try to chain into other green creatures as much as possible to keep your tutor loop going. Likewise, in the early game, you don't want to necessarily play out all of your green creatures before dropping Vig unless you have a way of getting a second use out of them, since at that point you are essentially relying upon your topdeck to provide your tutoring capability. There could always be extenuating circumstances where you might have to play them, but this is a safe premise to operate under nonetheless.
Make sure to pay attention to the stack at all times when you are playing. There will be times when, for example, it is more beneficial to have Vig's "play a blue creature" trigger resolve before the "play a green creature trigger if you happen to know that there is a creature you need on top of your library. Secondly, if you have a the ability to "flash" in creatures via Teferi or Aluren on board remember that Vig's triggers resolve before the creature you cast enters the battlefield. Therefore if you, for example, cast a
Wistful Selkie
, you can trigger both of Vig's abilities to find a creature to topdeck, put said creature into your hand, and play it to retrigger Vig all before you resolve Wistful Selkie's draw upon coming into play. Knowing these interactions is often key to keeping your tutor loop going without running into hitches.
*Notice that this deck utilizes cycling lands in conjunction with
Sensei's Divining Top
and
Scroll Rack
. Aside from being fine cards on their own, they can help you to get additional use out of green creatures you play by allowing you to have access to your topdeck immediately rather than having to wait until your next draw step. If you look closely at the decklist you will likely notice a number of other cards that allow a cantrip in a pinch, an intentional design consideration for the times when "Green Creature X" doesn't cut it.
I've seen a number of people mention that there is no apparent win condition in the deck. It is not that there is no win condition, it's moreso that the win condition isn't necessarily apparent to those who are unfamiliar with the deck. As I mentioned above, the most likely way you will win is by a scoop (to my dismay) since you will establish complete control of the game at one point or another. But for those opponents who have too much pride to throw in the towel, there is
Tidespout Tyrant
. You win by bouncing every permanent on their board indefinitely until you beat them down with a huge army of creatures. Alternatively,
Garruk Wildspeaker
is also renowned for doing good things with huge armies of creatures should you not be able to combo with the Tyrant. Additionally, I have won many many games by simply getting an
Opposition
lock. The deck plays a good number of creatures, most of which find other creatures, which effectively lets you tap down the board until you find a win condition and can play it without resistance.
Another little known fact is that after going infinite (see below) you can win directly via general damage. This is achieved by repeatedly tapping and untapping
Okina, Temple to the Grandfathers
and a green mana source ala
Cloud of Faeries
to pump Momir to your heart's content.
The primary combo that the deck strives to assemble revolves around the interaction between
Aluren
and a bounce engine such as
Cloudstone Curio
,
Equilibrium
, or
Tidespout Tyrant
. It works by using Vig's tutor ability in conjunction with these cards to create a loop of creature searching, casting, and bouncing to repeat key "comes into play" effects to win the game outright. Now, bear in mind that you do not need all of these pieces to make it work, and different combinations of these pieces will achieve varying degrees of combo potential. I will create some hypothetical scenarios to illustrate some of the key interactions.
Scenario #1 (Simplified Ideal):
Momir Vig is in play along with
Aluren
and
Cloudstone Curio
. You play an
Elvish Visionary
(or equivalent) which is free and flashy thanks to Aluren. Vig's "play a green" triggers and you search for
Cloud of Faeries
which goes to the top of your deck. The Visionary's CIP trigger resolves, drawing Cloud of Faeries. Cast Cloud of Faeries (also free and flashy), checking your topdeck for creatures for Vig's "play a blue" trigger, then use the Cloudstone trigger to bounce your Visionary. Faeries' CIP trigger resolves, untapping 2 lands and yielding 2 (or more) mana. Recast the Visionary finding
Tidespout Tyrant
and repeat the Visionary + Faeries loop to generate enough mana to cast the Tyrant. Proceed with the loop until you bounce every permanent (courtesy of the Tyrant trigger) until your opponent has no board position and subsequently wrap up the game however you see fit.

coming soon

Obvious/Not so Obvious Synergies:

coming soon

Sample Hands (taken at random from my deck...good or bad):
Matchup Analysis:
coming soon
Changelog:
Pictures:
*If you have any of these cards in foil versions, (the ones that I don't already own), PM me for trade inquiries. I'm very interested. Thanks.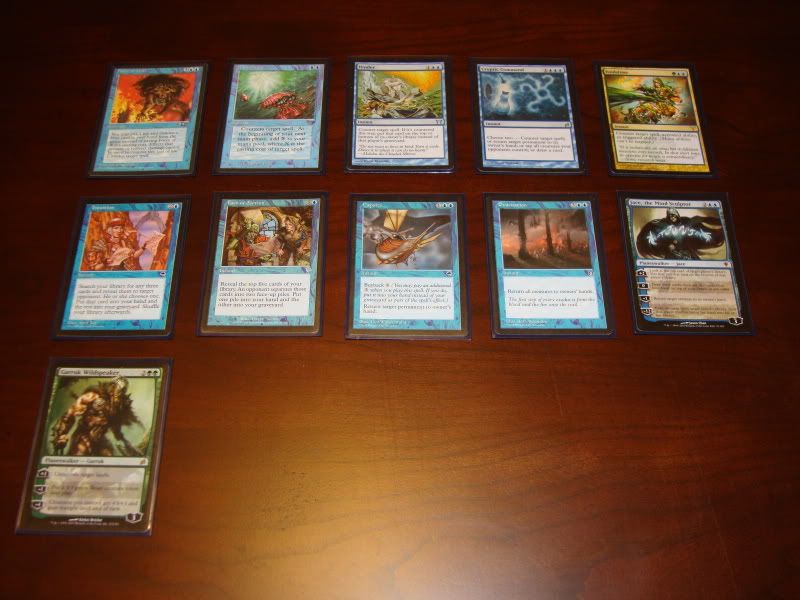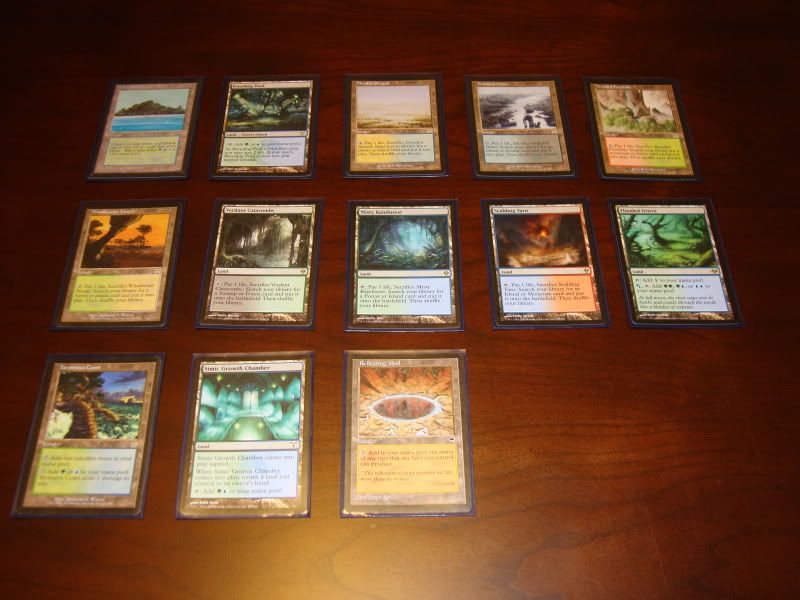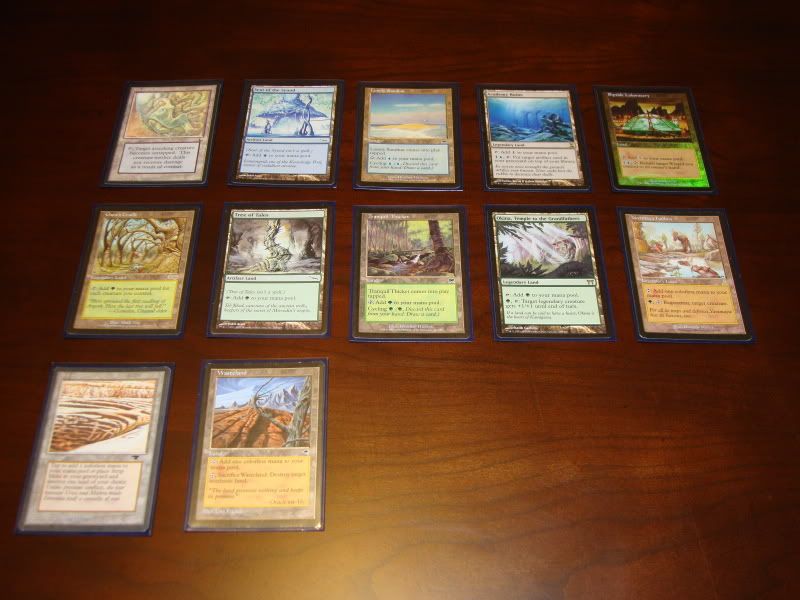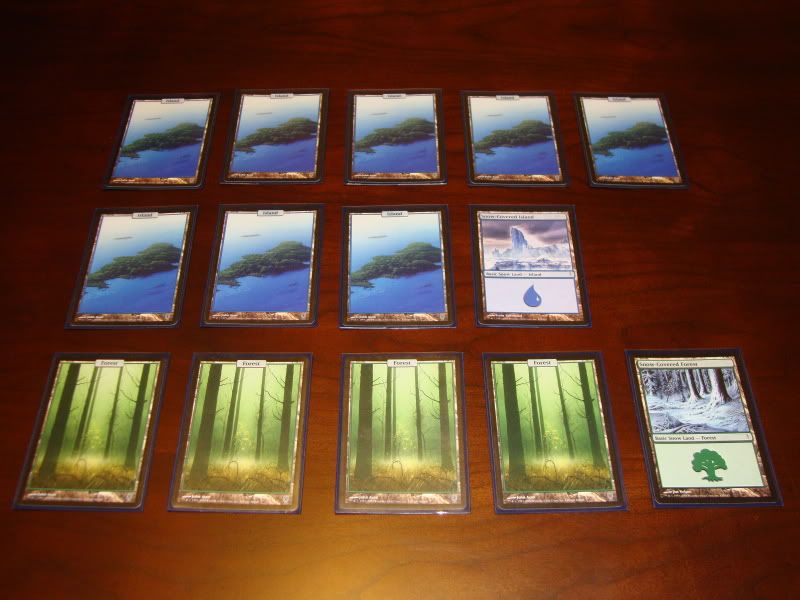 Goldfish the Deck:
http://tappedout.net/mtg-decks/momir-vig-edh-5/
Endorsements:
For an alternative, more combo-centric take on Momir Vig, be sure to check out d0su's
Zero Card Combo
deck
here
. It's the real deal.