Phil
Clan Representative
Clan Representative
Omnipotent crawling chaos.

Join Date:

9/13/2010

Posts:

5,325

Member Details
After two weeks of playing with this new mechanic, what's everyone's thoughts, comments, and concerns.
So far, I think it's great. Pay one to gain 3 life? Yes please. And the damage for one does add up, especially late game.
The all star cards I've seen so far
treasurey thrull
His ability is great in edh on top of the extort
crypt ghast
probably the best extort card. Doubles up B mana on shocks and ABUR duals totally allowing for that extra extort mana per spell.
blind obedience
I absolutely love this card. Hoses fast mana rock strategies, haste beats, and artifacts with activated abilities.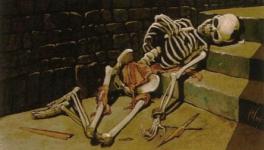 The EDH stax primer
When you absolutely, positively got to kill every permanent in the room, accept no substitutes.