doodlebird

Location:

new tampa, florida

Join Date:

3/31/2005

Posts:

155

Member Details
I just can't get enough that show (My name is Earl). Go Karma !
Hi, been here a while, and actuallly got out of the Legacy section (and mostly just Burn there) where I tend to dwell. Thought I'd spread some salutations.
Long live Mono-red/burn !
Praise to legacy !
Yada- yada !
Ubi est caupona bona ?
it's all good
thanks and enjoy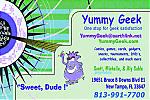 Tidbits of George Carlin :
"I like it when a flower or a little tuft of grass grows through a crack in the concrete. It's so f***in' heroic."
"I'm completely in favor of the separation of Church and State. My idea is that these two institutions screw us up enough on their own, so both of them together is certain death."
"Inside every cynical person, there is a disappointed idealist"