Qwerty
Between heaven and hell: Blue
Join Date:

1/1/2005

Posts:

3,375

Member Details
By Lennie Brookes (AKA Qwerty)
Scepter control is starting to see more and more play in Legacy; I have been playing it since
Isochron Scepter
was released. Currently I am the TNS member that has had the most experience with the deck, so I volunteered to write a primer/article about the deck. While the deck is not necessarily the strongest in the format, the deck is very versatile. and can be played in varying styles, and doesn't have any really bad matches.
(1)Mana
Usually, multiple colour decks have mild problems with mana. This is not so in Legacy. ScepterC can easily gain access to the mana it needs.
Flooded Strand
Fetches the desired mana that is needed. This is because
Volcanic Island
counts as an Island as well as a Mountain. You can use any Island-fetching sacrifice land to get any land out of your deck that counts as a island as well. Therefore,
Flooded Strand
can fetch
Volcanic Island
. In general, a minimum of four sacrifice lands are played but sometimes there are as many as eight.
Polluted Delta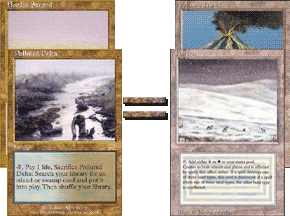 As
Flooded Strand
Island
Basic land for the deck's main colour: blue.
Tundra
Allows white Scepter targets to be cast if needed.
Volcanic Island
Used like a
Tundra
for red cards.
Wasteland
Allows you to deal with an opponent's land by slowing them down, killing a combo part, or killing man lands.
(2)Counter Magic
The backbone of most blue decks, counterspells allow you the ability to say no to almost any card. They stop your opponent's key cards and protect yours.
Counterspell
One of the defining cards for blue. It gives a solid way of saying no to most cards at a cheap low cost of UU. Often, the threat of two open blue mana is enough to make people stop and think. In addition,
Counterspell
can sometimes make a good choice to place on the
Isochron Scepter
. You will not see a ScepterC deck running less than three
Counterspell
s, but usually four are run.
Forbid
This, along with
Dissipate
and
Absorb
enter the counterspell section sparingly. They are used, but not very often. Generally they are not played. However, when played two-three are run.
Force of Will
The card that makes blue reliable, this card gives the ability to respond in the first few turns and win counter wars later on. Simply put, this is the card that you must have in any blue deck, not just ScepterC. In ScepterC it allows you to cast a Scepter on turn two and have little fear of repercussions. Four is the minimum you need to run. You HAVE to run four.
Mana Leak
The third most commonly played counterspell. In the early game it is as effective as
Counterspell
but in the later game it loses effectiventess because of its draw back (they can pay 3). Its main strength is its 1U casting cost. This allows you to keep opening hands where you only have one blue mana. Unlike
Counterspell
,
Mana leak
isn't a very good card to put on a Scepter if you are expecting to go into the late game. At least two are played and sometimes that number will go up to four.
Misdirection
While not a true counter spell,
Misdirection
can act as one effectively. It bumps other people's counters, returns some discard effects, and redirects artifact hate away from your
Isochron Scepter
. When played, two is the usual number to run.
(3)Control Elements
(other than counter spells)
Control elements are cards that help you assert control of the board and get a permission lock going (where they have to ask you to cast spells effectively)
Cunning Wish
Another popular blue card, its use in ScepterC is two fold: A) To act as a silver bullet and B) To fetch specific cards for your
Isochron Scepter
.
Cunning Wish
is a common card to appear in ScepterC and usually appears in numbers of two or three.
Disenchant
This is rarely played main deck, but it is starting to see more play with the rise of decks based around
Survival of the Fittest
. When played, two is usually the maximum with one or two more in the board.
Fire // Ice
The first of the cards you will want to put on a
Isochron Scepter
. Its first purpose is quick efficient creature kill that can sometimes net you two for one card advantage. Its second use is to place it on an
Isochron Scepter
. This has two game winning effects: A) You can deal two damage a turn for two mana a turn and B) You can draw cards with a side effect like
Icy Manipulator
. When played, at least three are used. A lot of decks run four, especially if they are not using
Cunning Wish
.
Isochron Scepter
The card that the deck spins around. In ScepterC
Isochron Scepter
plays three vital roles. A) Control stabilization: be it a
Swords to Plowshares
,
Fire // Ice
, or
Counterspell
, when dropped on the Scepter vs. other perspective decks they stabilize control. B) Card advantage: this is mildly linked to A, but Ice and
Accumulated knowledge
will net you cards needed. C) Prison lock: the three main prison locks are 1)
Orim's Chant
during their upkeep. 2) Bounce lock via
Boomerang
/
Echoing Truth
and 3) Tap lock via Ice (your opponent's one big creature gets tapped each turn). Three to four are played in each ScepterC deck.
Lightning Bolt
Another good multi use card to put on the scepter, it can kill a opponent faster that fire and sometimes the extra point damage is needed, it also doubles with
Swords to Plowshares
for first turn creature control. When played three to four is the usual amount.
Orim's Chant
Chant is the main reason in addition to
swords to plowshares
for going to white for scepter targets. In the early game it can let you slow down your opponent and later in the game (well a few turns later) allows scepter lock via the scepter and
Orim's Chant
cast during the upkeep with kicker cost paid on your opponent's turn.
Swords to Plowshares
The best spot removal in the meta. Even so, very rarely will a
Swords to Plowshares
be placed on a
Isochron Scepter
unless it's an emergency. The usual amount to run is three to four.
(4)Card Advantage
If counter spells are the back bone of ScepterC, then its drawing ability is the flesh and the muscle that lets it move. Simply put, if you're drawing two-three more cards a turn than the other deck, you are going to win. ScepterC should run at least six draw spells and some builds will run up to twelve.
Accumulated Knowledge
Cheap, quick, reasonably efficient, and it combos with
Intuition
for emergency situations. It also has the benefit of being able to be dropped on the
Isochron Scepter
. Four are played when they are run.
Brainstorm
While not a true draw card, it can act like one. Simply draw three cards, move two unwanted cards to your library, and use a shuffle effect to get rid of the unwanted cards. It can also be used to protect your key cards like
Isochron Scepter
by hiding them on top of your library when
Duress
ed. The usual numbers played are three or four.
Fact or Fiction
This card is extremely powerful and when played against bad players will win you the game. Simply put, it's search combined with draw at the same time. When played, they appear in numbers of two to four.
Ophidian
It can double as a small creature blocker (lackey, silver knight, etc), but most often it draws cards. So can a
Isochron Scepter
with a
Fire // Ice
, but what is important about the
Ophidian
is that after it's cast you're drawing free cards. When played, four is the usual number.
Impulse
Two mana for the best of the top four cards is good anyway. Drop it on a Scepter and you draw nothing but the best. When played, three to four is the amount to run.
Intuition
One of the few true tutors that ScepterC plays; it gets emergency cards that are needed, and combos well with
Accumulated Knowledge
. When played, two is the usual number.
Mystical Tutor
Another of the tutors that some builds of ScepterC play, It allows you to gain main deck cards for the Scepter. Or just panic button spells. When played one to three is the usual number.
(5)Kill
Although a Sceptered
Fire // Ice
will often win games, the deck's playability would drop if other win conditions were not placed in it. Often, they are bomb creatures and only take up three deck slots.
Decree of Justice
Panic chump blockers, a big kill, or a instant type cantrip.
Decree of Justice
is a good efficient kill that can be cycled in the early game when it's not needed. When played, one to three is the usual amount
Eternal Dragon
Not played as much in Legacy as it is in extended. When played it acts as a mana fixer and as a constantly recurring creature later on.
Exalted Angel
After
Morphling
, it is the most common big beats creature that appears. It can make matches where burn is a prime threat an absolute breeze to win. When played, two to three is the usual amount.
Faerie Conclave
A cheap evasive man land that lets you leave more cards in your deck for the core principles (counter, control, draw).
Masticore
Not played often. It is usually played in a high burn meta or a high creature meta. When played, two to three is the usual amount.
Mishras Factory
Like Conclave without evasion. This can be activated for less mana and couples well with multiple other factories.
Morphling
When its comes to blue winning,
Morphling
is a general choice. It wins the game in 4 turns if left unchecked and coupled with counter magic (to stop non targeting effects/mass removal) is nigh on invulnerable. When played, two to three is the usual amount.
(6)Deck Building and Deck Lists
There are many different versions of the deck. Some don't play red and some don't play white but almost 99% of the lists you will see will have this basic skeleton of cards. The rest is then added on for a person's own meta.
4
Counterspell
4
Force of Will
2
Mana Leak
2
Fact or Fiction
2
Cunning Wish
3
Isochron Scepter
The cards are listed with the minimum number to play. What this skeleton does is provide good control with card advantage, and lets you build around the scepter while keeping blue's traditional defense.
When Red is played, three
Fire // Ice
should be added to the above list. When White is played, three
Swords to Plowshares
and three
Orim's Chant
should be added to the skeleton. Working on an average mana count of 24 leaves the total card count left as follows.
If just red is used: 15
If just white is used 12
If both are used 9
After getting this, your object is to get a good amount of draw into the deck as well as a kill condition that suits you.
UR ScepterC
If you are only splashing red for the
Isochron Scepter
, you will more than likely be playing 4
Lightning Bolt
s to give you some first turn answers to cards like
Goblin Lackey
and
Goblin Welder
apart from
Force of Will
. You will be able to place another three to six cards in for card advantage. The most common choices are
Brainstorm
and
Accumulated Knowledge
. Then you need to choose your kill method other than
Morphling
. Your only real choices are man lands and
Masticore
which only really shines in a creature heavy meta.
UW ScepterC
You've got main deck creature control that is cheap and can kill 90%+ of the creatures in Magic on turn one.
Orims Chant
gives you a lock. All that's left to add is card advantage and a kill condition. For draw, the same choices for UR ScepterC apply. However, for a win condition you gain access to
Decree of Justice
,
Eternal Dragon
and
Exalted Angel
.
Decree of Justice
lets you play fewer permanents meaning you only have to worry about protecting the Scepter with counterspells.
Eternal Dragon
is generally used in a meta where creature control is heavy and
Exalted Angel
is also generally a metagame choice. It helps vs. most aggro decks and can single handedly win burn matches.
UWR
Your choices are a lot more limited with UWR. You need to put draw in the deck but you might want more threats. In general five extra draw/control spells will go in and because of the slightly stressed mana base
Morphling
makes the best choice for a kill, followed by
Decree of Justice
.
Deck Lists
UR ScepterC
(could also be known as CounterBurn and UrPhid)
I designed this list for a creature heavy meta. It utilizes the same core as described above, but uses
Ophidian
s to stabilize control (or gain it) via card advantage.
Masticore
is a bomb vs. any creature deck. This deck's win conditions are the already mentioned
Masticore
,
Isochron Scepter
(via fire and bolt),
Mishra's Factory
, and in some very rare cases
Ophidian
. Its is worth noting in a lot of decks the
Lightning Bolt
s are cards like
Stifle
and
Misdirection
. And the
Masticore
s would be
Morphling
this is because this list is tweaked for a creature heavy meta.
UW ScepterC
This version relies more on gaining a Scepter lock via
Orim's Chant
. It draws into the control elements to keep control and ends with an
Exalted Angel
or a very large
Decree of Justice
. It's worth noting that while
Raise the Alarm
is not played main deck, it does see use as an occasional
Cunning Wish
target for the
Isochron Scepter
.
UWr ScepterC
The most popular incarnation of the deck, UWr plays two of the most important cards to put on a Scepter main deck:
Fire // Ice
and
Orims Chant
. It plays more
Isochron Scepter
targets main deck, removing some draw and win conditions. Because of this, it also has a lot of answers main deck.
How does it play
The three main strategies are control lock, creature lock and Chant lock. There are more that I will discuss but these are the main three.
Control Lock
is basically a
Counterspell
or an
Impulse
/
Accumulated Knowledge
on an
Isochron Scepter
. The effect is that you simply out card your opponent. They have to save cards up to get past your better card quality. This tactic is good vs. control and combo deck types.
Creature Lock
is when you get a
Fire // Ice
or
Swords to Plowhares
on an
Isochron Scepter
, then you systematically kill every creature that hits play. If this happens in the early game vs. almost any creature deck you should have a breeze with the game, simply because of your traditional counter base. The trouble with this strategy is that sometimes decks like Stompy and Goblins will try to overwhelm you all in one turn and while you can take out key creatures like
Goblin Piledriver
you can still be overwhelmed if you are not careful. What secures this as a path to victory is one of the following cards:
Exalted Angel
,
Morphling
, or
Masticore
. These creatures are important because each of them can give you time to deal with their threats. Obviously this tactic is risky, as you often will be forced to tap out.
Chant Lock
is when you simply use a Sceptered
Orim's Chant
during your opponent's upkeep with the kicker paid. This tactic is good vs. the entire field, barring Solidarity, where it's best to use the Chants offensively anyway. Your better card quality should win the game.
One of the key things to remember when playing ScepterC is that no matter what happens, you have all the tools of a control deck at your fingertips. Going single-mindedly for one of the above tactics is not always the best thing to do. It doesn't help when you cast a Scepter, the only viable card you have in hand is one
Counterspell
, and they
Counterspell
it, or
Disenchant
it while the imprint ability is on the stack. Then, you've given away the position in your hand. Some times the turn two Scepter is worth the risk, but is it worth you losing board position? You need to make decisions like that quite a lot when playing ScepterC.
The other thing to remember is not to be afraid to cast the spells that you would like to put on an
Isochron Scepter
. Most of the time you can get card advantage by simply using a
fire // Ice
to kill two goblins or a
Rofellos, Llanowar Emissary
and a
Qurion Ranger
. The same principle works when using an
Orim's Chant
. Don't be afraid to use it during someone's upkeep to slow them down on the early turns while you stabilize.
You have to remember that you are playing a control deck first and a combo deck second. Always be thinking about what you would be doing if you didn't have a Scepter on the table. That way, if they somehow destroy the Scepter you already have a few turns of planning to react.
(7)Sideboard Choices
I'm going to split this into two sections: Scepter/Wish Targets and Normal board options. You will need to forgive me; the Legacy metagame is absolutely huge so I can not list every sideboard choice
Scepter/Wish Targets
When making your sideboard you need to make a choice. Do you want a board full of wish targets for maximum utility or a varied board that can make your second and third games better? In general, five cards from your board should be dedicated to wish targets. However, in a lot of cases this number increases.
Sideboard Wish targets:
Blue Elemental Blast
Boomerang
Brain Freeze
Disenchant
Enlightened Tutor
Fact or Fiction
Fire // Ice
Holy Day
Intuition
Raise the Alarm
Red Elemental Blast
Shattering Pulse
Sirroco
Stifle
Blue Elemental Blast
Its good vs. red, but if dropped on an
Isochron Scepter
can be devastating for the red player.
Boomerang
Gives the non-white ScepterC decks a way of dealing with Enchantments.
Brain Freeze
Gives an alternate win condition if you are not going to be able to deal 20 damage.
Disenchant
It's pretty staple for most decks that are white and play
Cunning Wish
to play Disenchant in the sideboard.
Fact or fiction
It's a bomb draw card that can be wished for if you are not playing four main deck.
Fire // Ice
Wished-for creature removal or an
Isochron Scepter
target.
Gilded Light
One of white's panic buttons, this can stop lethal
Tendrils of Agony
or act as a hard counter for targeted spells.
Holy Day/ Ethereal Haze
Another
Isochron Scepter
target only really used as a budget
Orim's Chant
Intuition
It's a blue fetch card that can easily be shifted to the board in exchange for Wishes.
Misdirection
A soft counter spell and very good for a meta with high amounts of discard and burn.
Raise the Alarm
Coupled with
Isochron Scepter
, you can use this to get a
Kjeldoran Outpost
effect.
Red Elemental blast
As
Blue Elemental Blast
but for blue.
Shattering Pulse
Gives a Scepterable/reusable way of getting rid of artifacts other than
Disenchant
.
Sirocco
Helps you strip the control matches counters. In any situation it will always trade with a counterspell of some kind and if it gets near an
Isochron Scepter
you will win the game Vs blue.
Stifle
Not a scepter target but an excellent panic button for
Cunning Wish
. This is good for stopping a varity of effects.
Normal Board Options
Chill
Dust Bowl
Powder Keg
Propaganda
/
Engineered Explosives
Slice and Dice
Tormod's Crypt
Wasteland
Wrath of God
Chill
Slows red decks down and makes it go from a generally good match to a easy match.
Dust Bowl
A way of dealing with pesky manlands and other nonbasics
Propaganda
Helps vs. creature decks. Sometimes it cannot hit the table fast enough though.
Powder Keg/Engineered Explosives
Gives a mass removal effect that does not always hit your own cards. These can be an absolute bomb vs. low casting cost decks.
Slice and Dice
Used mainly for its cycling ability to counteract
Decree of Justice
's cycling ability. It is also a reasonable card vs. weenie decks and can occasionally be hard cast.
Tormod's Crypt
With the amount of graveyard abuse in the format, this is an ideal card for shutting\slowing down three of the main decks (ATS, RG Survival, and Madness).
Wasteland
As
Dust Bowl
.
Wrath of God
This makes some creature matches a lot easier. If there were room I am sure many people would play these main deck.
(8)Match Analysis
It is not possible for me to list every match but what I will list are the current top matches and some of the harder to win matches. For the harder matches I will go into a lot more detail.
ATS
This match isn't particularly hard, but it can be very annoying. They run 4
Force of Will
and a few more permission spells (like
Arcane Denial
/
Mana Leak
). The most important thing to do when playing ATS is stop them going off and getting the deck's core engine going. This means you must stop them from getting
Survival Of The Fittest
. If they do get the combo going, you have to shut them down as fast as possible. Your advantages against ATS are that you have better counterspells and draw than they do. Drop an
Isochron Scepter
and you have a reasonably strong match. The Scepter/Chant lock in particular can be devastating against ATS.
Good Board choices
Disenchant
gives you another way of dealing with the
Survival of the Fittest
.
Tormod's Crypt
stops
Genesis
and any other annoying recursion.
Remove any
Cunning Wish
es you have main deck to make room for other control elements and the above cards. Other choices are
Decree of Justice
and maybe an expensive draw spell like
Fact or Fiction
. (don't do this if you suspect they are running more than six counters)
BBS
(And similar control decks)
They are running the same core as you. They probably have more draw/utility and more counterspells to boot. How do you win when a deck fundamentally beats you on all your core precepts? Your key tactics depend on what version of ScepterC you are running. Your major advantage is the
Isochron Scepter
. If you can win a counter war and the Scepter hits the table you are immediately in a better position. But how do you get past their superior a counter wall? Simply Tog mirror them. Save every single counter to force an
Isochron Scepter
into play. After this, play normally. Another option is to try to force them to cast spells during their turn so you can hinder there mana base for your turn, this is usually done by you either luckily slipping an
Exalted Angel
into play, or attacking them with manlands. This will prompt them to cast
Vedalken Shackles
. While its not devastating vs. you, it could be annoying, so counter it. Don't counter it on the principle that you don't want it in play (although that's an advantage). Counter it on the principle that you can hopefully draw them into a counter war thus getting them to use their mana or most of it during their turn. Follow this up either with your counter or an
Orim's Chant
on your turn. The final tactic that is good versus BBS (other than just outplaying them) is to take the Tog approach again but just cast your cards recklessly. No sane blue player is going to let an
Isochron Scepter
hit the table and then counter their key win cards like
Morphling
. Sometimes white is played in BBS this gives them access to
Swords to Plowhares
which is generally weak against you and
Decree of Justice
which is strong against you. They also gain access to
Disenchant
. The BwBs decks are a little bit easier to cope with, simply because they don't run as much card draw/countermagic. Beware, though; occasionally you will see
Chalice of the Void
. While bad in the current meta, the card utterly destroys ScepterC when it is set to two. If this tactic is popular you might want to consider running a few
Capsize
s in your board.
Good Board choices
Red Elemental Blast
gets almost everything in the deck and is key to vital counter wars.
Sirocco
cast early can utterly demolish BBS. When playing the white splash versions,
Slice and Dice
and
Stifle
are good ways of dealing with [card]Decree of Justice[/card).
Again take out the
Cunning Wish
es but this time try to add any draw you have in the board in addition to the above choices.
Zoo
If you can A) Deal with creatures via a Scepter Lock and b)stop or deal with the
Isochron Scepter
they will cast you should win. The main thing to worry about is making sure that after you have stabilized control you aren't overloaded by burn (Instant speed burn dodges Chant). This is where your card draw will really shine because other than a Sceptered
Fire // Ice
Zoo has no card draw. It is worth noting that the untargetable creatures in Zoo like
Blastoderm
can be a nightmare to handle if you have let them into play and have no way of dealing with them. The only cards that are played that let you deal with it are
Morphling
,
Masticore
and/or just race them with
Exalted Angel
. If you are playing white, your strongest card by far is
Exalted Angel
. Even if they manage to kill it, there are very good odds that they had to empty their hand to do it.
Good Board choices
Chill
slows the nearly obscene amount of burn spells this deck plays.
Disenchant
gives another way of dealing with
Isochron Scepter
if needed.
Propaganda
slows the deck to a whimpering crawl.
Propaganda
, coupled with
Chill
, can utterly destroy Zoo's speed.
It's a good choice to leave the
Cunning Wish
main deck. That way, you can leave a Chant in the board and effectively have six Chants main deck. Draw spells and creatures are the best cards to remove for your board choices.
Props currently go out to TNS, test readers :wolfwood, Someone, Static, Belgareth and a Ultra massive thanks to Goblinboy and Feyd_Ruin for editing this monstrosity and my banner in the case of the latter. And a final thanks to anyone who helped in the writers forum
Last edited by
Qwerty
: Mar 5, 2005
Legacy
UWR delver
bLUE iNFECT
Fish
zoo
Soladarity
Modern
4c delver
Tribal Zoo
Standard
Jeskai Burn
Centered text, because when you call me on it, I know you see my argument, but do not want to counter it
Quote from

I've figured it out, You type like how Ozzy Osbourn speak.