TheGrease

Location:

Louisiana

Join Date:

11/7/2009

Posts:

1,531

Member Details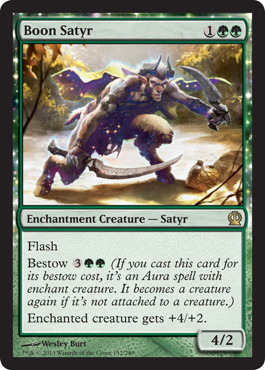 I didn't see a thread for him.
This is the first bestow creature that seems playable. He has solid stats and has a relevant keyword (flash). The bestow cost is fair IMO. He is a creature first and an enchantment second, like all the Bestow cards so far. Throwing down an P/T pumping enchantment at instant speed can lead to some devastating plays. The more tramplers and evasion creatures you pack, the better his bestow becomes. He is a respectable role player in any deck trying to hit X devotion. He plays nicely with
Burning-Tree Emissary
. He blocks
Blood Baron of Vizkopa
,
Loxodon Smiter
, and a handful of other creatures successfully. I don't expect him to survive after blocking most often, but that's not his purpose. He is a surprise blocker like
Plumeveil
, and an aggressive beater. That's an unusual combination, but
Wolfir Avenger
did fit that same role.
All together, I really like the card. It isn't
Scavenging Ooze
level powerful, but it is a good card that has potential. I see his bestow cost in a similar way that I saw
Dreg Mangler
's Scavenge cost. It won't always be useful, but when it is, it will still wins out of nowhere.