Aegraen
Location:

Honolulu, HI

Join Date:

6/7/2010

Posts:

2,056

Member Details
First off, let's get this out of the way. The art is horrible. The CGI is very very noticeable and poorly done. Oh, well.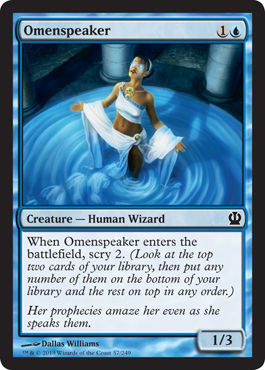 Other than that, this card will be a 4 of in every based control deck. Obviously better than Augur, but the question is, is it better than
Sea Gate Oracle
? I think because she comes down a turn earlier, and Scry's 2, it makes up for the fact that oracle is more and draws.
Now, the only holes really remaining is a good cheap cantrip, perhaps a good non-narrow targeted removal (but that might be asking for too much), and well, a decent counter-spell. That said, control is definitely looking a lot more playable when Theros hits. Just have to worry about Cerberus :/