Senior Gomez

Join Date:

10/6/2011

Posts:

553

Member Details
2UB
Sorcery
Each player discards their hand and draws cards equal to the greatest number discarded this way.
Cipher (Then you may exile this spell card encoded on a creature you control. Whenever that creature deals combat damage to a player, its controller may cast a copy of this card without paying its mana cost.)
First impression for me is that cipher will be exemely powerful for control... Wow.
Thanks for the pic mods.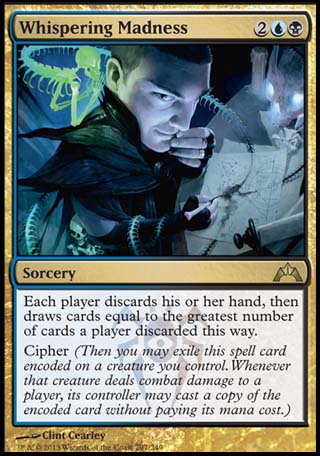 Post edited to add image. Also, please do not remove modtext without permission. —Rax
I use the Duels Of The Planeswalkers layout, though I'm right-handed and keep my deck and GY to the left. I dare you to ask me how tempting it is to hold flying creatures in a floating pattern over the table.