fnord

Join Date:

9/13/2006

Posts:

5,912

Member Details
Announcement Here :
http://www.wizards.com/Magic/Magazine/Article.aspx?x=mtg/daily/feature/187a
Old OP preserved below :
EDIT: As several people have pointed out,
Intangible Virtue
is actually a good candidate for being banned in ISD Block Constructed (a format which I personally haven't been paying attention to). Given this, I now think the most likely possibility is that
Intangible Virtue
is getting banned in ISD Block Constructed.
In the past, we've been able to get a clue about the B&R announcement a little in advance by taking a look at the preview image. To my knowledge, in the past this method has never yielded an incorrect prediction. Here's the image for Tuesday's announcement: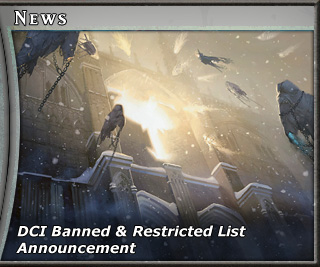 That's
Intangible Virtue
, a card which, to my knowledge, is not on anyone's radar as a banworthy card. So what's going on? Here are some possibilities:
1. It is somehow getting banned in a major format. Perhaps something in AVR terribly breaks it.
2. There are no bans/unbans in major formats, but it's getting banned in some online format. This seems unlikely since online formats are no longer covered by the quarterly B&R announcement.
3. There are no bans/unbans and they chose it as the image for the announcement, perhaps because next week is Lord week on dailymtg.com. In the past, however, when there have been no bans/unbans the announcement hasn't been a feature article.
4. They've noticed I've been doing this and are trolling us.

If I had to guess, I'd choose the third option (no changes to the banlists) as the most likely. Any thoughts?
Last edited by
Arcadic
: Mar 20, 2012