Hunter

Location:

Big Brother City

Join Date:

1/2/2005

Posts:

2,943

Member Details
This thread is to be used as a reference tool before posting anything concerning
Innistrad
in the rumor mill, and also to keep track of the progression of information on the set thus far. The first post will be kept updated until it's time for the partial spoiler to take over.
Horror Lurks Within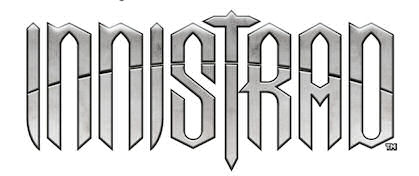 Logo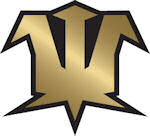 Symbol
Release
Set Name:
Innistrad
Block:
Set 1 of 3 in the
Innistrad
block
Three-Letter Abbreviation:
ISD
Twitter Hashtag:
#MTGINN
Number of Cards:
264
Rarity Distribution:
107 Common, 67 Uncommon, 59 Rare, 16 Mythic and 15 Basic Lands
Release Date:
September 30, 2011
Prerelease Events:
September 24-25, 2011
Launch Parties:
September 30-October 3, 2011
Magic Online Release Date:
October 17, 2011
Game Day:
October 29-30, 2011
Start Previews on Daily MTG:
August 29, 2011
Characteristics
This large set consists of 264 cards, while the latest large sets (Shards of Alara, Zendikar and Scars of Mirrodin all had 249.
Innistrad's distribution is: 229 normal cards, like other big sets before, plus 20 double-faced cards, plus 15 basic lands instead of usual 20.
This set has the most top-down design that has ever been.
Classic horror is the theme, with a tribal component. There are many different horror tropes to be found.
Innistrad is not a multicolor block. There will be a handful of multicolor cards like almost all blocks but this block is not about multicolored cards.
Innistrad features Vampires in and , Zombies in and :symu:, Werewolves in and , Humans primarly in and , Ghosts (Spirits) primarly in and :symw:.
Werewolves are a key part of this set, and get their own subtype (Werewolf)
Black zombies are the normal kind that we usually see, blue zombies are Frankenstein-type creations of science.
Humans will show up in all five colors but will be centered primarily in white, secondarily in green. Humans may be victims or slayers.
Spirits will show up in all five colors but will be centered primarily in blue. Blue made a lot of sense as it played into many ghosts tropes: flying, unblockable, invisible (hexproof), etc.
Other creature types include demons, devils and birds, knights, shamans and advisors
The set features graveyard and tribal mechanics
Returning mechanic: Flashback
There are two planeswalker cards in the set, one of which is a new Liliana, the other is a new Garruk.
Some cards have a and b versions. These cards are doublesided. For example: Mayor of Avenbruck is a human by day, and a werewolf named Howlpack Alpha by night.
Garruk has five loyalty abilities, divided over two card sides.
A double-faced card has no regular Magic back.
Its front face, which is marked with a sun symbol and has a mana cost, is the default. A double-faced card always enters the battlefield with its front face up. This is true whether it enters the battlefield from the stack as the result of being cast, or from anywhere else, such as your graveyard (due to a card like Zombify, for example).
The back face of a double-faced card is marked with a moon symbol, lacks a mana cost, and has a color indicator—that's the dot on its type line—that tells you what color it is. The two faces of a double-faced card are often the same color, but not always. The back face's characteristics matter only if the card is on the battlefield and its back face is showing. Otherwise, only the front face's characteristics count. (For example, Gatstaf Shepherd's converted mana cost when it's in your deck is 2, not zero.)
Each double-faced card has at least one ability that causes it to transform. To transform a double-faced card, you turn it over so that its other face is showing.
To put a double-faced card into your deck, you have two options: You can put your entire deck in opaque card sleeves, as many players already do, or you can use the checklist card provided in many Innistrad packs. If you're using checklist cards to represent any of the double-faced cards in your deck, you must use checklist cards to represent all of them.
After a double-faced card transforms, it's still the same card, so any Auras, counters, or other effects stay right where they are.
The word "transform" applies no matter which side is currently showing, but not all double-faced cards transform in both directions.
All of the Green and Red double-faced cards are Werewolves.
There is exactly one double-faced card in each Innistrad booster pack. This can be of any rarity, so it is possible to get a normal rare and a double-faced rare in the same pack (and even a third foil rare card as well).
The new morbid ability word indicates an ability that checks whether a creature died this turn.
A Curse is an Aura that enchants a player and does something nasty to them. There aren't any special rules for Curses—they follow all the normal rules for Auras that enchant players—but there are some cards in Innistrad that refer to the Curse subtype.
In addition to its block mechanics, Innistrad introduces a new evergreen rules term, fight. For a creature to fight another creature, each deals damage equal to its power to the other.
There will be a theme of the number 13.
There is 1 mythic for each of the 'monsters' (Vampires, Zombies, Werewolves, Ghosts)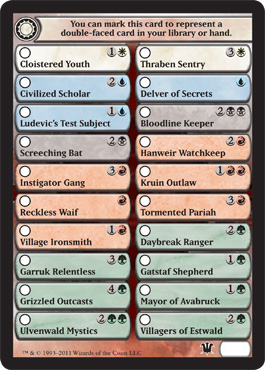 Flavor
The known landmass of Innistrad is divided into four regions called provinces.
The province of Gavony is where humanity remains safest and strongest. It is home to Thraben, largest city in the known world, which houses the mighty Cathedral of Avacyn. Gavony is more plagued by the undead than other provinces, and geists are more common as well.
Innistrad's vast, wooded hinterland is called Kessig, a province in a state of perpetual autumn and plagued by werewolves.
Vampires control the province of Stensia, which covers the darkest and most mountainous parts of the plane.
There are 4 vampire bloodlines, Markov is one of them.
The misty coastal province of Nephalia is populated mainly by humans, geists, and vampires.
Demons and Devils are the newest foes, they are wordsipped by Skirsdag Cultists.
The archangel Avacyn is the protector of humankind, but has disappeared.
The great demon Griselbrand disappeared around the same time that Avacyn did.
A year knows three seasons: Harvest Moon, Hunter's Moon and New Moon.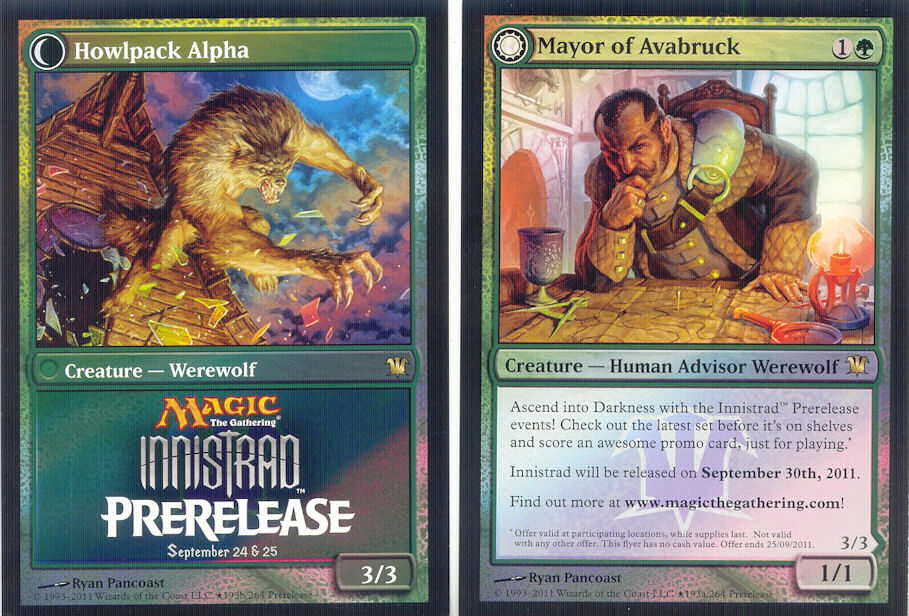 Partial Spoiler
Event decks
Two event decks are going to be released three weeks after the set. Each Event Deck is 60 cards, plus a 15-card sideboard. Also included: a Spindown life counter and strategy guide.
Decks are $25 and there will be no mythic rares.
Each deck will contain 7 rares and will have powerful commons and uncommons
The two ISD event decks will be available on October 21, 2011, just in time for Game Day
Remarks
The Standard format after the release of Innistrad will consist of Scars of Mirrodin Block, Magic 2012, and Innistrad.
Extended rotates at the same time, and Lorwyn-Shadowmoor Block will rotate out on the release of Innistrad.
The set is followed by Dark Ascension
Design and Development
Design Team:
Mark Rosewater (lead)
Richard Garfield
Jenna Helland
Graeme Hopkins
Tom LaPille
Development Team
Erik Lauer (lead)
Mark L. Gottlieb
David Humpherys
Tom LaPille
Adam Lee
Kenneth Nagle
products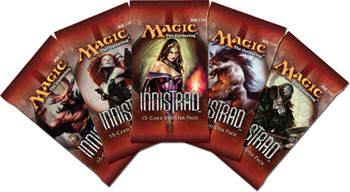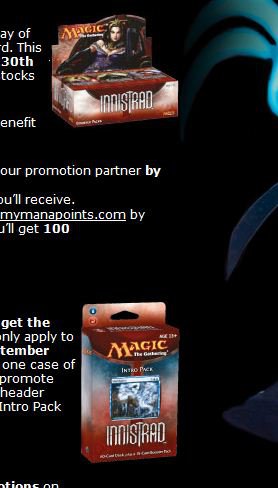 Small product shot - one Intro Pack is UR
Art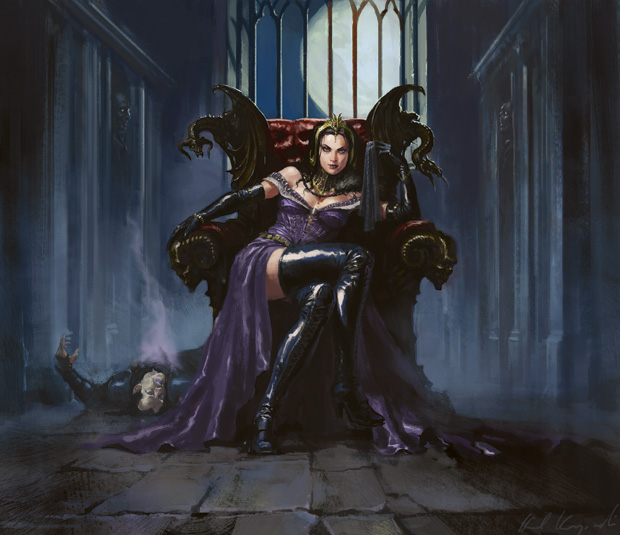 Lilliana Vess, booster box art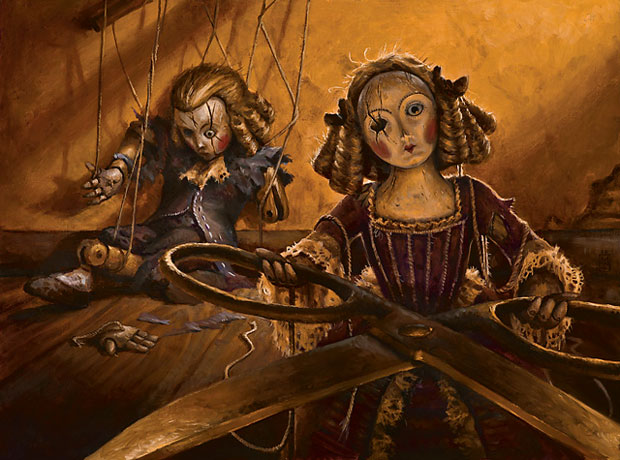 Creepy Doll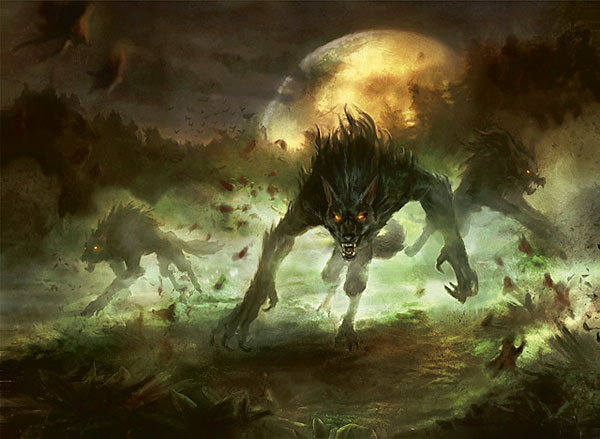 Werewolves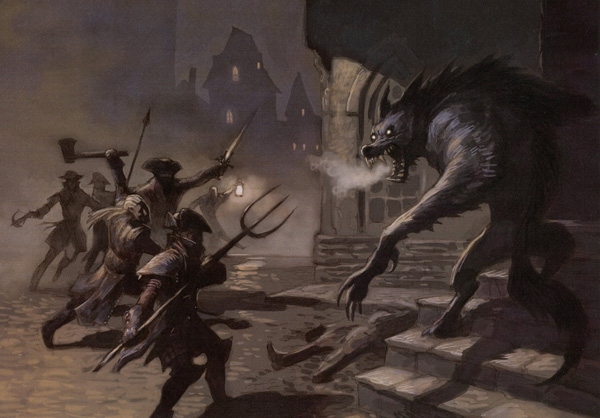 Mob attacking werewolf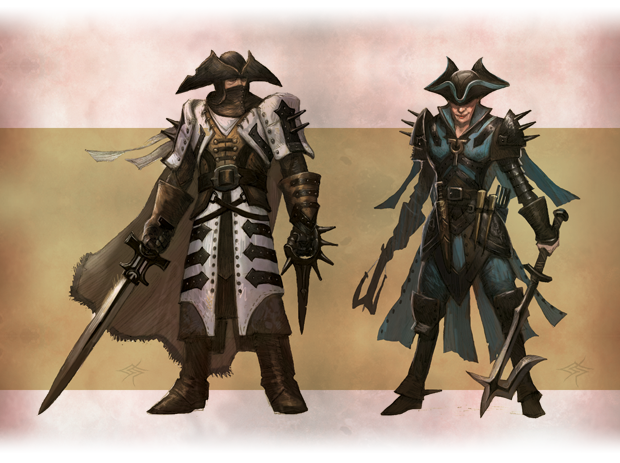 Human Cathars (holy warriors)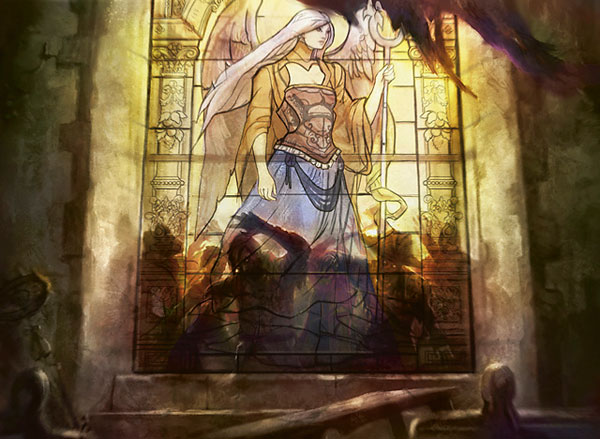 The cathedral of Avacyn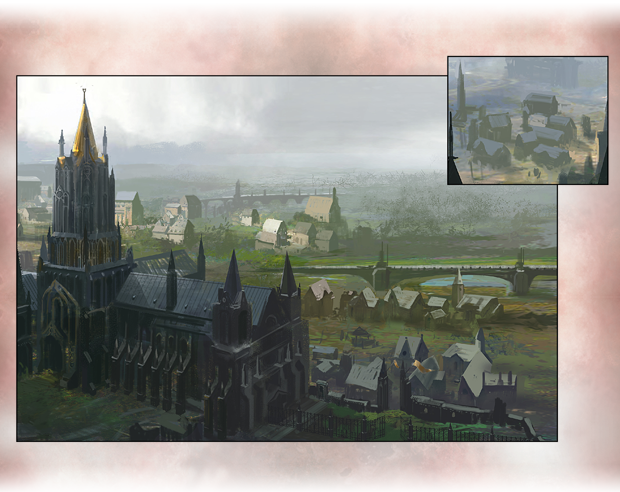 Gavony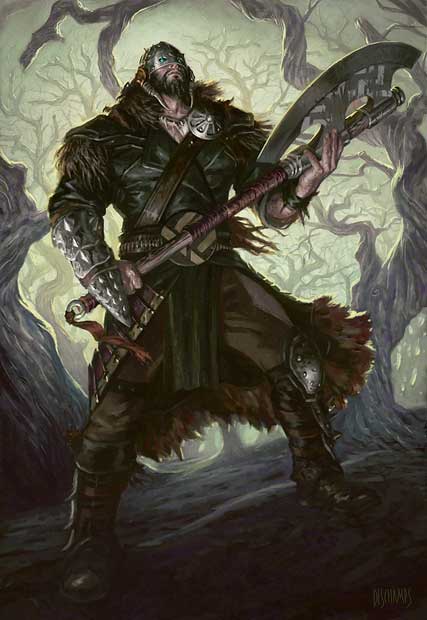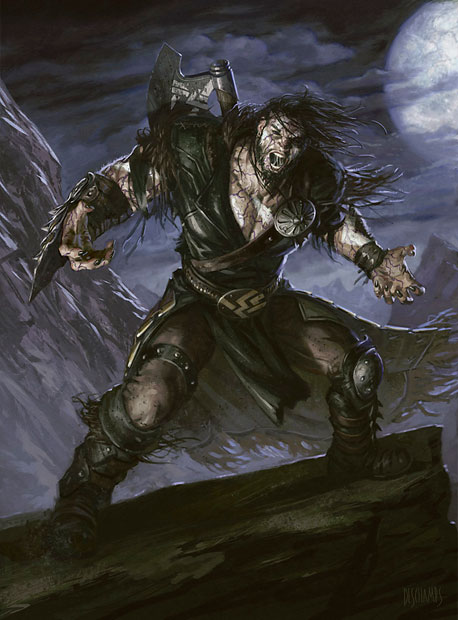 Garruk Relentless and his other side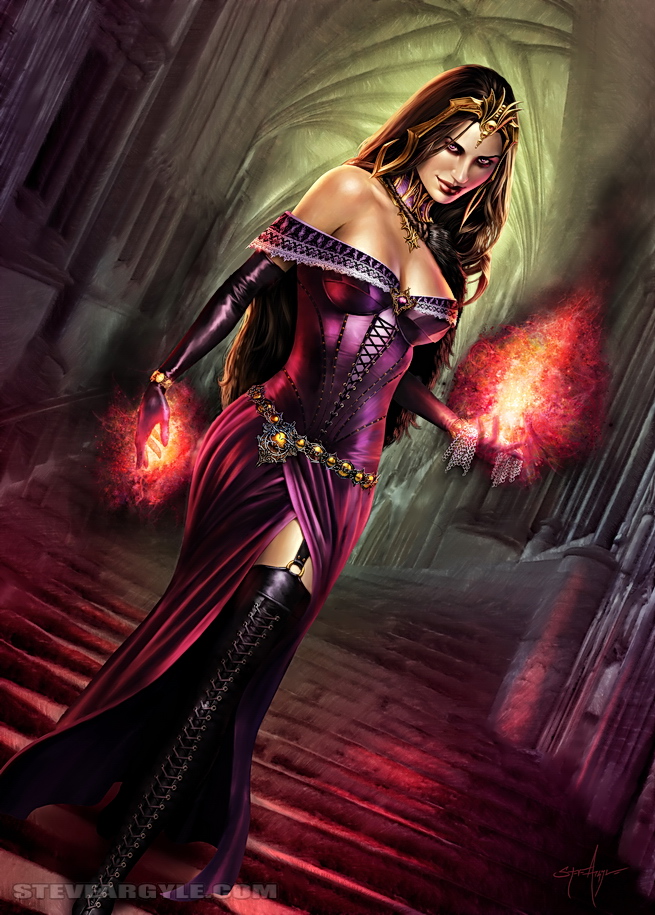 Lilliana of the Veil
Last edited by
Hunter
: Sep 9, 2011