brine
Join Date:

8/14/2008

Posts:

340

Member Details
What is OCTGN?
Octgn stands for

O

nline

C

ard and

T

abletop

G

aming

N

etwork. It is a 100% free open-ended graphical card game emulator. With it, you can play your favorite card games with your friends online! Because of the versatility of its programming, OCTGN can be fully customized to accommodate any type of game. This website is dedicated towards providing you with the full Magic: The Gathering experience through OCTGN. You can visit the official OCTGN website at http://www.octgn.net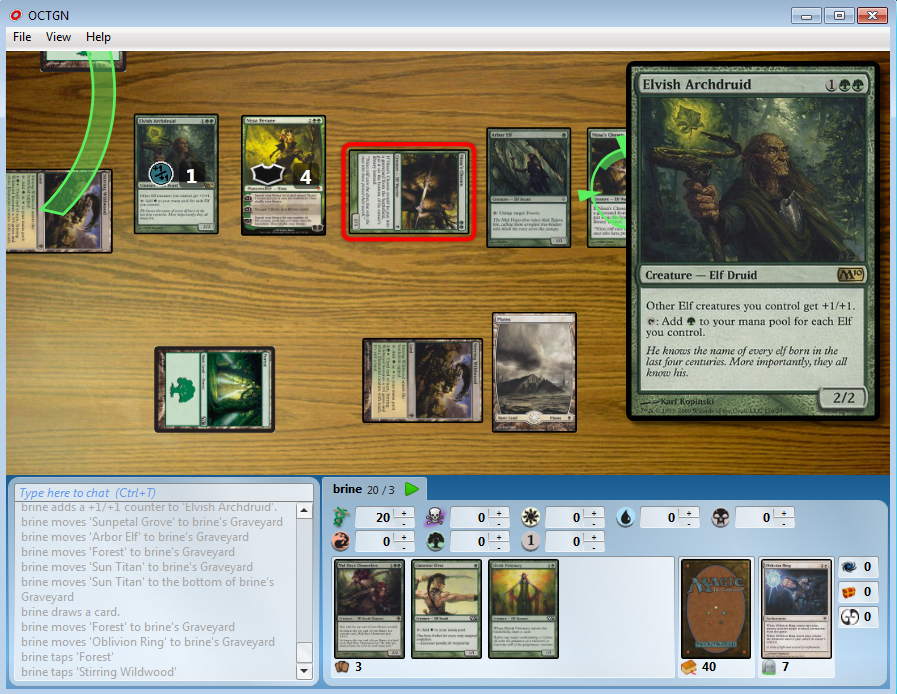 OCTGN beautifully displays the full artwork of the card on a fully-adjustable table. Cards can freely move around, and aren't locked to a grid.
What do I need?
OCTGN runs off Microsoft's .NET 4.0 framework. You must have the latest version in order to properly install OCTGN to your system. Download the latest version HERE.
Once you have that installed, you can download the OCTGN client HERE. It should launch automatically.
Where are all the games?
Due to legal reasons, OCTGN doesn't come with any games.
Each game available exists as a Game Definition file, with the extension .O8G. These files tell OCTGN everything it needs to know about the game in order to you to play it. You can think of these files as Apps, and OCTGN itself as a phone.
You can find the Magic: the Gathering Game Definition file HERE. To install it, load up OCTGN and click on "Manage Installed Games". This will take you to the game database, which lists all your installed Games on the left box. Click "Install a New Game" and select the Game Definition (.O8G) you want to install.
I installed the Game Definition, but where are all the cards?
The Game Definition does not include any of the cards associated with that game. To get the actual cards, you must download the Set Definition files, with the extension .O8S. These files are typically grouped together according to the expansions or sets that the card game has.
You can find all the Set Definition files associated with Magic: The Gathering HERE. To install them, load up OCTGN and click on "Manage Installed Games". Once inside, select the game you would like to add the sets to. Then click "Install New Cards" and select the Set Definitions (.O8S) you want to install. You can select more than one set at a time!
I've got everything set up, where do I find other players?
There is currently no integrated chatroom or match-making system inside OCTGN.
You can find other players at our dedicated chatroom HERE. For mIRC users, you can find this chat at irc.ircstorm.net channel #octgn.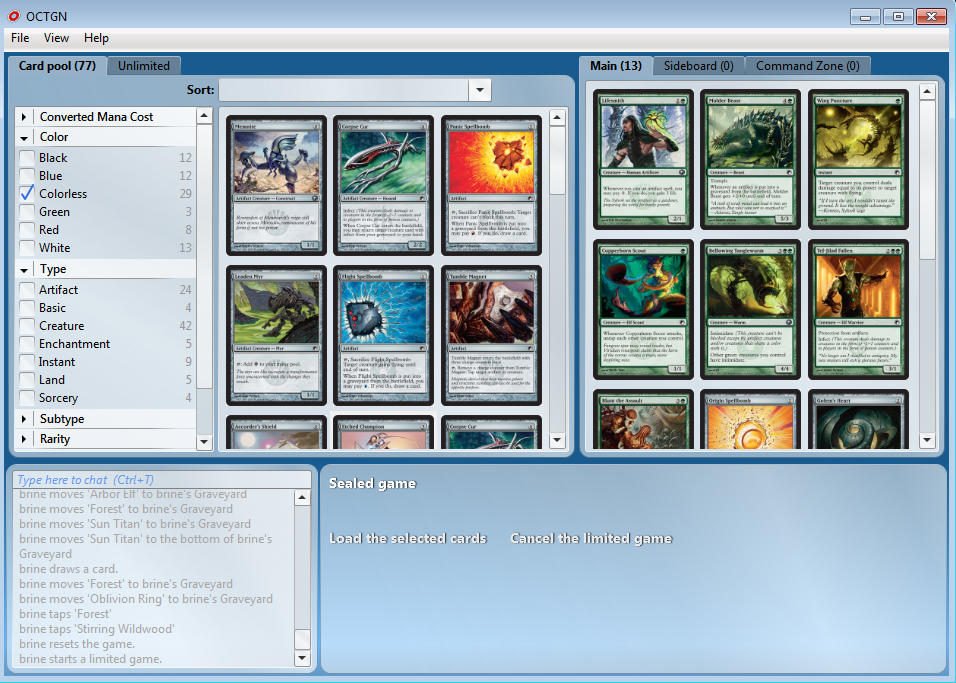 The Sealed Deck Editor is a popular mode among OCTGN users, as it allows the player to build a Sealed deck with whatever packs they want then duke it out with other players!
A note regarding torrents and OCTGN downloaded files:
There is a group of people who maintain the official MTG files for OCTGN. There has to be some sort of quality control with these files to ensure that everyone who plays is using the same files, and that the files function correctly. I'm asking that players do NOT modify their game and set files, and PLEASE do not distribute these modified files. As of now, the only places to get the official files are at
http://octgn.gamersjudgement.com
. If there is an issue with any of the files, please report them to either me (for game definition-related errors) or Gaspare (for set-related issues) instead of attempting to fix it yourself, as we can make sure everyone gets the same file afterwards.
As for the numerous torrents available on the internet: I've been leaving warning messages on as many comments sections as I can. The issue with the torrents is that they are guaranteed to contain outdated files that have compatibility issues with the most recent build of OCTGN and the MTG game files. In addition, many of them contain files that have been modified without our knowledge. Because of this and the reasons outlined in the previous paragraph, these torrents should NOT be downloaded.
Last edited by
brine
: Aug 7, 2011