Phil
Clan Representative
Clan Representative
Omnipotent crawling chaos.

Join Date:

9/13/2010

Posts:

5,325

Member Details
For me.

5-Asking for trades while I'm playing a game your crappy B/W sorin tokens deck can wait 10 minutes to get the 2 isolated chapels I have because I'm sure the pro tour didn't just announce a flash qualifier in the parking lot. There's no rush.

4- saying "sure" after I play a card dude, you're playing r/g aggro. Don't pause then say " sure" like you have a response to me playing a card. Last time I checked cultivate doesn't counter ****.

3- borrowing dice/having no tokens/ counters I'm really glad you got that G/W tokens deck built. Would you mind spending a whopping 6 bucks to represent all the tokens you're making by buying a ****ing dice cube. I don't mind loosing, but I do mind loosing to loose change, a shoe lace, and a burger king wrapper because you refuse to buy dice.

2-spaz hand shuffling Brian kibler invented this because he's afraid of social interaction. Seriously, say you meet ANYONE worth a salt. You tell them you play magic; no big deal, right? WRONG. If they saw you on camera shuffling your hand like you were sharpening knives, they're going to stay away from you.

1-telling people you're a loser because you play magic
This seriously gets me. Just recently at a dark ascension pre release there was a film crew filming a documentary about magic. When asked "why do you play magic" a player said "because I have no life, I don't want to be on camera so you hipster movie ****s can make fun of us". Honestly, my Heart broke. I really enjoy the people I play magic with. I could give two ****s what they
Do or what that look like. I'm just happy to see them every time I show up to play. Magic is a social game, it only thrives because it has a community. Trading, testing, casuals... Ect. So seriously, if you play magic, yes you are a nerd, but you're probaly more socially adept, accepting, and accommodating then probaly half the human population. Don't doubt and hate yourself.
Last edited by
Phil
: Feb 24, 2012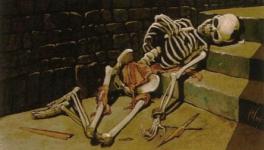 The EDH stax primer
When you absolutely, positively got to kill every permanent in the room, accept no substitutes.