Kraj

Location:

Chicago

Join Date:

2/16/2006

Posts:

12,329

Member Details
Congratulations to Ixias for winning May's Card of the Month with: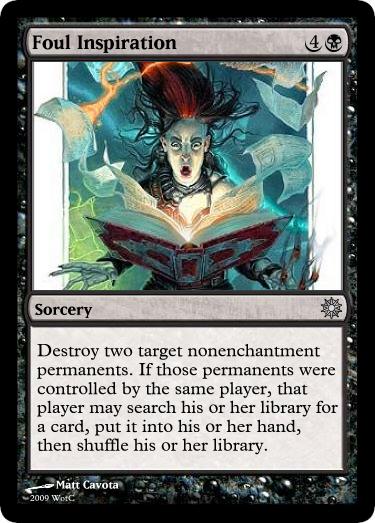 Foul Inspiration
Sorcery
Destroy two target nonenchantment permanents. If those permanents were controlled by the same player, that player may search his or her library for a card, put it into his or her hand, then shuffle his or her library.
We really liked the strategic depth and decision-making this card creates while being relatively simple. An honorable mention goes to Stairc for his extremely well-crafted answer to a poetic challenge:
Malfegor's Limerick
Sorcery
Destroy target creature or land.
Discard every card in your hand.
For each card discarded
Return up to two target
Creatures to their owners' hands.
A demon will not be published and a dragon will not be critiqued.
Last edited by
Kraj
: Jun 15, 2009
The Golden Rule of forums: If you're going to be rude, be right. If you might be wrong, be polite.
**
Current New Favorite Person™: Mallory Archer

She knows why.