SengirPaladin

Join Date:

8/29/2006

Posts:

239

Member Details
Do you like it ?
NOT REAL CARD, JUST A FAKE CARD

Version 1: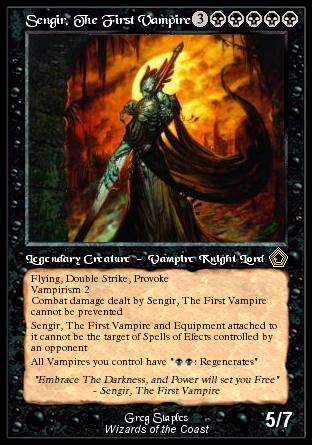 Version 2: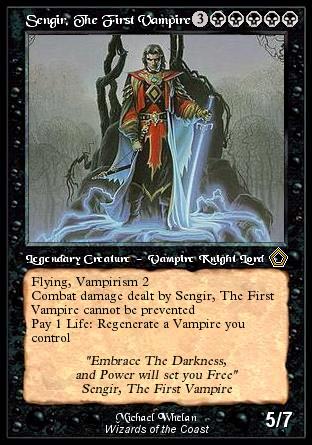 Version 3: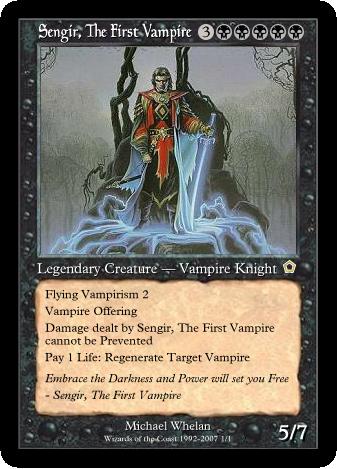 Version 4: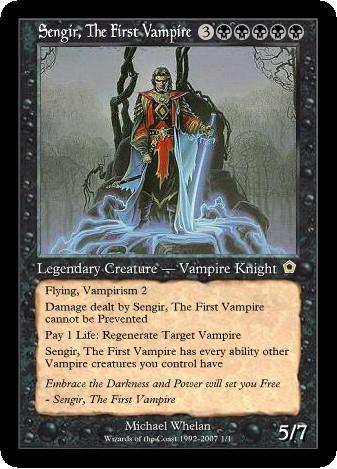 Latest Version: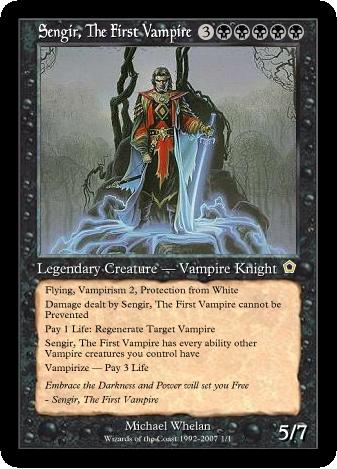 Even the flavor was an Idea of mine
Vampirism X (Whenever a creature dealt damage by <THIS> is put in a graveyard from play, put a +X/+X counter on <THIS>)
I prefer the +2/+2 counter instead of X +1/+1 counters, because if it was X +1/+1 counters, that would make a Simic deck very powerful !!!
Just combine this card with the Simic ability...
And it has lots of abilities like Akroma, 'cause is the counterpart of that Legend
Let the Angel vs Vampire struggle start all over !!!
Well... This is just an idea about Sengir...
Do you like it ?
(I know the art is of Dralnu, I thought it would be a more powerful Baron Sengir when I saw the art) [Changed art]
[EDIT]
Changed image
Removed Provoke and Double Strike
Changed the idea of Vampirism to:
Vampirism X (Whenever <THIS> deals Combat Damage, put X +1/+1 counters on <THIS>)



[EDIT 2]
The picture is "Tarrant's Realm"
And the name of the artist is Michael Whelan
Thanks, Asrama
[EDIT 3]
Removed the Sub-Type Lord because Wizards of the Coast has removed it from every other card
Added "Vampire offering" because it sounds flavor, the Fist Vampire needs even Vampire Blood to live (Or should I say un-live?), and that is the fifth ability
[
Vampire offering (You may play this card any Time you could play an instant by sacrificing a Vampire and paying the difference in mana costs between this and the sacrified Vampire. Mana cost includes color)
]
I haven't inserted the Pete Venters picture of Baron Sengir, because he has no sword or weapon on it, and I believe that Vampires should have a sub-type too, as this card which is a Knight
Hope you like it
[EDIT 4]
I thought that, if it is the First Vampire, it should have all the abilities other Vampires you control have. Although this, I do not know how to write that it only has one ability of each kind... I mean, if you have 2
Sengir Vampire
s, I want it not to get 2 +1/+1 counters when kills a creature...
[EDIT 5]
Protection from White is because Sengir is the arch-enemy of Serra, only because that (Its flavor!)
If it is the first Vampire, it should make new Vampires... But at a cost, as a Vampire can only create new Vampires giving that creature some of his/her blood.
Vampirize - <action>


is read
Whenever a creature dealt damage by this creature is put into the graveyard, you may pay <action>.
If you do, that creature comes into play under your control.
It is black and is a Vampire in addition to its other creature types


Do you think that I should change "Vampirize - Pay 3 Life" to "Resurects Vampires - Pay 3 Life" so the ability can be changed for other creatures such as "Resurects Zombies - :1mana::symb:" or "Resurects Angels - :1mana::symw:" ?
Thank you !
.
There's Always Hope
Even If You Cannot See It

Sengir, The Half-Vampire Paladin
DCI Magic the Gathering Level 2 Judge